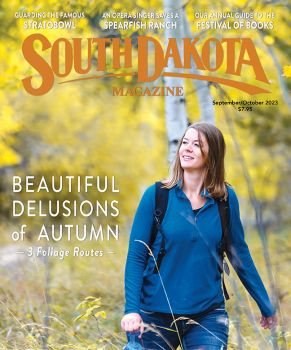 Subscriptions to South Dakota Magazine make great gifts!
Subscribe today — 1 year (6 issues) is just $29!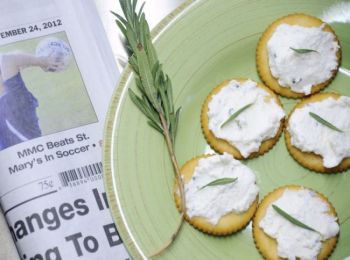 Fiber Animals, Food and Fun
Sep 27, 2012
By Laura Johnson

Being immersed in a community of like-minded souls is a rare and special treat. South Dakota knitters, crocheters, spinners and weavers are guaranteed that experience at least once a year — on the third weekend of September at the North Country Fiber Fair in Watertown.
It can be lonely being a crafter in a prefab world. Most people just don't understand the appeal. Why would you knit a scarf, shawl or sweater when you can buy one for less? (And in my case, with fewer flaws!) Why would you spin your own yarn when you can buy perfectly good acrylic at WalMart?
Simple. You do it for the joy of doing it — the surprise of watching colors and patterns flow from your knitting needles or crochet hook, for the pleasure of handling soft merino or manipulating delicate laceweight yarn. You can think about how warm those mittens will keep someone this winter or imagine a new baby wrapped in that special blanket you're making. And best of all, the thing you've made is (for better or worse) completely unique. You could give a roomful of knitters the same yarn and the same pattern, and the finished projects would all be different. The difference may be subtle, but it's there.
The organizers of the North Country Fiber Fair know all about these small joys. They put on another fine show this year designed to please local crafters, with lots of great vendors, fun workshops, sheep shearing and sheep dog demonstrations. But the best part was simply hanging out in the spinning circle and chatting with others. It was soothing to watch the spinners draft wool. The spinning wheels whirled, adding the twist that turns a mass of fiber into yarn, and lending a pleasant backdrop to conversation.
When fairgoers got peckish, they wandered over to the potluck area for refreshments. Most of the offerings were regular fare, but two items on the table paid delicious tribute to fiber-giving animals: lamb stew and homemade herbed goat cheese. It's easy to make a soft, spreadable cheese out of any kind of milk, but it's best to start with a full-fat version. Here's one method.
---
Herbed Goat Cheese
1 quart goat's milk
1/4 cup freshly squeezed lemon juice
1/2 clove grated or minced garlic
A few pinches of coarse salt
Chopped herbs — try rosemary, chives, parsley, fennel fronds, dill or whatever sounds good to you.
Cheesecloth or coffee filters
Fill a medium saucepan with goat's milk. Heat gradually until it reaches 180°F, about 15 minutes. Remove from heat and stir in lemon juice. Let stand until the milk starts to curdle, about 20 seconds. It's pretty subtle — look for tiny clumps. You can add a few extra drops of lemon juice if necessary.
Thoroughly line a colander with layers of cheesecloth or coffee filters. Place colander over a large bowl to catch the dripping whey. Ladle milk into colander. Pull up and tie the four corners of the cheesecloth together, hanging the bundle from a wooden spoon handle over a very deep bowl. Allow the whey to drain until the cheese is soft and ricotta-like, about 1 to 1 1/2 hours.
Transfer the mixture to a small bowl and fold in salt, garlic and herbs. Serve on bread, crackers or plain. Store in an airtight container in the refrigerator.