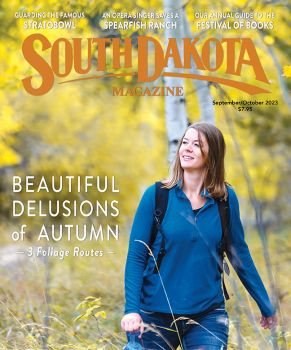 Subscriptions to South Dakota Magazine make great gifts!
Subscribe today — 1 year (6 issues) is just $29!

A River Road Called 1806
By Bernie Hunhoff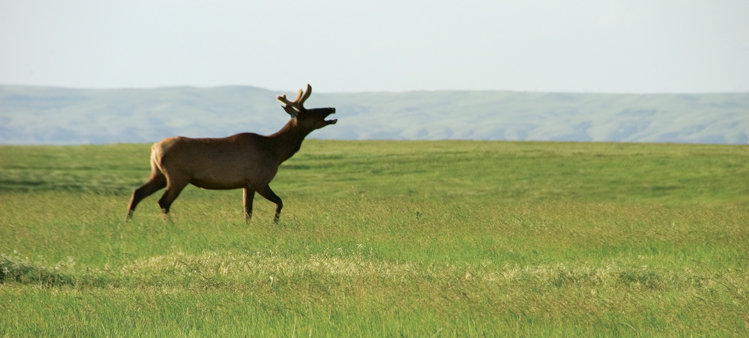 Highway 1806 cuts through the Lower Brule Reservation, where tribal preserves and wide open country teem with wildlife, including a captive herd of over 200 elk.
Writers and poets have compared South Dakota's prairie to an undulating ocean. "Oh, the wonder of the wind from the wild, mysterious green sea to the west!" wrote Hamlin Garland in The Moccasin Ranch. O.E. Rolvaag expressed the same in his 1927 book, Giants in the Earth: "Pure color everywhere. A gust of wind, sweeping across the plain, threw into life waves of yellow and blue and green. Now and then a dead black wave would race over the scene … a cloud's gliding shadow … now and then."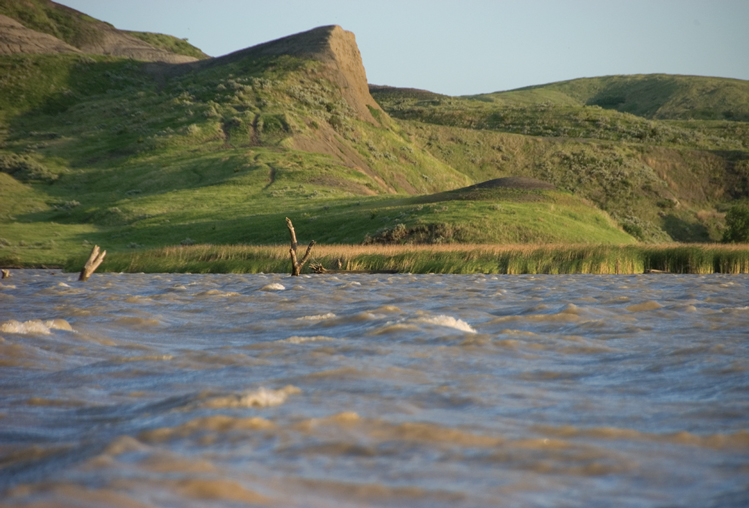 Water and wild prairie dominate the landscapes along Highway 1806.
If the prairie is a sea of black soil, then the stretch that follows the Missouri River from Lower Brule to Fort Pierre has some of the Dakotas' grandest waves of gumbo-laden hills and grasslands.
A two-lane, oil road known as Highway 1806 follows the river. The number commemorates the 1804-1806 expedition of explorers Lewis and Clark. Highway 1804 runs on the east side of the river across much of South Dakota, and 1806 is on the west.
The 59-mile route between Lower Brule and Fort Pierre is slowly but surely gaining popularity — not for travel amenities (nary a single store or rest stop lays along the way) but rather for its extreme lack of commerciality. Unspoiled by much of anything man-made except fences, wheat fields and an occasional farmstead, the road winds up and down and around the West River hills and knolls. On a few occasions, the Missouri is just outside your car window; more often it shows up as a glimmering ribbon of blue in the distance.
Highway 1806 is an asphalt crossbreed of California's famous Highway One that follows the Pacific Ocean, Custer State Park's Wildlife Loop Road and your typical West River town-to-market highway. Loftier hopes are now developing for 1806. It lies near the south end of a 550-mile stretch of road that is part of the Federal Highway Administration's National Scenic Byways Program.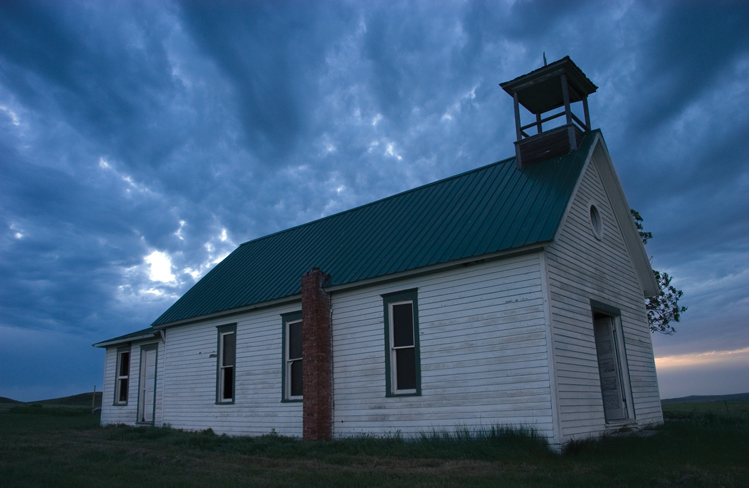 Masses are no longer celebrated at this country church along the river road, but flowers are still placed on nearby graves.
The entire byway runs through four reservations, including the Lower Brule which owns most of the land on the west side of the Missouri between the city of Lower Brule and Fort Pierre.
The road begins at Chamberlain and runs on the east side of the Missouri along Highways 50 and 47 to Fort Thompson, where motorists cross the Missouri and travel 1806 to Fort Pierre. The byway departs from the river, following Highways 14 and 63 to Hayes and Eagle Butte before returning to hug the western side of the Missouri all the way to Bismarck.
Lower Brule leaders wish the byway — and particularly their 59-mile corridor — could become a two-way path to reconciliation between the races in South Dakota. That seems like an odd goal at first glance, because reconciliation would seem to require face-to-face exchanges. Unless you make a special effort, you're unlikely to meet anyone as you travel 1806. This is a land occupied by elk, deer, buffalo, antelope, turkeys and ever-chattering prairie dogs.
Can wilderness bring about reconciliation? The Native American leaders' hope is that people of all races will share an appreciation for nature, and that it will be a starting point for better relations.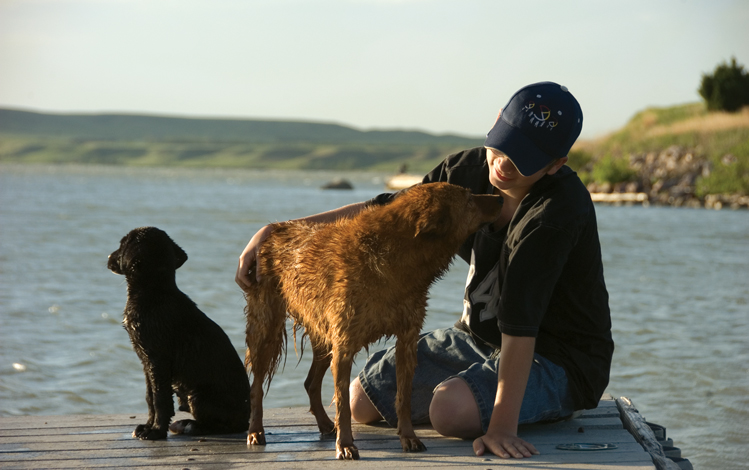 Dakota Scultze-LeCompte takes his dogs, Minnow and Yo Yo, for a bath at the Iron Nation Recreation Area.
Lower Brule Tribe and the three others — the Crow Creek, Cheyenne and Standing Rock — do offer some recreation and tourist opportunities along the road, including wildlife tours, fishing excursions, hunting trips, lodging and, of course, casino gambling. Just a few miles southeast of Fort Pierre, the Lower Brule Tribe has opened a Buffalo Interpretive Center with exhibits, films and local arts and crafts in a small gift shop.
But promoters of the highway stress that economics are not driving the development. "We're not selling Indianism," says Clair Green, who works as a cultural resource consultant for the tribe. "We've tried to enter the tourism business carefully and reflectively and slowly. We truly are more interested in education than anything else."
"The idea is to educate and to further the commonality of the people of South Dakota," added Michael Jandreau, who led the Lower Brule tribe for nearly three decades before he passed away in 2015. Serving as tribal chair is possibly the most precarious job in American politics, so Jandreau's longevity in office was a testament to his patience and tact. But he didn't mince words when it came to racial healing: "We want to make real the concept of reconciliation in South Dakota. It should not just be a figment of someone's imagination."
Jandreau believed the pristine and wild landscapes found along 1806 are ideal for finding common ground between two cultures. Maybe. Rolvaag and Garland showed that you don't have to be Native American to understand a land's peace and beauty.
Editor's Note: This story is revised from the January/February 2009 issue of South Dakota Magazine. To order a copy or to subscribe, call (800) 456-5117.