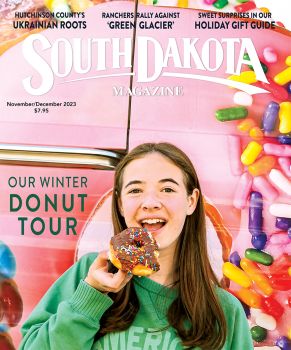 Subscriptions to South Dakota Magazine make great gifts!
Subscribe today — 1 year (6 issues) is just $29!

History Hunters
Can we stop the illegal artifact trade?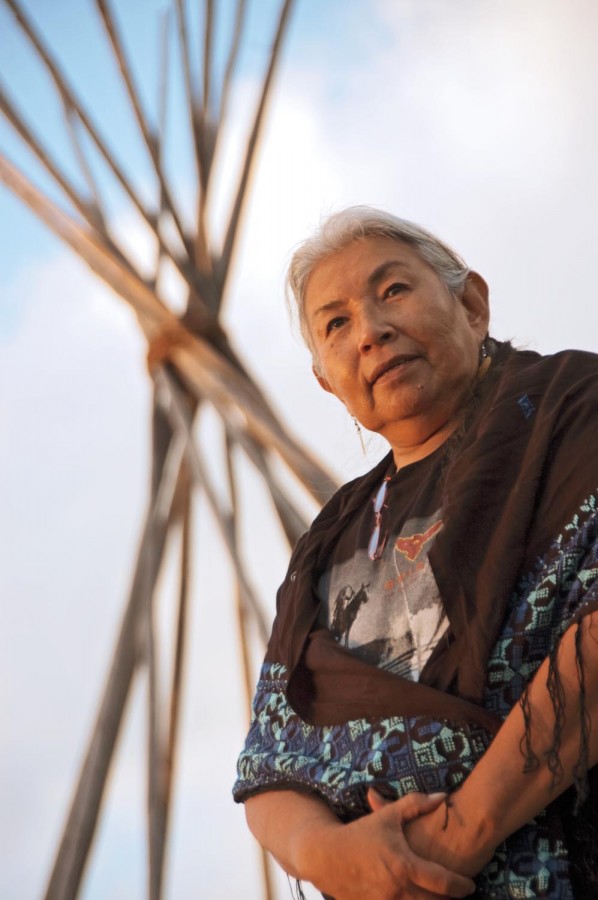 Faith Spotted Eagle, a Yankton Sioux tribal elder, is an outspoken protector of sacred sites and burial grounds. Artifact looting is a common problem at sites such as those on South Dakota reservations and along the Missouri River valley.
Faith Spotted Eagle was fishing with her father the first time she saw artifact hunters searching the banks of the Missouri River. "My dad was disgusted," Spotted Eagle says. "He looked at me and said, 'You know, my girl, you're going to have to do something about this someday.' I was only 12 years old. I thought, 'What am I going to do?' But that stayed with me."
The memory rushed back one morning in 1999 as Spotted Eagle traveled Highway 18 toward the Yankton Sioux Reservation. "I was coming across the dam and I had this weird feeling," she remembers. "We call it nagi ksapa, which means spirit smart. It's an awareness, or a sixth sense. I could feel my father's presence, and I knew something was going on."
When she arrived, Spotted Eagle learned that the remains of at least 35 of her ancestors buried along the Missouri River at White Swan had been exposed by lowered water levels, and looters were plundering the graves. She and members of the Yankton Sioux Tribe set up a spiritual camp at the site where they prayed and held sweat lodges. They obtained a temporary restraining order that prevented the U.S. Army Corps of Engineers from raising the water until the remains could be gathered and re-interred on higher ground. The process took three months but looters lingered. Once, while Spotted Eagle walked a remote country road, two men in a car stopped and asked directions to White Swan. They said they were divers.
Ten years after White Swan, Spotted Eagle sees boats lurking near the old gravesites. Looting still happens regularly on the Yankton reservation and on other public lands in South Dakota. Millions of years ago prehistoric creatures roamed the Great Plains. Humans arrived about 12,000 years ago. The bones and artifacts they left behind can be worth a lot of money in today's artifact trade, a worldwide industry that is as lucrative as it is illegal.
Some parts of South Dakota are archaeologically richer than others, but valuable artifacts can be found everywhere within the state's borders, according to Michael Fosha, assistant state archaeologist with the Archaeological Research Center in Rapid City. "There's an incredible wealth and diversity of material that can be recovered in South Dakota," Fosha says.
Bone tools, groundstone materials (like atlatl weights, arrowpoints, scrapers and other specialized tools) as well as artifacts made from shell can be found. "The shell items can be quite exotic," Fosha says, "all the way from large shell mask gorgets made out of conch shell to small shells etched with human-like forms or animals. They might even be carved themselves into shell beads to be worn as decoration."
Looters search for "anything and everything" on the Cheyenne River Reservation, says Donna Rae Petersen, the tribe's cultural programs administrator. Like Spotted Eagle she was young when her mother and great-grandmother took her to the Missouri River to watch as men working on the dams sifted through the exposed graves of her ancestors. It's the same all along the Missouri River shoreline, a popular destination for artifact hunters because South Dakota's earliest inhabitants settled in the river valley. "The Missouri River has been here a long time," says Richard Harnois, senior field archaeologist for the U.S. Army Corps of Engineers in Pierre. "People have populated the river for 12,000 years. When people live in an area like that for that long, it leaves a lot of stuff behind. That creates the archaeological sites that these people are interested in.
"Some of these guys are what we call human vacuum cleaners," Harnois says. "They go out and just suck up everything they find, with seemingly no rhyme or reason."
More experienced hunters are selective. They know what to take and what to leave. "As they're digging, they go to their favorite sites, knowing what age the artifacts are and what they hope to obtain," Fosha says. "They have a good eye for what's valuable." Those items include ceramic pots that are intact or can be easily reassembled, large conch shell masks, pipes and arrow points depending on quality and age.
Artifacts and fossils on private land are not protected but federal laws prohibit removing them from public lands. The Archaeological Resources Protection Act (passed in 1979) bans removal of funerary objects, sacred items and human remains from public or Indian land without a permit. The Native American Graves Protection and Repatriation Act (1990) provides a way to return those artifacts to the tribes if they are uncovered. But looting along the river occurred long before their enactment. "It started with families out digging this stuff, taking it home and hanging it on their walls," Harnois says. "So there's this background of collecting that goes back a long way that leads people to think it's not a bad thing to go out and do this."
Scavengers know exactly what they're doing, while others are simply unaware of the laws. "A lot of times, they're not really trying to be felons," Fosha says. "They just happen across an artifact, they find it of great interest and they pick it up and take it home. It's still illegal, but quite a bit of it is not knowing it's illegal."
Others consider themselves amateur archaeologists and work with professionals like Fosha when they make discoveries on their land. "We certainly encourage them to give us the information, but we don't necessarily encourage them to go out and dig things up," Fosha says. When that happens, artifacts lose their context. It's more difficult for archaeologists to assess an artifact's importance if they don't know exactly where it was found and what other items, if any, surrounded it.
People have been prosecuted under those laws in South Dakota, but Marty Jackley, South Dakota's attorney general and former U.S. Attorney for South Dakota, says looters are being caught with more items than ever. In January, five men — four South Dakotans and one from Wisconsin — were indicted on artifact trafficking charges, accused of taking more than 10,000 artifacts (including human remains, funerary objects and pottery), mostly from the Missouri River valley. All pled guilty except one: Scott Matteson of Fort Pierre. Matteson is a lifelong collector who turned his 7,000-piece collection into the Mobile Museum of the Prehistoric Plains Indians, which authorities seized in December 2008. South Dakota might be the most diverse state in North America when it comes to fossils, says Darrin Pagnac, a vertebrate paleontologist at the South Dakota School of Mines and Technology in Rapid City. That lures fossil poachers, particularly to Badlands National Park and publicly owned lands in northwestern South Dakota, the two fossil hotspots in western South Dakota. Pagnac says his field research team finds at least one looted site every summer. "One of the first hints is holes where they shouldn't be," Pagnac says. "The second good clue is bits of plaster lying around, because that's how we excavate the fossils. We wrap them in burlap soaked in Plaster of Paris. It's almost impossible to do that completely cleanly, so it drips and little chunks of it fall. And sometimes we'll find trash and tools.
"They're looking for the most spectacular specimens they can find. They want pristine skull elements, teeth, or complete skulls. Anything that looks impressive that will up the resale value of these things are what they're after."
Keeping watch over culturally important sites is challenging. Looters often work under cover of darkness, their presence detected only when officers find holes dug in the ground. Cheyenne River reservation has one monitor enforcement officer, Halley Maynard, who knows the locations of particularly valuable sites and is responsible for protecting them. Locals know about most sites, but if word spreads, artifact hunters are tempted to find them.
Maynard patrols the shoreline by boat and the rest of the reservation's three million acres by truck, ATV and mule for the most remote spots. He's never caught looters in action during two years on the job, but he has seen the damage they inflict. In the spring of 2007 low river levels exposed a burial site in the northeast corner of the reservation. "They dug 17 holes in the bank," Maynard says. "Because of what they did, plus the good rainfall and the rise of the river, it eroded half of that site. We couldn't save it."
The tribe has signs on all of the reservation's main highways alerting motorists of its no-dig, no collection policy, in place since 1966. Still, Petersen and other tribal members can't understand the fascination artifact hunters have with disturbing the graves of their ancestors.
"I have family buried in several cemeteries, but going back five generations, I have a grandmother who is buried on a hill a mile behind my house," Petersen says. "Those are family cemeteries, but why do people feel that because they are Native Americans it's OK to rob those graves? If a body washes out on the shore of the Missouri River and there are artifacts that are readily available, people pick those, as well as the skeletal remains. Why do people feel that Native American human remains and funerary items are any different?"
The biggest reason is money. Artifacts sell for hundreds of dollars and some fossils can go for tens of thousands of dollars. "Almost anything that's really attractive and well-prepared is going to have a market somewhere, legitimate or otherwise," says Sally Shelton, collections manager at the Museum of Geology at the School of Mines. "For every museum or nonprofit that buys something like that, which is not very common, there are 10 times as many people buying it for private possession. People love these things and they want to have them at home. The problem is, many of these things are dug up so fast they lose all the associated information with them, and they're no longer valuable scientifically or educationally."
The Internet auction site eBay.com is a popular marketplace for Native American artifacts. A search for "Indian artifacts" returns over 1,000 results, including arrowheads, grind stones, baskets, pipes and tomahawks. The price for one collection of hand tools was $500.
Family auctions and reputable auction houses also market artifacts. Petersen says she's seen items from the Battle of the Little Bighorn and Wounded Knee sold at auction. "I think people just look at this like a nostalgia thing, but they don't connect these things to human blood, or somebody losing a life," she says. "The eyes of the law are so few and far between, especially when it comes to the river," Petersen says.
That may have been true in the past, but people like Petersen urge law enforcement to more seriously pursue thefts, and they're asking for help. Harnois directs people to call the Corps' hotline at 1-866-NO-SWIPE (1-866-667-9473) if they spot suspicious activity.
"If people are considering doing anything illegal, they better take care because chances are somebody's going to be looking over their shoulder," Harnois says. "There are a lot of eyes and ears out there."
EDITOR'S NOTE – This story is revised from the Nov/Dec 2009 issue of South Dakota Magazine. To order this back issue or to subscribe, call 800-456-5117.