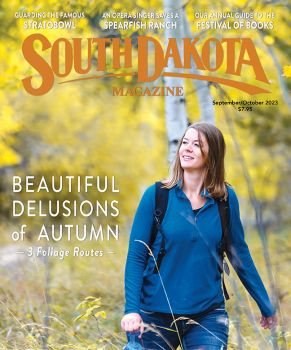 Subscriptions to South Dakota Magazine make great gifts!
Subscribe today — 1 year (6 issues) is just $29!

The Hoover Store
By Bernie Hunhoff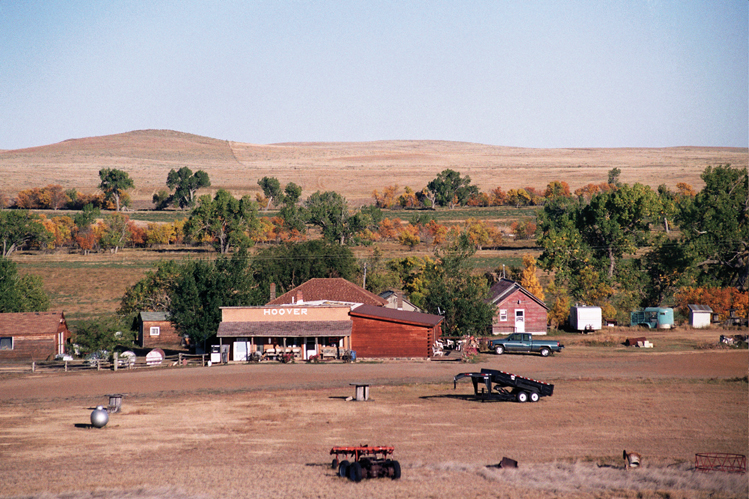 Hoover Store is the only business for several miles in Butte County.
When Jim and Leona McFarland bought a Butte County ranch in 1976, they found that it came with an old general store that was closed. "We had a couple of teenage daughters who were interested in opening it up so we did," says Leona. The neighbors were appreciative; the next place to buy milk or eggs is 33 miles down the road.
Gas, sandwiches, salt blocks and other necessities for man, cattle and sheep are the store's mainstays, but "beer is number one by far," laughs Leona. Built of wood in 1902, the store still looks like a western movie set. Some evenings, cowboys and hunters play 10-point pitch around a wide card table.
Castle Rock Fire Department — which has no fire station, and parks its trucks on ranches — holds a Texas Hold 'em fundraiser tournament every December. Grass and forest fires ignited by bolts of lightning are the biggest challenge for firefighters.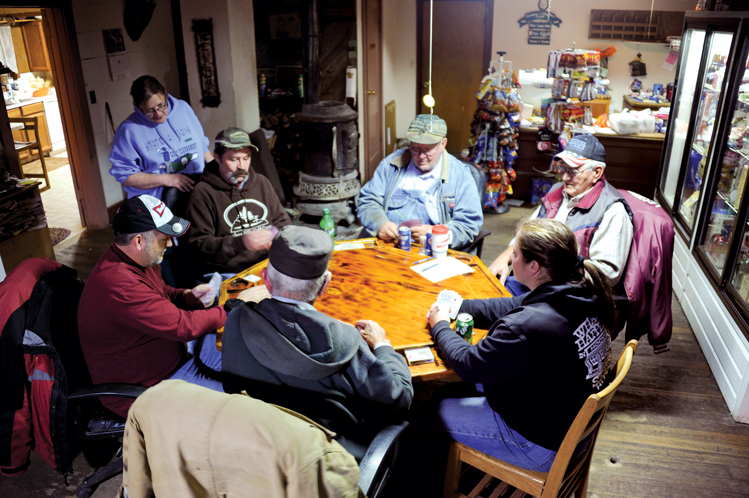 The store is a popular gathering place for local ranchers.
Hoover is along Highway 79, near Custer National Forest. Sixteen miles south of town is Castle Rock, a large sandstone butte that appears from a distance like a medieval palace. Tourists and bikers straggle in throughout the year, and hunters arrive in the autumn to look for deer, antelope and turkey. Some hang their trophy mounts in the store beside the McFarland collection of cowboy memorabilia, fossils, arrowheads and a picture of two big bull snakes in a mating pose.
Ranch families are the store's bread and butter. Some buy nearly all their groceries at Hoover. Leona McFarland says the ranchers are unique. "They've had to be tough to stay in it with cattle and sheep. They're just a very strong type of person, and yet they are good neighbors even if they live far apart. If anybody needs anything, everybody is there to help."
Running a one-store town is probably as difficult as ranching, and Leona has been doing it alone since her husband died three years ago. But her daughter, Jean, and Jean's husband Jerry McNulty are moving home this summer to help. Hoover's population is about to triple.
Editor's Note: This story is revised from the July/August 2013 issue of South Dakota Magazine. To order a copy or to subscribe, call (800) 456-5117.