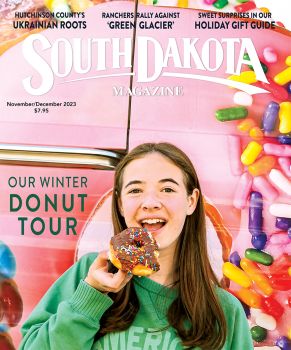 Subscriptions to South Dakota Magazine make great gifts!
Subscribe today — 1 year (6 issues) is just $29!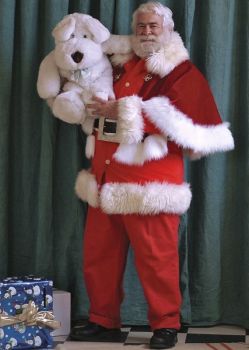 Hot Springs Santa
Kids in Hot Springs call Franz Brown "Santa" all year round, whether he's dressed in red or not. His jolly smile and naturally white whiskers are distinctive in all four seasons.
Brown has modeled as Santa for Oregon artist Tom Browning for many years. They met through Brown's work as a writer and photographer at Southwest Art magazine. His image appears on plates, shopping bags, cards, pillows, cookie tins and prints that end up around the world. Browning photographs Brown in various situations and then creates paintings from the images.
"It's something positive," he says. "The process is fun, it's kind of a play thing. We have shot Santa golfing and swimming. It's fun to see the reaction to people seeing Santa on the beach in summer."
Brown is also an artist, and started painting seriously when he relocated to Hot Springs in 2003. He began painting Santa himself after someone asked why Browning never created a prairie Santa. Browning was more interested in East or West Coast themes, so Brown set up a camera and photographed himself to begin a series of his own paintings relating Santa to the prairie. "I think Santa has a special connection to the Lakota because generosity is a highly esteemed value of the Lakota," Brown says.
Besides looking the part, Brown also revels in the Christmas spirit. "I've always enjoyed Christmas. It's always a special time," he says. One theme in his Santa paintings is that gift giving doesn't have to be material. "Giving comfort, love or companionship can be gifts, too," Brown says.
Editor's Note: This story is revised from the November/December 2008 issue of South Dakota Magazine. To order a copy or to subscribe, call 800-456-5117.