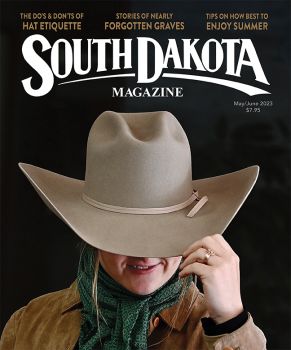 Subscriptions to South Dakota Magazine make great gifts!
Subscribe today — 1 year (6 issues) is just $29!

July/August 1995
Colorful Characters: Meet some of the famous and not-so-famous South Dakotans we've visited.

Evicting Pigeons: Randy Hunhoff writes a humorous account of how he solved the pigeon problem in his attic.

The Inside Story: Contributing editor Roger Holtzmann gives us the inside scoop on how South Dakota got its own magazine.

Funniest Stories: Ten years of finding the humor in South Dakota.

Prettiest Places: In ten years our cameras have pointed in all directions.

The Dear Departed: South Dakota's poet laureate Audrae Visser tells an eerie tale about a funeral director's strange display case.

Covering West River: Paul Higbee tells about his experiences covering the area ranchers refer to as "west of twenty inches."

Town Builders: What are the qualifications a town needs to be a "Town We Like?" Buying us lunch is a good start.

Things Best Said: South Dakotans are known as a tight-lipped lot, but we managed to collect a few good quotes in our travels.

Burning Ditches Out West: A shift in the wind turns a day of burning ditches into a nightmare for Vermillion writer Vince Green.

Goin' Jackrabbit Crazy: Ed Martley remembers a time when a Rapid City ranch was the best setting for teenage insanity.
Please note: Online articles are edited and may not include all pictures or content from the original version.