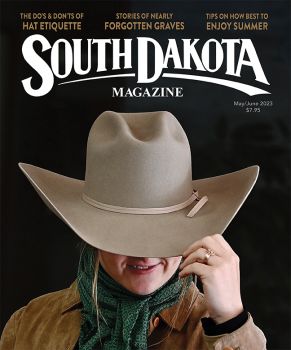 Subscriptions to South Dakota Magazine make great gifts!
Subscribe today — 1 year (6 issues) is just $29!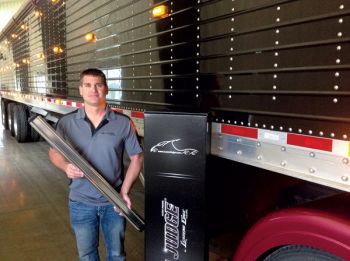 The Perfect Load of Grain
By John Andrews
Loading a grain truck is dirty business. Thick clouds of dust obscure the air, or it's so dark on a fall harvest night that you can't see how full the truck is. "One day we just decided to fix the problem," says Groton farmer Shawn Gengerke. "We tried cameras and other stuff, and it just didn't work at all. We tried two or three different technologies and they didn't work, either. Finally we built a hybrid that could do it all, and now we're waiting for a global patent. We're literally the first of our kind with this technology."
In Gengerke's Load Judge, six sensors in the trailer transmit information to a smartphone or other mobile device. The driver can then determine when the trailer is adequately loaded. "I'm a fourth generation farmer, and this is just what we do," says Gengerke, who farms several thousand acres six miles north of Groton on Highway 37. "We've got a few retired farmers that help us and they can't climb these ladders any more. They're breathing in dirt and dust. Just the health aspect of it is important. You can sit in the cab and know exactly when you have to move the truck."
Gengerke worked on prototypes for several months before debuting the Load Judge at the Dakotafest farm show in August 2013. "Most everything gets installed with industrial strength double sided tape," he says. "There's no oil or screws anywhere. The one hole you drill gets the cable to the power module."
Editor's Note: This story is revised from the November/December 2013 issue of South Dakota Magazine. To order a copy or to subscribe, call (800) 456-5117.