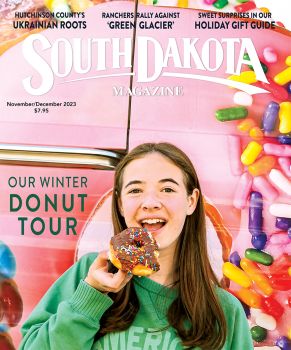 Subscriptions to South Dakota Magazine make great gifts!
Subscribe today — 1 year (6 issues) is just $29!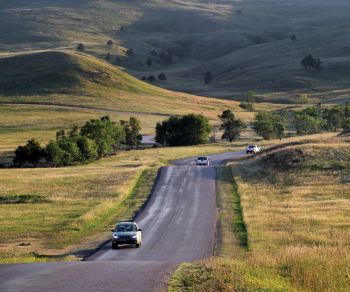 Looping Along
Photography by Stephen Gassman
Story by Katie Hunhoff
"I would rather be remembered as an artist than as a United States senator," said Peter Norbeck.
If art imitates nature, then Norbeck's wish is reality because his conservation advocacy resulted in the creation of parks, preserves and bird sanctuaries nationwide. His greatest environmental canvas is Custer State Park, and a favorite way to enjoy the park is a ribbon of road known as the Wildlife Loop, an 18-mile auto tour through prairie and pine forest.
"He was attracted to and loved natural beauty," wrote Gilbert Fite in his biography of Norbeck. "A deer grazing in a protected glade in his beloved Black Hills, a flock of honkers winging northward, or trees, lakes and mountains blended into a picture of serene beauty — to him were the embodiment of art in nature."
Growing up in Clay County as the son of a minister-farmer, young Norbeck gained an appreciation for the natural world. In his childhood, the fauna of the Black Hills was changing. Wolves, elk, pronghorn, bighorn sheep and bears disappeared, and the bison was nearly hunted to extinction.
Norbeck became a well driller. He began to champion the notion of a state park in the southern Black Hills after a trip to the Custer area in 1905, but little was accomplished until he arrived in Pierre as a state legislator and persuaded his fellow lawmakers to create a state game preserve. When the park was fenced (under Norbeck's supervision) in 1914, he estimated there were possibly as few as 15 deer in the entire 61,000 acres.
The state soon purchased 36 head of buffalo from the Philip ranch at Fort Pierre, and today 1,300 call the park home. Elk were reintroduced in 1916 and bighorn sheep were brought from the Canadian Rockies. Black bear sightings have been reported, but never confirmed.
Nearly 200 species of birds live in the park or migrate through in the four seasons. "The park is where east meets west, so there is a crossover of birds you won't find in other places," says Craig Pugsley, the park's visitor services coordinator.
And burros arrived in the 1960s. "They were being used to haul visitors to the top of Harney Peak," says Pugsley. "When they discontinued the rides, the burros were let go in the park. They are such a hit with visitors that they've always let them remain."
The Wildlife Loop's attraction is its natural beauty and wildness, just as Norbeck intended. Elk are rarely seen from the loop, except in springtime when the grass along the loop road is greenest. And don't expect wolves or grizzlies to reappear. Pugsley says the park might be a tad too civilized to accommodate them. The elk and sheep agree.
But the other flora and fauna of today give visitors a view of the untamed West, a God-given masterpiece that survives only because of some strokes by artist Peter Norbeck.
Editor's Note: This story is revised from the July/August 2014 issue of South Dakota Magazine. To order a copy or to subscribe, call (800) 456-5117.