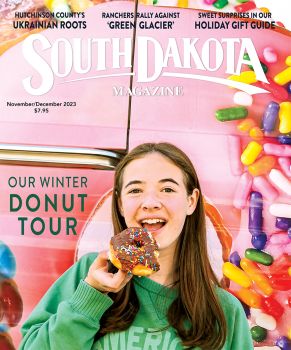 Subscriptions to South Dakota Magazine make great gifts!
Subscribe today — 1 year (6 issues) is just $29!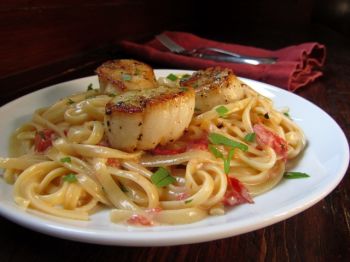 Love Language
Feb 5, 2015
Awhile back, I heard a lot about "love language," or the way we show affection toward those for whom we care. I didn't have to think twice about the love language between my husband and myself. It is, of course, food. He is always ready to be my partner in crime for grocery shopping, menu planning, cooking together, dining out, trying new things and even just watching the Food Network.
Luckily, Hubs isn't the jealous type and doesn't feel cheated when I share culinary delights with others. Jars of my home-canned goodies have landed coast to coast; some have been lucky enough to get plates of cookies or loaves of quick bread; and pots of soup and pans of enchiladas have warmed the homes of friends.
I am not alone with my love of food spilling over to the people that I love. How many times have you grilled up a big steak in celebration of someone special? Have you bought cereal that makes you cringe, but for which someone else does back flips? Have you sought a lost recipe to recreate a long ago memory? Many of us speak the language of food. White Cookies are a love bond for Staci Perry and her grandmother, and generations of families make kolaches, lefse and other regional favorites to show they care.
With Valentine's Day around the corner, I am gearing up for love. Sometimes we go out for a special dinner. Often, we stay in. Pasta is always a way to our hearts, and Seared Scallops with Linguine in Tomato-Cream Sauce makes them pitter pat. Cooking together can be as sensual as a Marvin Gaye song, and this smooth, but slightly tangy sauce hits all the right notes when paired with seafood. This is the language of love.
---
Seared Scallops with Linguine in Tomato-Cream Sauce
(adapted from Cooking Light)
1 1/2 cups cooked linguine
1 cup dry white wine (I used a Sauvignon Blanc)
1/4 cup shallots, minced
2 tablespoons fresh lemon juice (Seriously, get a lemon. Don't use the bottled acid.)
1 tablespoon fresh ginger, grated and peeled
1/4 cup whipping cream
1 tablespoon butter
2/3 cup fresh tomato, chopped and seeded
2 tablespoons fresh cilantro, chopped
kosher salt
freshly ground black pepper
olive oil
3/4 pound large scallops
additional chopped cilantro for garnish
Prepare linguine according to package directions.
Combine wine, shallots, lemon juice and ginger in a medium skillet, bring to a boil. Cook until reduced to about 1/2 cup. Add cream and butter. Cook and stir until butter melts. Stir in tomato, cilantro and season with salt and pepper. Add cooked linguine and toss to coat. Cover and keep warm.
Pat the scallops dry and season with salt and pepper. Heat a cast iron skillet until screaming hot. Coat with olive oil and heat until glistening. Arrange the scallops in the pan and cook 2 minutes on each side, or until done.
Plate the linguine and sauce and top the pasta with scallops. Garnish with additional chopped cilantro. (Serves 2)
Fran Hill has been blogging about food at On My Plate since October of 2006. She, her husband and their two dogs ranch near Colome.