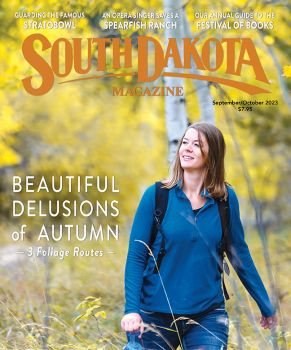 Subscriptions to South Dakota Magazine make great gifts!
Subscribe today — 1 year (6 issues) is just $29!

March/April 1992
Spring in the Cave Hills: A land of caves and cliffs and petroglyphs.

Our Swedish Connection: Thousands of Swedish immigrants came to Dakota Territory a century ago.

Downtown Sioux Falls: The streets and shops of South Dakota's biggest downtown are busy and bright again.

Secrets of Country Women: Ideas for women who want to be full partners on the farm.

Sitting Bull's People: Bringing hope to the Standing Rock Reservation.

Borglum's Ballclub: Gutzon Borglum knew nothing about baseball, but he was proud of his Rushmore squad.

Freeman: Times are Changing: Changes are coming to this German-Russian community.

A Respectable Bird: Wild turkeys have better morals than a bald eagle – and they're not so dumb either.
Please note: Online articles are edited and may not include all pictures or content from the original version.