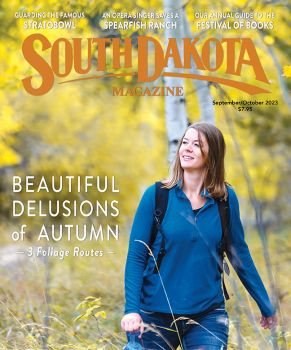 Subscriptions to South Dakota Magazine make great gifts!
Subscribe today — 1 year (6 issues) is just $29!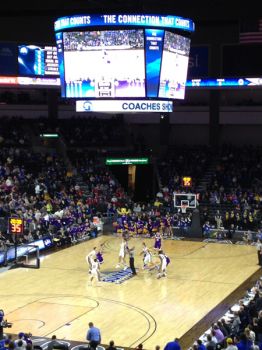 March Madness is Here
Mar 10, 2015
Today the women's basketball teams from the University of South Dakota and South Dakota State University and the SDSU men will play for the Summit League conference title and an automatic bid into their respective NCAA national tournaments. The championship games will cap a festive extended weekend at the new Denny Sanford Premier Center in Sioux Falls, where city leaders hope the revenue and excitement generated over the four days of the conference tournament will elevate South Dakota into consideration for future, larger college basketball events.
Crowds hovering around 10,000 have proven that South Dakotans love their basketball. That's always been true. A story on the Gann Valley Buffaloes and the 1955 State B Tournament that appears in our current issue says that as many as 4,000 people showed up to watch the consolation round. Crowd numbers for those high school tournaments may not be what they once were, but all the games are now broadcast on public television and streamed over the Internet. You could find all of the Summit League conference games on the Midcontinent Sports Network and online through ESPN, but the tournament remained a hot ticket. Many believed the crowd at Monday's State-U semifinal men's game would be the largest to ever watch a basketball game in South Dakota history. It came close — the 10,153 fans that attended fell just short of the estimated 11,500 people who saw Armour beat Beresford in the 1979 State B championship game at the Rapid City Civic Arena, according to Stu Whitney of the Sioux Falls Argus Leader.
NCAA executives who visited Sioux Falls for the tournament gushed about the Premier Center, the 12,000-seat facility that opened last fall. They were similarly impressed with the nearby Sanford Pentagon, a 3,200-seat arena that recently hosted the Northern Sun conference tournament and is "perfectly built for Division II basketball," NCAA rep Mark Davis told the Argus. Augustana College, which just finished an all-time best 30-2 season, won that tournament and the right to host a regional there this weekend. Aberdeen's Northern State University (23-8) will be that tournament's sixth seed.
I attended Saturday night's session at the Premier Center, and the possibilities are exciting for college basketball fans. Sioux Falls has already placed a bid to host an opening round of the NCAA tournament but it was denied. Those sites are set through 2018. The Premier Center will host a women's regional in 2016, so perhaps a men's regional won't be far behind. The sticking point seems to be available hotel space, something the city will surely look to remedy before sites are selected for 2019 and beyond.
Basketball on this stage was hard for a lot of South Dakotans to imagine when South Dakota State announced its intent to move from Division II to Division I in 2003. Petitions circulated around Brookings lobbying the school to stay in the relative safety of Division II. State lawmakers introduced resolutions against the move. As a writer for the Brookings Register, I recall sitting through hours of testimony before the Board of Regents in Sioux Falls.
SDSU had a plan, but executing it was not easy. Men's basketball coach Scott Nagy has always been honest about the struggles of the transition (hear him talk about them in this interview with SDSU athletic director Justin Sell, recorded before this year's Summit League conference tournament).
But success has once again come to SDSU, and it's clear the University of South Dakota — which reclassified several years after SDSU — is on the upswing as well. And so are other schools, like Augie, Northern, the University of Sioux Falls and Dakota Wesleyan University, whose boisterous students rock the "Corn Crib" at each home game in the Corn Palace.
It's a good time to be a basketball fan in South Dakota.