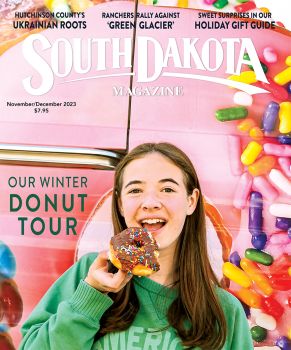 Subscriptions to South Dakota Magazine make great gifts!
Subscribe today — 1 year (6 issues) is just $29!

May 1985
Premier Issue!
A Modest Proposal: Simply a notion that perhaps our state's largest city might benefit from a name change.

The Lean Years: A South Dakotan who grew up in the Great Depression writes a first-person account of his family's trials.

Before REA: A fictional conversation with three people who lived and farmed without electricity. Based on actual interviews.

Cattleman's Homecoming: A former South Dakota auctioneer takes a nostalgic look at the business of raising and marketing livestock.

Antique or Junque? What was junk to our grandparents often sells for top dollar at flea markets and auction sales today.

Fishing the Black Hills: Even for a novice angler, the Black Hills offers great fishing experiences.

Our Sports Hall of Fame: You may not realize it, but South Dakota has a Sports Hall of Fame and 57 enshrinees.
Please note: Online articles are edited and may not include all pictures or content from the original version.