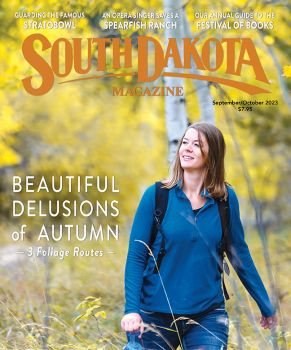 Subscriptions to South Dakota Magazine make great gifts!
Subscribe today — 1 year (6 issues) is just $29!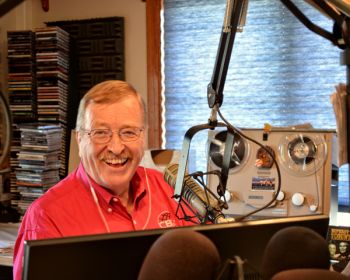 More Than Talk
May 7, 2015
Editor's Note: We received word that longtime broadcaster Jim Thompson plans to retire at the end of May. He's been a familiar voice at rodeos throughout the Upper Midwest, but even if you're not into broncs and bulls you've probably heard him calling a baseball or basketball game or as the narrator of the popular De Smet Farm Mutual radio commercials. He's been hosting the Country Cafe of the Airwaves, an afternoon show on Spearfish radio, for several years, and when the final program is broadcast on May 29, we know those airwaves won't sound quite the same.
Here's a column about Jim that appeared in our January/February 2009 issue. We wish Jim the best of luck as he heads down the next dusty trail.
Jim Thompson is a storehouse of rodeo stories, so I invited him out to lunch as I researched bucking horses. Our conversation turned some heads in the little coffee shop. Not that the other diners looked to be rodeo fans, but they knew Jim's voice from his play-by-play radio broadcasts of basketball and baseball, his syndicated call-in show, and his great memories from De Smet Farm Mutual.
Jim told me some bucking horse stories, sure enough, and confirmed a rumor I'd heard: He and his wife Daryla were leaving soon for Las Vegas and the National Finals Rodeo, where Jim would be honored. There would be a ceremony complete with presentation of boots, jacket and a National Finals Rodeo belt buckle. Very nice, I thought, but not surprising considering Jim's long career as an announcer for rodeos across the West.
Turns out, though, that Jim's honor wasn't an announcing award. Yes, he's announced the Professional Rodeo Cowboys Association rodeo at Kaycee, Wyo., for 22 years. But he's also raised money, written press releases, recorded TV ads and pulled the right people into the picture. There are about 700 PRCA sanctioned rodeos across the nation. Jim's behind-the-scenes work for the Kaycee rodeo earned him the John Justin Standard of the West Committeeman of the Year award.
"I've always thought if someone expects an award, they really don't deserve it," Jim once told me. He certainly didn't expect this one. When the phone call came telling him he'd won, it took Jim several moments to grasp what the caller was talking about.
Those who know Jim's schedule – daily shows, commercial work, producing broadcast events through his Creative Broadcast Services company – wonder how he found time to be so deeply involved in a Wyoming rodeo. The short answer is he likes the people there and the event is a memorial for Deke Latham, a rodeo cowboy Jim admired who died young.
But there's a longer answer, too. Several aspects of Jim's career hint at that longer answer, but I'll tell a story that began in De Smet in 1976. Jim sat down with Bill Poppen of De Smet Farm Mutual Insurance to discuss whether there was anything radio might do for that company. Bill said he didn't need radio to sell insurance – he had agents doing that. But he might be interested in commercials that communicated how his company understood and appreciated people committed to farming and ranching. A few days later Jim was back to read some text he'd composed. It started out, "You know, my dad was really quite a guy ...," and continued to relate a memory, in just a few seconds, of Jim's dad helping him take a steer named Yogi to a 4-H fair years before.
There have been a thousand or so great memories to hit the airwaves since, voiced and written by Jim, sometimes with writing input from Marian Cramer. In fact, Marian sat at a booth at the state fair for a while, gathering great memories from South Dakotans. It could be argued these are not just commercials, but a long-running radio serial. Jim records them against a background of what he calls "lying on a hill watching the clouds music." He hopes the spots "transport people from where they are to where they'd really like to be."
For 33 years the commercials (impossible to imagine with a voice other than Jim's) have indeed communicated the sponsor's understanding of rural America. At the same time they strongly imply that Jim understands and is committed to that way of life, too. And the first thing to understand about small towns, where Jim is especially popular, is that they need people who will work to create community amenities. That could mean organizing rodeos, staging events for an emerging museum, figuring out how to broadcast hometown American Legion baseball games and pitching in to build the press box for those broadcasts. Jim's done all that, and much more. In urban areas, where no one expects to really know anyone, a broadcaster can get away with simply being a know-it-all "personality." That doesn't fly out here, where, strangely enough for a field that's seemingly all about words, actions speak louder.
In addition to his National Finals Rodeo honor, Jim has been inducted into three rodeo or general sports Halls of Fame, and was South Dakota Sportscaster of the Year. Yet the day we met for lunch he was getting ready to promote a small town charity pie auction. Some accomplished broadcasters, especially sportscasters, would say no to that. But Jim knew he had listeners counting on him to help move some pastry.
Besides, a good pie auction always holds potential for another great memory.