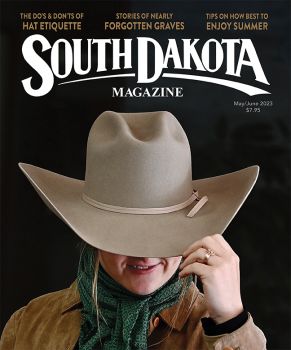 Subscriptions to South Dakota Magazine make great gifts!
Subscribe today — 1 year (6 issues) is just $29!

A Whale Of A Mountain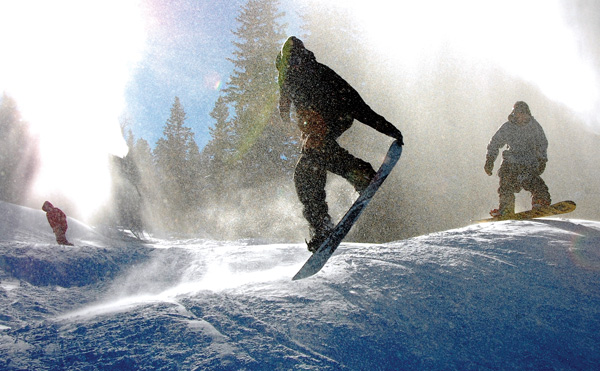 Snow whales, sometimes stretching 70 feet or more, offer Black Hills snowboarders unique opportunities for adventure.
South Dakota's highest mountain peaks are blanketed with 150 inches of snow in an average winter. That's why Terry Peak and Deer Mountain have become two of the West's top destinations for snowboarders.
When natural snow doesn't fall, Terry Peak Ski Area and Mystic Miner Ski Resort on Deer Mountain create their own snow, and that makes conditions even more interesting for snowboarding.
As the machine-snow blows from a nozzle, it creates mounds called whales. Eventually the white whales are smoothed with grooming equipment to create ski runs, moguls, jumps and half-pipes that riders of waxed boards love to maneuver.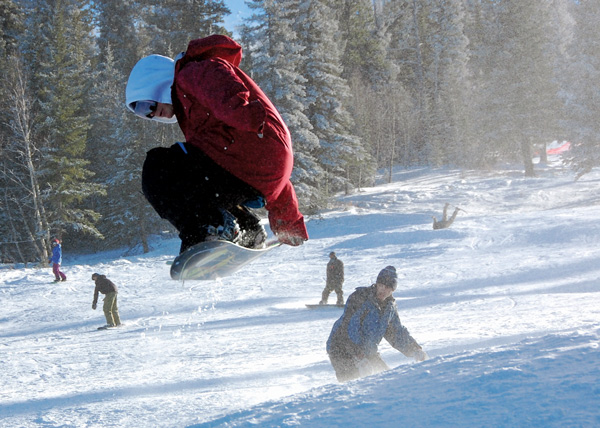 Jumps, rails and runs have been developed on Terry Peak and Deer Mountain, but it's hard to top the whales for sheer fun in the snow.
But if you are fortunate enough to show up as the whales are being created, why wait for the groomer? Sometimes, the snowmakers will look the other way as you ride the whales.
I was at Terry Peak with my camera on a sunny winter afternoon when whales were surfacing on the slopes, and it was great fun for the snowboarders and for me.
"It seemed like it was blizzarding but it was a perfect day with blue skies," explained Connor Haggerty, a snowboarder from Rapid City. "The whales were fun, it was like a small jump line." A jump line, for the uninitiated, is a line of jumps for snowboard or ski stunts.
As a photographer, I was also intrigued by the unique light created by the clouds of mist enveloping from the snow machine and then kicked up by the young athletes, flipping and flying about on their colorful boards.
Terry Peak and Mystic Miner reach 7,000 feet, heady heights for snowboarders, and both lodges have developed special jumps, half-pipes, rails and other runs. Despite the Black Hills' proclivity for snow, it's quite common for temperatures to reach into the 20s or even the 30s in the afternoon, creating ideal conditions for fun on the slopes.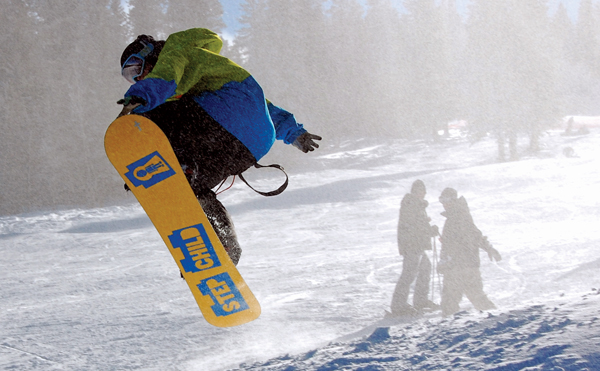 Black Hills snow-making guns can convert 1,000 gallons of water every minute into snow for skiers and snowboarders.
On the opposite side of the state, Great Bear Ski Resort in Sioux Falls also caters to snowboarders. It is considered a good place for East River residents to learn the basics before heading west to test their skills in the mountains.
Snowboarding is a winter outdoorsman's version of skateboarding. Its invention is credited to Sherman Poppen, a Michigan engineer who strapped two skis together in 1965 to make a toy for his daughter. The sport gained widespread acceptance in the 1980s and became an Olympic competition in 1998.
Editor's Note: This story is revised from the January/February 2012 issue of South Dakota Magazine. To order a copy or to subscribe, call (800) 456-5117.