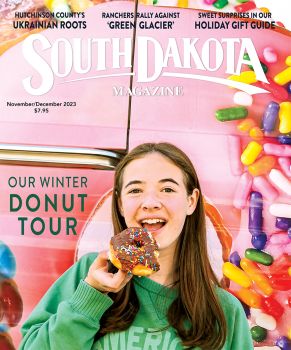 Subscriptions to South Dakota Magazine make great gifts!
Subscribe today — 1 year (6 issues) is just $29!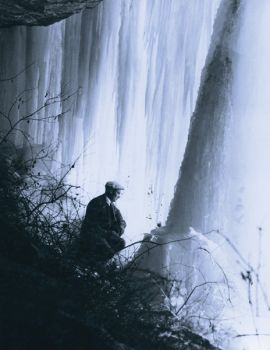 The Mysterious Baker's Falls
Jan 28, 2015
It all started with a simple question: "Where is Baker's Falls?"
It came via our Facebook page from a reader whose curiosity was piqued by our Jan/Feb issue's cover shot from the Fassbender Photographic Collection. A young man is shown crouched behind a frozen waterfall. The only details are those written on the photograph: "Baker's Falls, Spearfish Canyon, Black Hills, S.D."
We called Paul Higbee, our West River correspondent. He's lived in Spearfish for several years and knows that area better than anyone in the office. After a little investigation, Paul told us he thought the spot was likely a place known today simply as the Ice Caves. He said you could find them high in the rim rock just above Bridal Veil Falls on the left side of the road as you're driving up Spearfish Canyon.
Case closed. Or so we thought.
Paul called again today to report that our cover shot is generating a lot of talk around Spearfish, and that many of the locals who mention the photograph believe it actually shows the Community Caves during a year in which more water was flowing around the formation. No one seems to know where the name "Baker's Falls" came from, or even recalls any Bakers from that time and place.
One reader who talked to Paul even remembered a different photo of a frozen-over Community Caves that appeared in South Dakota Magazine a decade or more ago that he says looks strikingly similar to our current cover photo. They are tracking down that lead right now, but in the meantime we thought we'd open it up to our online readers and see if anyone can shed any light on the mystery?