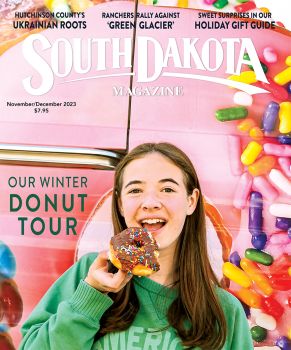 Subscriptions to South Dakota Magazine make great gifts!
Subscribe today — 1 year (6 issues) is just $29!

Naming Jett
Story By Roger Holtzmann
Photos by Keith Hemmelman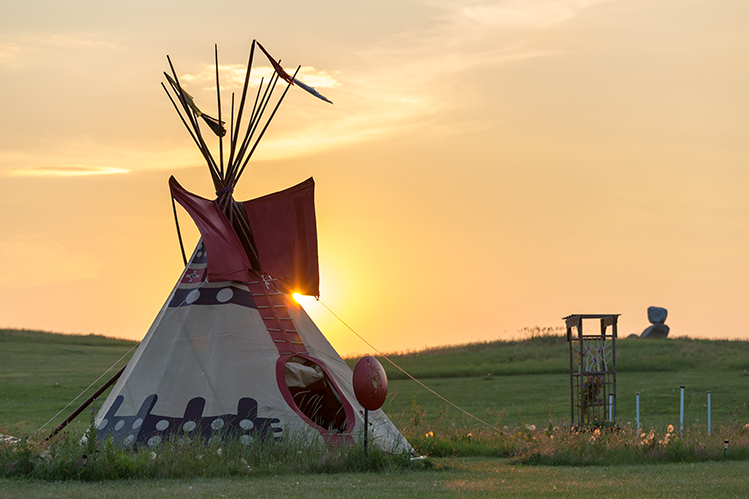 A tipi was erected atop Snake Butte near Lake Oahe for the traditional Lakota naming ceremony of Mike and Donna Stroup's son, Jett.
Children are guided along paths laid out by their parents. That is the natural order of things, but for one Lakota family it may not be the only way.
Donna and Mike Stroup, of rural Pierre, welcomed a son, their second child, into the world on Sept. 25, 2013. They named him Jett, and he was about a year old when Donna was approached by Violet Catches, her close friend of many years.
"Violet had seen Jett after his birth and always commented on how he was a 'real' Indian baby," said Donna. "She said, 'He needs a spirit name.'"
Sometime later, "Violet told me she had a dream in which she came upon an old-time Indian camp," said Donna. Their tipis were gathered in a circle, with children playing all around, and when Violet entered the circle she saw Jett. "He turned and saw [Catches] and ran to her with arms outstretched, and said, 'Grandma! I'm so happy you're back in my life!'"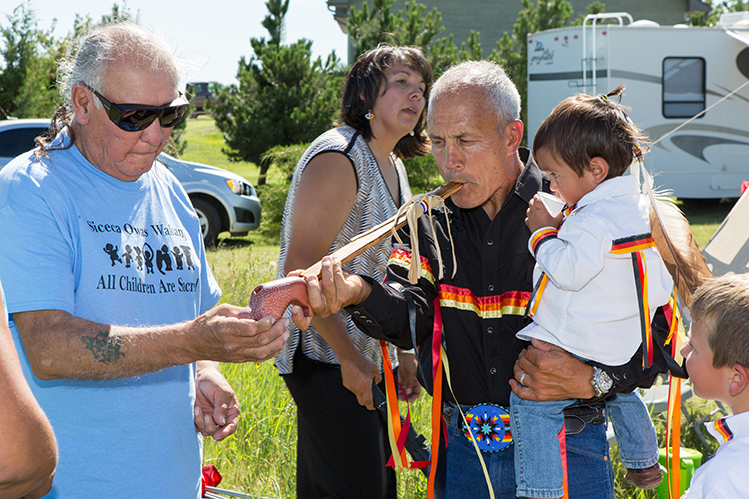 Clark Zephyr (left), a Fort Thompson medicine man, officiated at the naming ceremony for Jett, shown being held by his father, Mike.
Catches grew up on the Cheyenne River Reservation, in a traditional Lakota family, one in which the old ways were her first ways. "My first language was Lakota," said Catches. "My first teachings in life were in the Lakota culture. My grandmother told me stories about our culture, and it wasn't just for my ears. It was for all the kids in the house — my older sister and younger brother, and a cousin we called older sister."
Lakota kinship is different, "more complex," than the American system, said Catches. Relationships include the bonds between immediate and extended family members, but they can be equally close and meaningful beyond those traditional ties. "In life, you feel really connected to certain people," said Catches. "That's how I feel about Donna and Mike and their children."
That connection to the Stroup family, and her Lakota background, moved Catches to see her dream as more than a simple dream: it was an invitation to help her friends recover a pearl of great price. "I asked Donna and Mike if they would permit me to have a naming ceremony for Jett," said Catches.
Native children receive a given name at birth, as Jett did, but naming ceremonies — in which another name is bestowed and celebrated — have long been a part of the Lakota, Dakota and Nakota traditions. Names sometimes pass from parent to child, or within a tiospaye (extended family), according to Mike. This may happen when the christened is young, but they can be conferred at any time from the teenaged to gray-haired years.
Names can also be original to an individual, as when they reflect a unique spiritual vision, or recognize some significant achievement or service.
"My wife and I didn't seek out a name," said Mike. "Violet saw Jett early on, and had a connection with him. She didn't know why."
Donna, Mike and Violet prepared for the naming ceremony by visiting the sweat lodge at Wakpa Sica Reconciliation Place outside of Fort Pierre (Jett would have participated if he were older). In that place of purification and prayer they offered thanks for the honor accorded Jett and their family, and asked for guidance.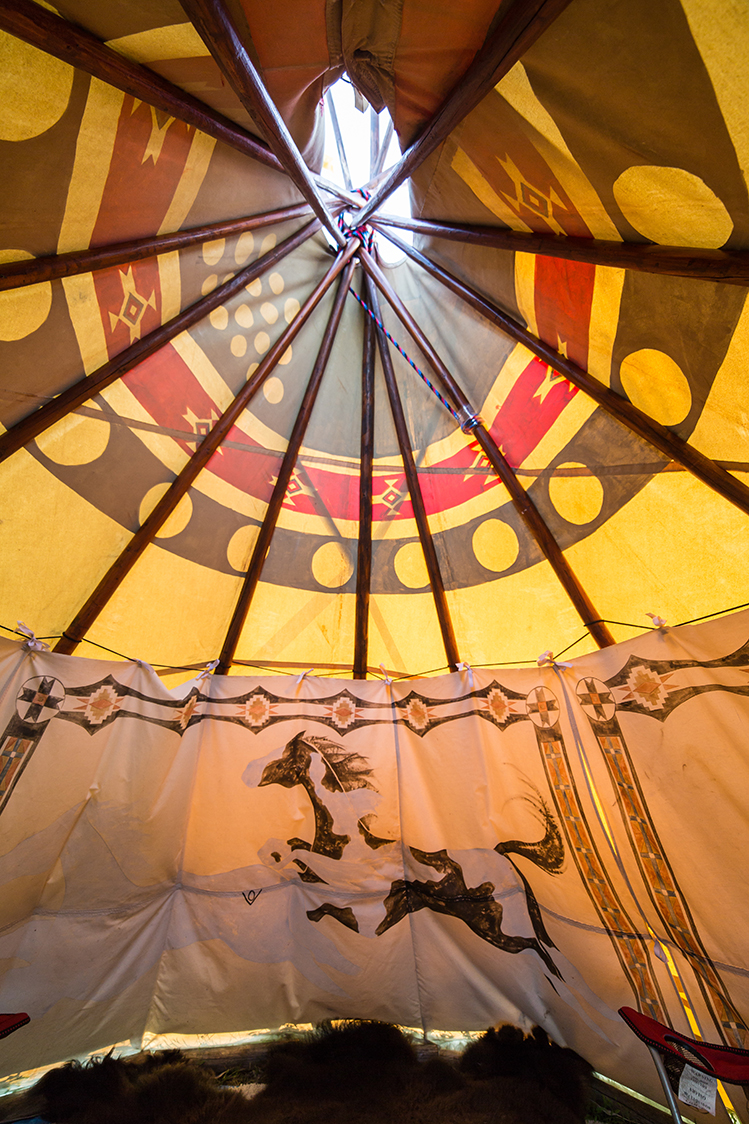 The inside of the ceremonial tipi.
On the appointed day, friends and family gathered at the Stroup home 5 miles north of Pierre, near the top of Zuze'ca Paha (Snake Butte) overlooking Lake Oahe. Clark Zephyr, a medicine man from Fort Thompson, performed the ceremony. Chris Mexican, of Pierre, served as the drummer and singer.
Mike had erected a ceremonial tipi, adorned with sacred symbols, which will be Jett's to keep throughout his lifetime. The naming ceremony began inside, with Jett, Zephyr, Mexican, Donna, Mike and their older son Spencer present. (Violet was unable to attend because of family obligations.)
A naming ceremony can vary somewhat from one medicine man to another. Zephyr began with three traditional songs, sung to the cardinal directions; these served as the ceremony's foundation for they appealed to Jett's living and dead relatives to guide him in the coming years.
When they emerged from the tipi Jett was placed on a buffalo robe. Zephyr tied an eagle feather into his hair and Mike and Donna proclaimed his name for the first time: Oyé Aku, "One Who Brings Back Tradition."
"Jett's spirit name came to Violet while she was at Sun Dance before the naming ceremony, and it was a pretty fitting name," said Donna. "When I was pregnant Mike and I discussed ways to expose Jett to as much of our culture as we could after his birth."
Purifying sage smoke wafted around the sacred circle while the assembled company lifted their voices in an honor song for the family. Mike and Donna served water and wasna — a mixture of dried chokecherries and buffalo meat — to their corporeal guests, and left some on a nearby butte for those of the spirit realm. These elements have been used in naming ceremonies "forever," said Mike, "reflecting that water and the buffalo have been around since the beginning."
Webster Two Hawk, an Episcopal minister from Pierre, offered a prayer of thanksgiving over the feast that followed. This brought the ceremony to a close, and began the many years of patient teaching it will take to help Oyé Aku understand the significance of his name.
"For us to accept that name, to allow him to accept that name, is a great honor, but a great burden as well," said Mike. "It kind of sets the direction of his life because it becomes his responsibility to bring back tradition."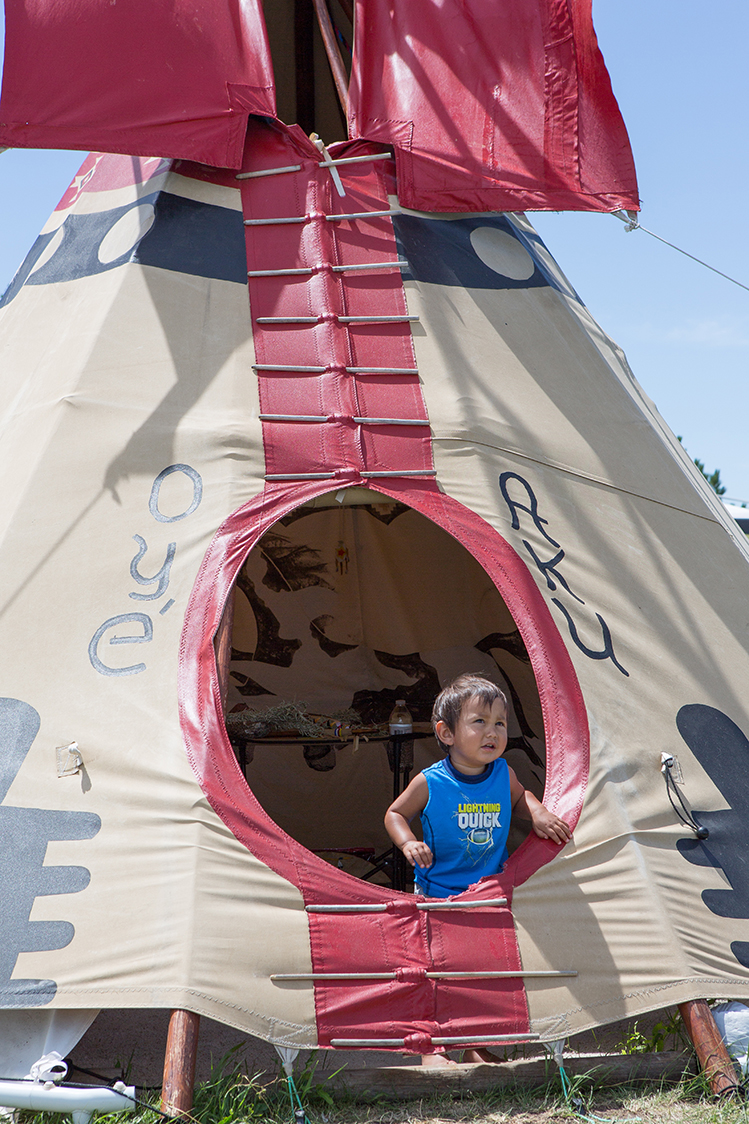 Jett was just 2 when he received a Lakota name meaning, "One Who Brings Back Tradition."
Before they can teach and guide their son, Mike and Donna must first reconnect more deeply with their own pasts. They are both Lakota, enrolled tribal members on the Lower Brule and Cheyenne River reservations respectively, but they didn't come of age in traditional families, where their ancestral culture and language were woven into daily life.
"Neither one of us is fluent [in Lakota]," said Mike. "We know a lot of common words, but not much more." Like many Lakota their age, the Stroups' grandparents were all native speakers. For a variety of reasons the essential language link between old and young was never made during their formative years, making them part of what Mike termed "a lost generation."
They do have one decided advantage going forward: both of the Stroups have extensive experience in education. Mike started his career teaching at Flandreau Indian School, then moved on to White River, Rosebud and Sinte Gleska University, before returning to his hometown of Pierre as the high school principal and district superintendent.
After graduating from college with a degree in psychology and early childhood development, Donna's first position was with the Pierre Indian Learning Center. Stints with the Department of Social Services Child Protection Services and Department of Human Services Division of Developmental Disabilities followed; she is currently the Director of Indian Education for the Pierre School District.
Oyé Aku and his siblings could hardly be in better hands. They will grow up in a home where education is valued, with parents who will be learning about their treasured Lakota heritage as they teach it to them.
"Our responsibility will be to give Oyé the opportunity to dance, to sing, to learn about and carry on those traditions," said Donna.
In this task they will, fortunately, have Catches to support them. "I am going to be helping them learn some of the larger concepts of Lakota culture," said Catches. One of those is mitákuye oyás'in, a sacred term that should be used only in prayer, "at the right time and the right place. What it means is we are all related. Not just to other human beings, but to the earth, the sky, the water, the animals."
And our precious past.
Editor's Note: This story is revised from the July/August 2016 issue of South Dakota Magazine. To order a copy or to subscribe, call (800) 456-5117.