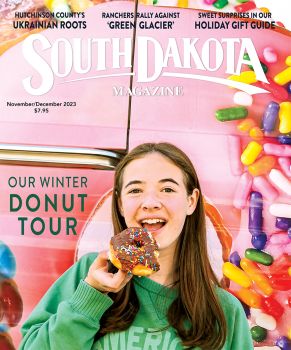 Subscriptions to South Dakota Magazine make great gifts!
Subscribe today — 1 year (6 issues) is just $29!

New Traditions
Dec 10, 2015
By Fran Hill
Christmas Eve is the time for traditions. There are slow drives to check out the Christmas lights, scripture reading of the first Christmas and maybe family gifts are opened (because Santa's won't be here until morning).
I surveyed a group of friends and it seems another tradition for Christmas Eve is soup. Be it a bubbling pot of chili after an inspiring candlelight church service or a creamy bowl of oyster stew while watching seasonal movies in new jammies, soup is a menu staple for Christmas Eve.
Our home doesn't stray too far from the norm. My husband and I usually serve chili and my often requested Potato, Bacon and Green Bean Chowder along with a fresh vegetable tray, cheese and crackers and Christmas cookies for dessert. However, this year, I might mix things up.
When I visited New Mexico a few summers ago, friends introduced me to Posole, a traditional stew. At first taste, I knew that my husband would love the slow roasted pork, beans and hominy in a seasoned tomato base. The stew is not spicy, only flavorful. Garnished with queso, cilantro, shredded cabbage and/or a squeeze of lime, every bowlful is the perfect cold weather comfort food and excellent for a new tradition of Posole for Christmas Eve supper.
---
Posole
(adapted from Bon Appetit)
1 tablespoon ground cumin
1 teaspoon garlic powder
1 teaspoon smoked paprika
1 teaspoon freshly ground black pepper
1 teaspoon kosher salt
2-pound boneless pork shoulder
1/2 red onion, sliced
2 tablespoons olive oil
1/2 red onion, chopped
3 garlic cloves, minced
2 plum tomatoes, diced
6 cups chicken broth
1 28-ounce can pinto beans, drained (last time I only had kidney beans on hand, that's OK)
1 28-ounce can white hominy, drained
1 28-ounce can tomato puree
1 tablespoon oregano (preferably Mexican)
2 teaspoons ground cumin
Kosher salt and freshly ground black pepper
crumbled queso
chopped fresh cilantro
lime wedges
flour tortillas
Preheat oven to 275 degrees. Combine cumin, garlic powder, smoked paprika, salt and pepper in a small bowl. Rub spice mix all over pork. Place pork in a small roasting pan and cover with sliced onion. Pour 1/2 cup water in the bottom of pan. Cover pan tightly with foil and roast until meat is very tender, 5–6 hours. Let pork rest until cool enough to handle. When cooled, use 2 forks to shred pork into bite-size pieces. (Pork may be prepared up to 2 days ahead.)
Heat oil in a large pot over medium-low heat. Add onion and sauté until translucent, about 5 minutes. Add garlic and cook, stirring often, until fragrant, about 2 minutes. Add the diced fresh tomatoes and stir until softened, about 2 minutes longer. Stir in broth and next 5 ingredients. Bring to a boil and reduce heat to low. Cover; simmer, stirring occasionally, for 30 minutes.
Add reserved pork to posole. Simmer uncovered 30 minutes longer for flavors to meld. Season to taste with salt and pepper. Garnish individual servings with queso, cilantro and lime wedges. Serve with flour tortillas. (Serves 8-10)
Fran Hill has been blogging about food at On My Plate since October of 2006. She, her husband and their two dogs ranch near Colome.