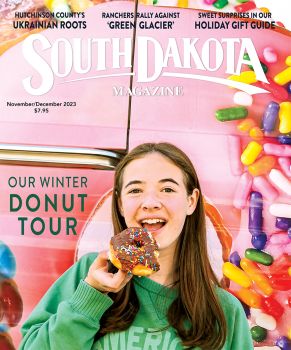 Subscriptions to South Dakota Magazine make great gifts!
Subscribe today — 1 year (6 issues) is just $29!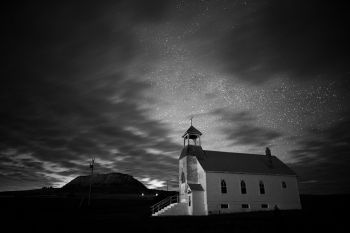 Night in Black and White
Feb 22, 2017
By Christian Begeman
I have an affinity for black and white photography. I learned how to develop and print black and white photos in my college days at the University of Sioux Falls. Monochrome is simple, yet evocative. It can convey a sense of timelessness and elegance. It can also be poetic. Ansel Adams, an American master at photography, has both inspired and taught countless photo enthusiasts like me. I'm especially a fan of his use of color filters in the field to get his photos to look a certain way when printed. For example, on a blue sky, sunny day, he would often use a red filter. The result turned the azure sky into nearly black when printing. This technique allows for clouds as well as flora and fauna, with their contrasting lighter tones, to stand out.
The digital age has dramatically changed photography since the days of Adams. One of the beautiful things about modern editing programs is that many of them allow an editor to dial into the individual color channels of a photo and manipulate the image by sliders and dials instead of filters and chemicals. Photoshop even has presets to mimic the red, orange and yellow filters that Adams so often used. I try to post a black and white country church photo every Wednesday on the Prairie Sanctuaries Facebook page. Many of them are shot on blue sky days with white clouds. I use the red filter technique as a starting point in editing to give the darker skies a more eye-catching contrast against the often-white churches.
Last summer, it dawned on me to actually shoot a church at night to get a naturally dark sky instead of using the red filter. I actually stumbled upon the idea. I was chasing some Northern lights in Butte and Harding County and by the time I got to South Cave Hills Church, northwest of Buffalo, clouds had begun to roll in from the north and the aurora was quickly fading. Since I was already there, I took a photo. Once I had it back in editing mode, I couldn't get the green cast from nearby yard lights out of the image. On a whim, I converted it to black and white. It was a revelation. The stars and clouds above the church suddenly grabbed my attention in a whole new way.
On my way home to Isabel over Christmas, I drove through Trail City on Highway 20 and noticed that all the lights were on in the Holy Rosary Catholic Church. I stopped to shoot the image and, once again, the black and white version seemed to pop more than the color image. Because of these two instances, I made it my mission to try more black and white night photography this winter. I even re-edited a few of last summer's photos of a lightnting storm and the Milky Way with a prairie windmill to see how they would look in monochrome.
So here are 16 black and white night images for your viewing pleasure. Most were made within the last month as I tried new scenes like the city lights of Sioux Falls and dark sky areas like Palasades State Park or abandoned farmsteads. I realize others may not be as enthusiastic about black and white, but I had a lot of fun. I always learn something when I try something new. And with our unusually mild February, what better way to spend those long winter nights than outside under the stars?
Christian Begeman grew up in Isabel and now lives in Sioux Falls. When he's not working at Midcontinent Communications he is often on the road photographing South Dakota's prettiest spots. Follow Begeman on his blog.