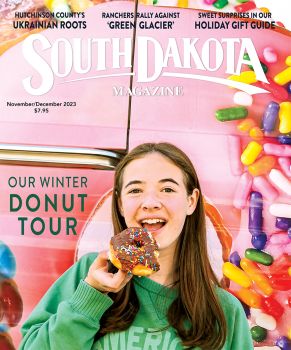 Subscriptions to South Dakota Magazine make great gifts!
Subscribe today — 1 year (6 issues) is just $29!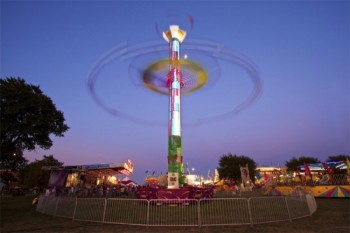 Night Lights
Mar 8, 2012
I've never been a good planner in terms of details. I'd rather take a long weekend in a favorite area like the southern Black Hills and improvise as I look for photographs. I don't want to think if I don't have to. I guess that is a "me" problem. What's funny is that I also really like night photography and night photography is hard. It requires some serious thinking. To do it well consistently you have to pay attention to detail. You have to learn your gear and your camera and most importantly, you have to plan your shots in advance of night falling. If you don't, you will find yourself out stumbling around shooting in the dark both literally and figuratively. Believe me, I've tried and failed to do it without taking the time to learn and be prepared.
Over the last year and a half, I've devoted a lot of time to learning how to get the kind of night photos that I think are cool. That includes photographing the starry skies and particularly the Milky Way. As noted in South Dakota Magazine's most recent issue, our state is a wonderful place to star gaze. For me, figuring out how to photograph those starry scenes only adds to the experience. I also enjoy shooting scenes where there is some traffic so I can produce light streaks from headlights and taillights. I believe an important tenet of good photography is showing a familiar scene in a new and interesting way. Opening up the shutter of your camera for longer than a half second or more can do this for you. Doing it at night overlooking a busy street or highway can produce amazing results.
I read somewhere that smart scientist types tell us that our eyes record what we see at roughly an equivalent of 1/30th of a second. So if you learn how to manipulate your shutter on your camera to be open longer than that, you will automatically record a scene in a way that your eyes do not. One catch to this… you need a tripod. If you don't secure you camera on something sturdy then your photos will suffer from the dreaded blurs and fuzziness of "camera shake." Not good and really frustrating.
The recent innovations in digital camera sensors have allowed much greater sensitivity to low light situations. To take advantage, learning about ISO numbers, what they mean and how to change them, is essential. The lower the ISO number means that the sensor is the least sensitive to light, so shooting at 100 ISO is great for bright, sunny days. The higher number ISO like 1600 or higher, the more sensitive your sensor is to light. The only drawback to increasing your ISO is that the resulting photo will be less sharp and crisp as the higher the ISO, the more digital "noise" is added to the photo. The good news is that technology has dramatically improved sensors so the digital noise isn't as bad as just a few years ago.
Last summer, I finally took the time and initiative to do a project I've been kicking around my brain for a long time. I took my camera out to the Sioux Empire Fair in Sioux Falls and played around for a couple nights in an attempt to get some compelling photos of the midway lights. I also set up some timelapse shots for promotional video for the fair. I think that at the very least, I was able to show the fun of the fair in a new and interesting way, and that is what I feel good photography is all about. Enjoy!
A Night at the Fair from Christian Begeman on Vimeo.
Christian Begeman grew up in Isabel and now lives in Sioux Falls. When he's not working at Midcontinent Communications he is often on the road photographing our prettiest spots around the state. Follow Begeman on his blog.