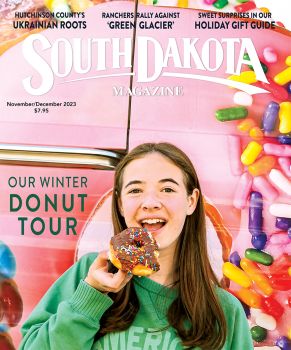 Subscriptions to South Dakota Magazine make great gifts!
Subscribe today — 1 year (6 issues) is just $29!

November 1985
Our Unloved Challenge Tree: In defense of the much-maligned boxelder.

Clyde Ice: Pioneer Pilot: He's never forgotten a winter flight of 1947.

The High Line Was My Line: One family's affection for a railroad.

Plush Velvet and Oranges: Memories of an 1897 train trip.

Homecoming in Perkins County: A brother and sister journey to their childhood farmsite.

Gas, Pop and 1,000 Guns: Kones Korner has become a sportsman's mecca in northeast S.D. [read more]

On Moving West and Burning Ditches: A self-confessed greenhorn's fiery tale of winterization.

Family Style Pheasant Hunting: One family's autumn tradition.

Ev Comstock: Mr. Golf: He has instructed hundreds of South Dakota golfers.

Norse Press: Sioux Falls humorist builds a business on ethnic jokes.
Please note: Online articles are edited and may not include all pictures or content from the original version.