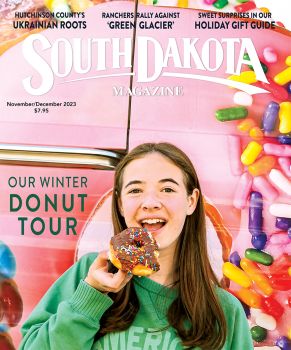 Subscriptions to South Dakota Magazine make great gifts!
Subscribe today — 1 year (6 issues) is just $29!

November 1986
The Great Chicken Caper: A tell-tale story of honest thievery.

Our Cowboy Governor: Tom Berry's daughter tells of the family's start.

Who's No. One? Soon we'll know, as South Dakota's best high school football teams head for 'Dome, Sweet Dome!'

Holiday Gift Guide: A unique guide to South Dakota gifts.

What Might Have Been: A fascinating "did you know" about S.D. and the U.N.

James 'Death Valley' Scott: The story of a Deadwood-born fastball artist. [read more]

Golden Horns: An old hunter encounters that big buck.
Please note: Online articles are edited and may not include all pictures or content from the original version.