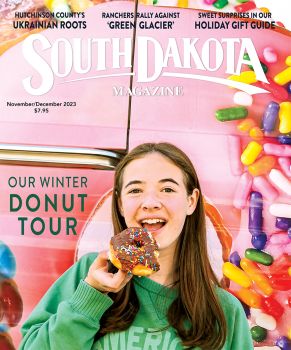 Subscriptions to South Dakota Magazine make great gifts!
Subscribe today — 1 year (6 issues) is just $29!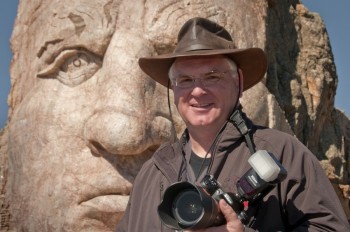 Our State Photographer
Aug 30, 2011
Welcome to the new photography column at SouthDakotaMagazine.com. Feels like I should introduce myself, so here goes.
I stepped into photography seriously around 1979 after my dad borrowed a camera from his office and shot some drag racing cars. I originally thought I wanted to work for Hot Rod Magazine, but soon began shooting for the Custer High School newspaper and yearbook.
A four-year degree in photography from Black Hills State University and an internship with the South Dakota Department of Tourism led me to jobs at newspapers in Spearfish, Sturgis and Princeton, Indiana. In 1993 I landed the fulltime position shooting for South Dakota Tourism and I've been here ever since.
If you've seen any promotional materials produced by the State of South Dakota or the other tourism organizations in the state you've probably seen my photography. I travel year-round attending fairs, festivals, rodeos, etc. and photographing attractions, historic sites, landscapes and wildlife. I also shoot for the Governor's Office of Economic Development.
In 2007 I began publishing a photography blog at www.dakotagraph.com. It contains tips on when and where to shoot photos in South Dakota, best times of the year for certain locations, and examples of my work.
A few years ago co-worker Scott Howard and I noticed that digital photography had created a resurgence in picture taking, which lead us to co-found the Black Hills Photo Shootout in 2010. With a weekend of workshops taught by knowledgeable local photographers and some nationally-known shooters, the event drew 120 participants from 18 states. This year's Shootout is Sept. 30-Oct. 2 and will feature a keynote presentation by cowboy photographer David Stoecklein. Check out the details at www.blackhillsphotoshootout.com.
I am constantly brainstorming ways to use my photography to promote South Dakota and the great opportunities here for travelers and photographers. You'll find my photos in video games, connected to the hobby of geocaching, and in blogs about movies and music concerts.
So what we hope to accomplish with this column is to help you find what all there is to shoot in South Dakota, some tips on how to improve on your photo skills, and most importantly, get you out there shooting. It should complement what you'll find at www.dakotagraph.com. If you've got questions along the way or topic ideas you'd like to see covered, send them this way. I'll do my best to help everyone get photos they are proud of.