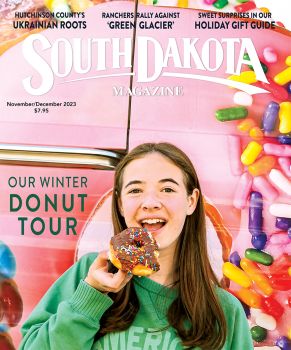 Subscriptions to South Dakota Magazine make great gifts!
Subscribe today — 1 year (6 issues) is just $29!

Our Water Stories
Nov 28, 2017
By Katie Hunhoff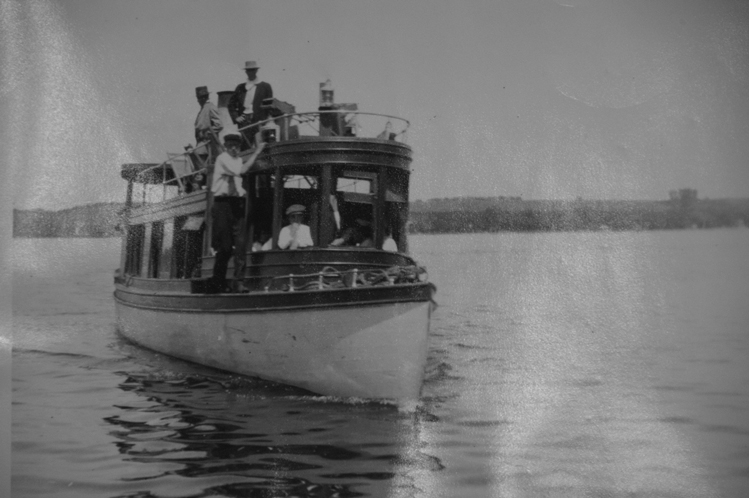 The Muskegon was once hailed as the handsomest boat on Big Stone Lake. It capsized in 1917 with nine passengers aboard.
For a state once considered a desert, South Dakota has a lot of water, thousands of feet of shoreline and a veritable treasure chest of lake and river adventure stories — some dating back a century and more.
The Kampeska Monster is among the wackiest. Boat-builders at Lake Kampeska were building a steamer in 1886 when they reported seeing a "20-foot long snake-like creature." They were not taken seriously until several days later when four prominent Watertown area businessmen claimed they also saw it.
The foursome said it swam for quite a distance before disappearing into the depths. Perhaps worried about their reputations, they admitted it might have been an unusually large lake sturgeon. Big-city journalists came to see for themselves. Some poked fun at the very idea of a Loch Ness on the prairie, but one writer concluded that, "sturdy, virile Dakotans were not given to superstitious fears."
Some of our water stories are fun, but others end in tragedy. At Big Stone Lake on July 10, 1917, nine people stepped aboard an excursion boat called The Muskegon. They never reached the other shore. Heavy rain fell and then, said a survivor, it seemed that two storms met in the middle of the lake, capsizing the 60-foot boat.
A heart-wrenching struggle ensued, as passengers and crew tried to save themselves and one another. In the end, the captain and six passengers drowned, including two young sisters. A poet memorialized the dead with a long piece that included these lines:
Those were the ties severed
In those seven peoples' lives
Lost on this boat Muskegon
Sinking to rise no more.
But the Muskegon did rise; it was pulled from the water and restored 10 years later by a wealthy businessman who renamed it the Golden Bantam. Today it is docked at a museum just across the South Dakota border in Ortonville, Minnesota, along with memorabilia and news clippings.
Not many South Dakotans have prospered as professional fishermen, but there was a time when you could make a living by clamming on the James, Big Sioux and Vermillion rivers. Button-makers wanted the shells in the early 20th century. Clams were so abundant in the James that a particular spot called Tuscan in Hutchinson County was dubbed the "Mother of Pearl Capital of the World."
The clam industry dwindled in the 1940s due to over-harvesting, environmental changes in the rivers and, of course, the invention of plastic buttons.
Despite the placidity of today's tamed Missouri, adventures still occur on its waters. In 1992 a young Yankton couple saw a small object with a yellow flag on top being pulled upstream by a nylon rope. The object kept disappearing and surfacing around their boat, until the rope got tangled in the propeller and killed the engine.
They began to be pulled upstream, backwards, and to the husband's horror the boat was slowly being pulled down into the water. They traveled about 300 yards, with their transom only inches above the water's surface before he was able to cut the rope.
Their experience was witnessed by other fishermen and was soon published in the Yankton paper. The city was abuzz with news of the river monster. Writer Marilyn Kratz concluded that a sturgeon, which can grow to 1,000 pounds, could have been the culprit. "Their slender body and long snout, covered with bony plates, would be a terrifying sight at that size," she wrote. "They certainly would be large and powerful enough to pull a boat about their same size."
Huge fish were also reported by dam-builders when the reservoirs were built along the Missouri. Some divers saw fish 15 feet long floating at the bottom of the muddy river. Mysteries are still unfolding on land and in the waters of South Dakota.