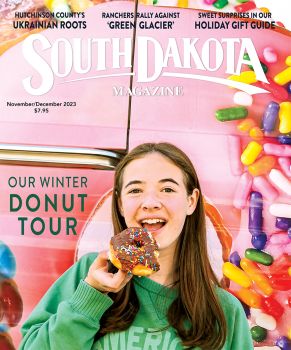 Subscriptions to South Dakota Magazine make great gifts!
Subscribe today — 1 year (6 issues) is just $29!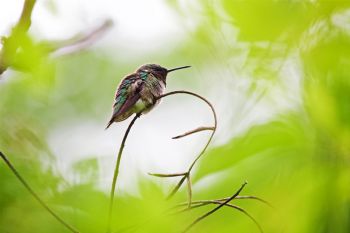 Painting with a Lens
Jul 27, 2016
By Christian Begeman
I was buzzed by a ruby-throated hummingbird as I walked along Sargent Creek in Newton Hills State Park this spring. I soon found its perch in some nearby bushes. It was early evening and the valley was in shadows, so I had my aperture wide open to let in as much light as I could. The resulting photo was a pleasant surprise, as the wider aperture caused the background leaves to blur. This effect, plus the flowing lines of the bending branches, almost made the photo appear to be some sort of Impressionist painting.
Nature certainly has influenced the world of art — from the very first pictographs on cave walls to Vincent Van Gogh's Starry Night. In the last few years, printing photos on canvas has become popular, and every so often photographs can get mistaken for paintings using this medium. Since I've only taken a few art classes in my life, most of what I think of as "artistic" is gut feeling. I don't want to discount technique, like using leading lines and the rule of thirds, but for me, artistic photos are about the subject matter first and editing technique second.
South Dakota can bless us with amazing clouds. For me, the storm cloud is the best. I like to shoot wide scenes, then render out the photo as contrasty black and white to give the scene a more timeless and dramatic feel. Flowers, on the other hand, are small and intense points of color dotted along the prairie. I love to shoot their detail and artistry with a macro lens. However, this summer I also tried to seek out wildflowers growing together with other species. These natural bouquets are worth looking for, as the color combinations can be quite eyecatching. Another fun technique is to open up the aperature and let the background go completely out of focus. I shot a growth of wild flax in Custer State Park this spring using this method. I loved how the blurry flowers in the background looked like paint daubs of color against the grasses.
A technique to consider for artistic photography is using HDR, or High Dynamic Range. You take multiple images of the same scene at different exposures. Then you combine all the sensor information from these files into one image in post processing software to get as much detail and color information as possible in the shadows and highlights. Recently, a huge storm in northwest Iowa and southwestern Minnesota provided jaw-dropping mammatus clouds above Falls Park in Sioux Falls. I photographed this with HDR in mind by taking three exposures at every scene: one image two stops high, one exposed correctly and one two stops low. The resulting files gave me all the detail I needed to render the scene as I saw it when photographing it. The clouds were some of the more dramatic I've ever seen, which didn't hurt, but because of this technique and the rarity of the clouds, I received many comments wondering if the images were real, paintings or total photoshop fabrications.
All that said, every once in a while something happens in front of your lens that cannot be planned or edited. Like my hummingbird at Newton Hills, or a chance encounter with a doe on a snowy country road, or my favorite, the absolute beauty and grace of a snowy owl upon take off. Those unexpected moments of artistic beauty simply happen, and only by being out there in nature with the camera ready will we ever have a chance to see, let alone capture them.
Christian Begeman grew up in Isabel and now lives in Sioux Falls. When he's not working at Midcontinent Communications he is often on the road photographing South Dakota's prettiest spots. Follow Begeman on his blog.