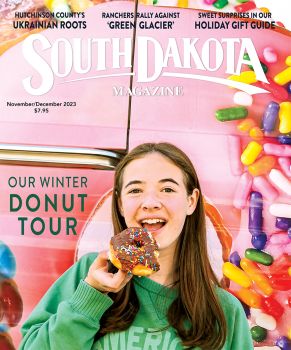 Subscriptions to South Dakota Magazine make great gifts!
Subscribe today — 1 year (6 issues) is just $29!

Pennington Revisited
Feb 15, 2017
By John Andrews
Ten years ago, Jerry Wilson, the former managing editor of South Dakota Magazine, wrote an article about the incredible geographic diversity found in Pennington County. Its western edge begins in the heart of the Black Hills. As you travel east, the second largest city in South Dakota — Rapid City — sprawls along the eastern foothills. The landscape gradually gives way to ranch country, the Badlands, the Buffalo Gap National Grassland and the Lakota culture of the Pine Ridge Indian Reservation, which sits directly across Pennington's southeastern boundary.
We last visited Pennington County several months ago for a family vacation, and you'll not be surprised to learn that all of those characteristics remain true. The Badlands haven't disappeared and the Black Hills are still there, though there have been some monumental changes since the county was created in 1875. In its 142 years, Pennington County has become South Dakota's prime tourist destination, with millions of travelers making plans to visit every year.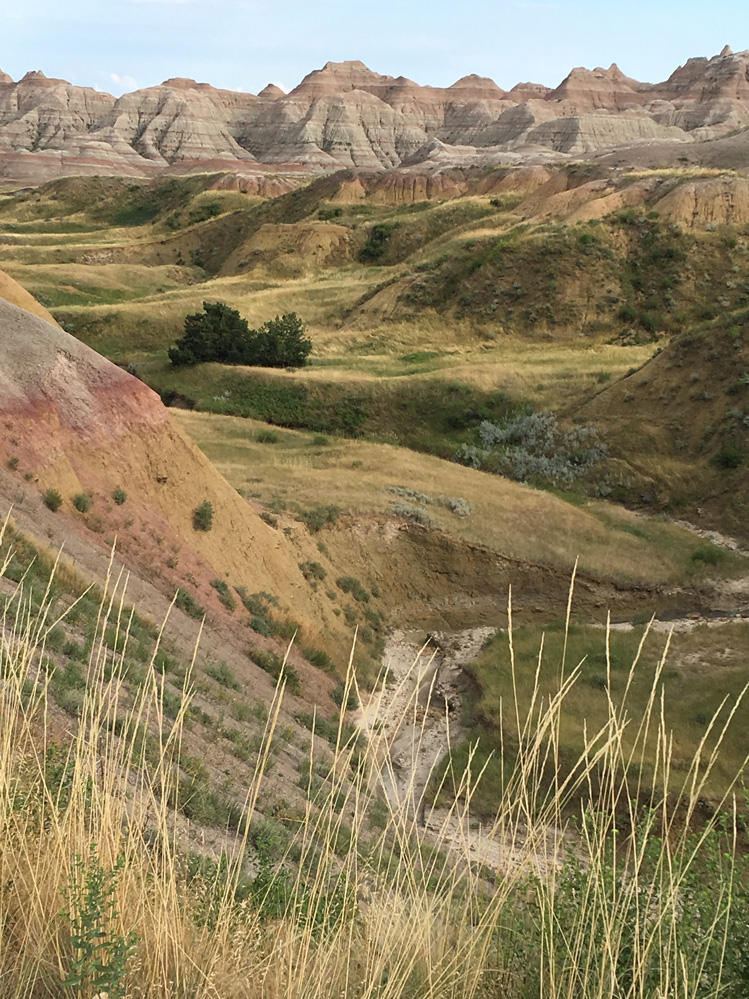 Badlands National Park protects over 240,000 acres of rugged landscape that spills into Pennington County.
Tourism likely wasn't on the minds of territorial legislators when they created Pennington, Lawrence and Custer counties in one fell swoop, but current governor and county namesake John Pennington saw the move as way to help his friends and line his pockets. The governor named several of his closest allies in Yankton to lead offices in the new county rather than fill those positions with people who lived in the area. The slight became worse when the new officials chose to stay in Yankton instead of moving west. Rumors of corruption escalated even further when Pennington selected Sheridan over Rapid City as the new county seat. It was believed that Pennington held real estate near Sheridan, and its value was sure to increase with the town's elevated status.
Locally elected officials soon replaced Pennington's appointments, and the county seat was eventually relocated to Rapid City. But the governor remained unpopular in the Black Hills until William Howard succeeded him in 1878. Shady as his dealings may have been, we do hold a soft spot for Pennington since we publish South Dakota Magazine in his home, an 1875 brick Italianate building on the east end of Yankton's Third Street. It's the only territorial governor's home remaining in South Dakota. Readers are welcome to stop by for a tour when they're in town.
Our trip into Pennington County began on the Badlands Loop Road, a 31-mile detour off Interstate 90 that provides several scenic overviews of a landscape millions of years in the making. The kids enjoyed venturing out onto short trails, taking note of the "Watch for Rattlesnake" signs. Every now and then they would head off-trail, skipping over narrow chasms and climbing precarious points.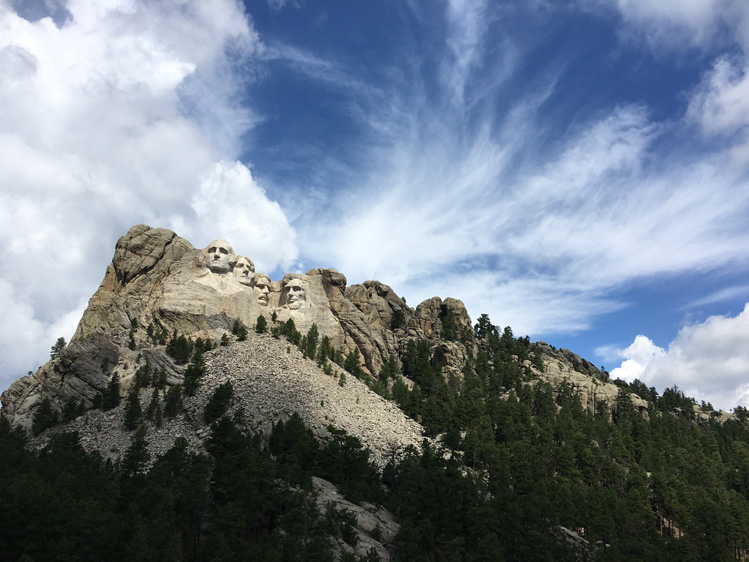 Mount Rushmore draws nearly 3 million visitors every year.
The Badlands Loop Road met Interstate 90 again at Wall, which meant a stop at Wall Drug. We spent a couple of hours perusing the many shops. I don't think the kids believed that it all began with signs for free ice water, enticing motorists to stop at the town's tiny drug store. I was impressed by the huge collection of original Western paintings that hang throughout the complex.
Our first morning in Rapid City began with coffee at the historic Fairmont Creamery building. Constructed in 1929, the space has undergone extensive renovations and now hosts several businesses, including Pure Bean.
Fully caffeinated, we made our way to Mount Rushmore, the grand jewel of tourism for Pennington County. Roughly 3 million people visit the national memorial every year. I've written a few stories covering different angles of Mount Rushmore, but it was nice to simply view the granite heads from the observation deck and to stroll along the Presidential Trail through the pines and see the sculpture from new perspectives.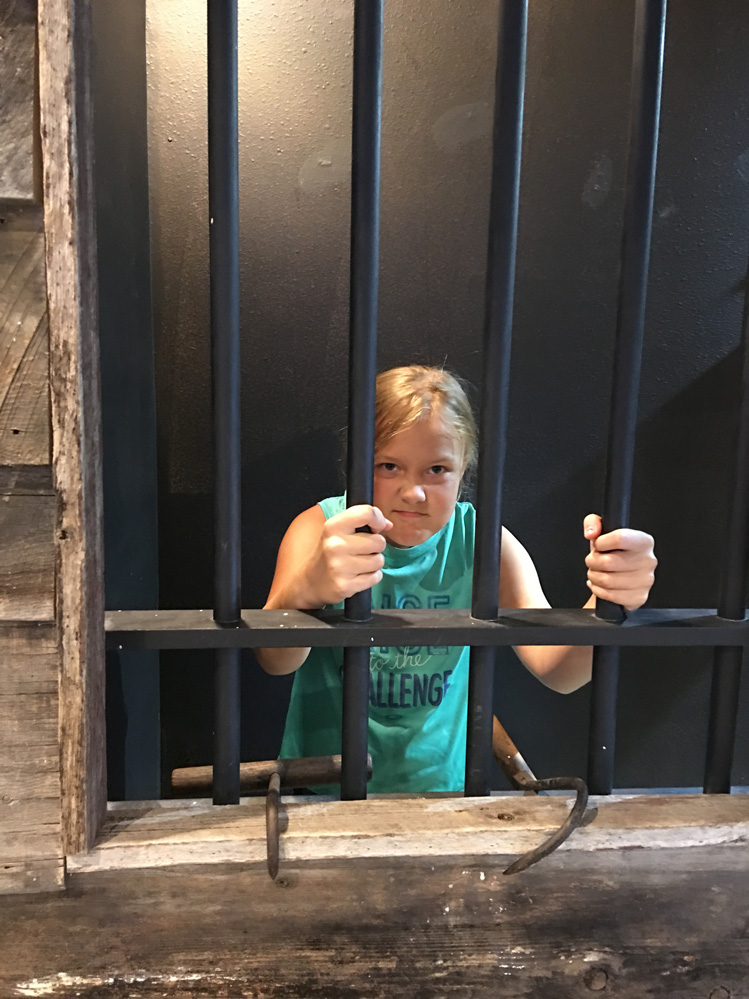 Ellie Andrews served time in Presidential Pawn's fictitious jail.
Back in Rapid City for the afternoon, we explored the lively downtown district, anchored by the new Main Street Square. Children laughed and splashed in the fountain while families lounged in the green space. We strolled the vibrant and ever-changing Art Alley, where business-owners gladly allow the drab back halves of their buildings to become colorful street paintings. We saw the world's smallest taxidermied dog inside Presidential Pawn and enjoyed a meal at the Firehouse, Rapid City's original fire station converted into a restaurant and brewpub.
For part of our trip, we stayed at Newton Fork Ranch, a former working ranch that has been converted in a series of cabins set about a mile outside of Hill City. From here, we had easy access to Prairie Berry Winery, the Miner Brewing Company and the 1880 Train, which travels round trip from Hill City to Keystone along the old Chicago, Burlington and Quincy line.
We took advantage of other popular stops in Pennington County. We traveled through Bear Country and saw mountain lions, timber wolves in captivity, and bears as they sauntered past our car. There were doubts about whether or not some in our party would be able to successfully navigate the crooked cabins of the Cosmos Mystery Area, but once the surroundings stopped spinning and the nausea became tolerable, everyone completed the tour. The Cosmos is a very weird place where tennis balls appear to roll uphill, and uneven ground proves to be completely level. Two college students discovered the peculiar place in 1952 as they searched for land on which to build a summer cabin. They immediately noticed the unusual forces and created demonstrations that have confused visitors ever since. But it really isn't for everyone. Several people on our tour seriously struggled with balance and a few even mentioned headaches.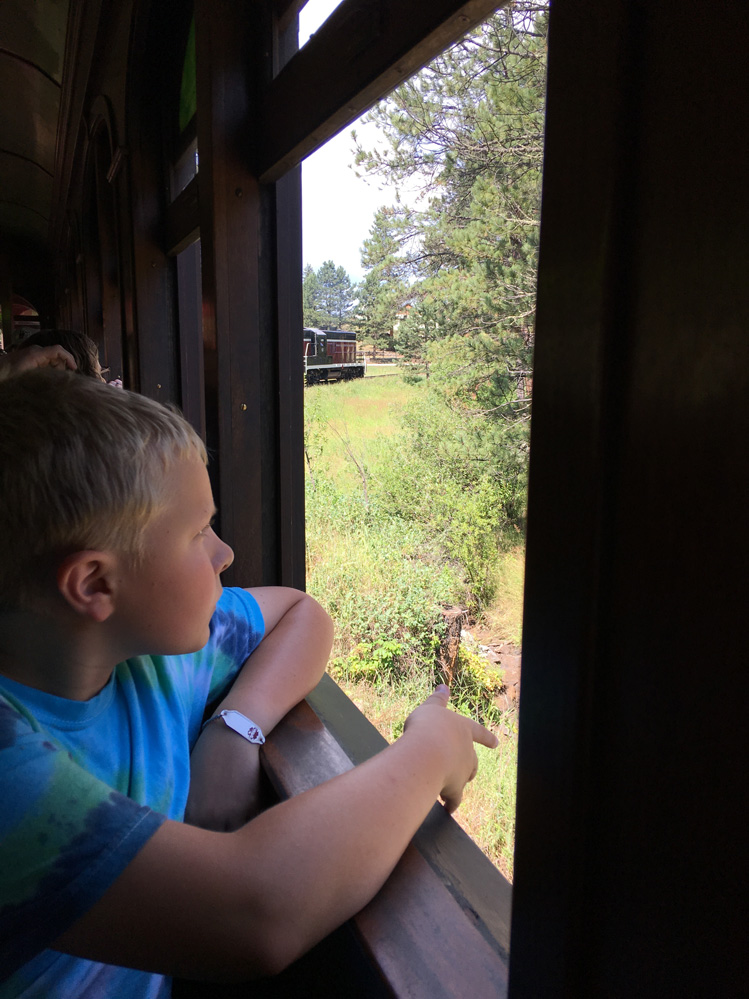 Joe Andrews enjoys a leisurely ride on the 1880 Train.
That sounds like a busy trip, but we truly only scratched the surface of things to do in Pennington County. We missed the amazing museum at the South Dakota School of Mines and Technology, and Reptile Gardens just south of Rapid City. We could have spent a day at Pactola or Deerfield lakes or made the pilgrimage to the top of Black Elk Peak, the highest point in South Dakota and the tallest peak in the United States east of the Rocky Mountains. When we were there, the promontory was still known as Harney Peak, in honor of Gen. William Harney, a 19th century military commander stationed in the area. But in August 2016, the U.S. Board on Geographic Names changed the moniker to Black Elk Peak for the legendary Lakota holy man whose vision quest atop the mountain was immortalized in John Neihardt's classic book Black Elk Speaks.
Missing out on all of those other activities simply means another trip is in order, perhaps in the summer of 2017. And I bet the ponderosa pines, the rugged Badlands, doughnuts and coffee at Wall Drug and the four granite faces of Mount Rushmore will still be there, waiting for us.
Editor's Note: This is the 32nd installment in an ongoing series featuring South Dakota's 66 counties. Click here for previous articles.