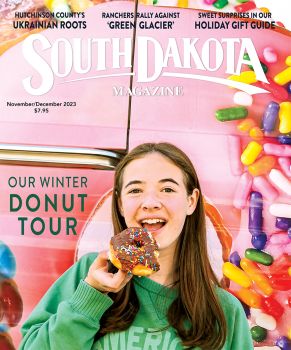 Subscriptions to South Dakota Magazine make great gifts!
Subscribe today — 1 year (6 issues) is just $29!

Not Just Ranches and Rodeo
May 19, 2015
Editor's Note: This is the second in a series of articles profiling each county in South Dakota. Click here to read other installments.
Two things came to mind when I started thinking about Perkins County: ranches and rodeo. It worked out perfectly for alliteration's sake, but as I investigated further I realized there's much more.
Perkins is one of 10 West River counties created after statehood, and one of six organized in 1909. The county is named for Henry E. Perkins, a Vermont native who moved to Deadwood in 1883 to take a job with Seth Bullock and Sol Star at their hardware store. By the end of the decade he had settled in Sturgis as bookkeeper of the Meade County Bank. Perkins eventually became mayor and served several stints in the South Dakota Senate. He was instrumental in passing legislation to carve what would be called Perkins County from Harding and Butte counties in 1908.
Perhaps no one had greater influence on the area than Ed Lemmon, a rancher and founder of the town that bears his name. Lemmon was born in Utah and trailed cattle from Canada to Texas as a teenager, but he found a home in western South Dakota.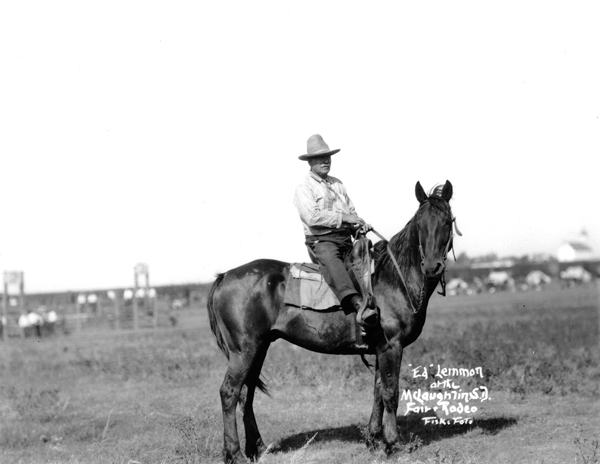 Cowboy Ed Lemmon helped create the town that bears his name in 1906.
As the Chicago, Milwaukee and St. Paul Railroad snaked west, Lemmon bought several thousand acres of land along the proposed route, hoping to cash in on a new town site. His first choice was about four miles east of the present-day town, but it sat in North Dakota, then a dry state. "In order to make Lemmon a real boom town, the saloon with its attendant evils would have to be tolerated," he later wrote. The town ended up on the South Dakota side.
Lemmon died in 1945, but his legacy is still evident in town. The Grand River Museum sells copies of The West As I Knew It, a collection of newspaper columns Lemmon wrote for the Belle Fourche Bee from 1932 to 1936, and another book called Boss Cowman. The town's annual summer celebration borrows Lemmon's nickname. Boss Cowman Days, held every July, includes a supper, fireworks, parade and a three-day rodeo.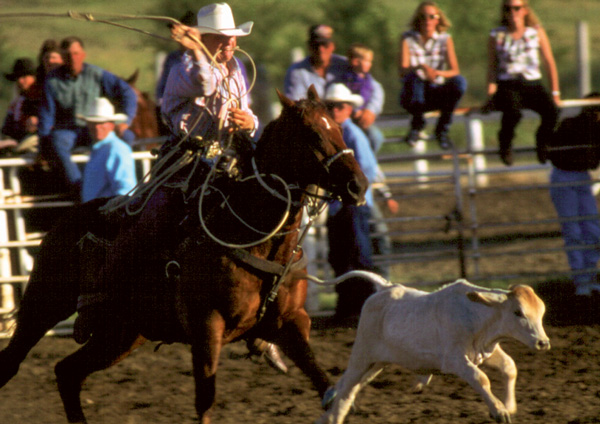 Boss Cowman Days pays tribute to the town founder with a three-day rodeo. Photo by S.D. Tourism.
Spend more time digging around Perkins County and you'll discover an artistic spirit that you may not have expected. In the 1930s, amateur geologist Ole Quammen had a vision of an outdoor museum that would showcase the region's unique stones and fossils. It may have been a low priority for others living through the Great Depression, but money became available through federal programs designed to put men to work. Soon Quammen and a team of workers were gathering petrified wood, unusual rocks and fossils and bringing them to downtown Lemmon. They built cone-shaped trees, waterfalls and other oddities. Today Quammen's Petrified Wood Park is among the biggest tourist attractions in northwest South Dakota.
Lemmon is also the hometown of John Lopez, an artist who has become known for his uncanny ability to turn scrap iron into lifelike sculptures. Our current issue has a lengthy feature on Lopez and photos of many of his creations, including Triceratops Cowboy, which stands outside the Grand River Museum.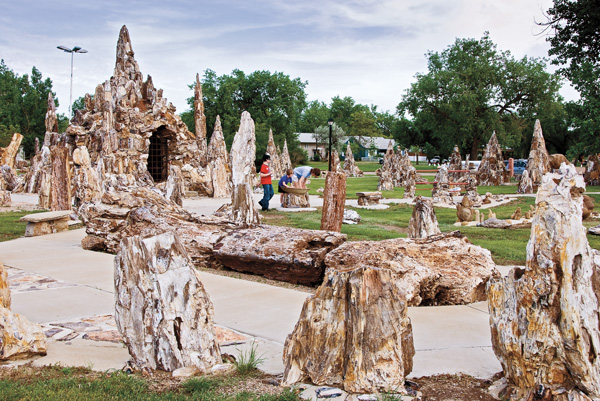 Ole Quammen's Petrified Wood Park is like a moonscape in the middle of Lemmon. Photo by Paul Horsted.
Twelve miles south of Lemmon on Highway 73 near Shadehill Reservoir stands another unique sight. Frank Rosenau and his son, Joel, used a crane to lift a Cessna 310 to the top of an old radar tower. It could be the world's largest wind vane.
Head south and west and you'll find Bison, population 338 and the Perkins County seat. People across the county took notice of Bison in 2007 when a book called Bygone Days was published. It featured the photography of John Penor, then 97 years old and living in the same sod house in which he'd grown up. The photos provided a glimpse into everyday life in Perkins County all the way back to the early 1920s. They showed picnics, parades and local youth goofing around. They were charming in their innocence, and caught the attention of celebrities from New York to Los Angeles. But he didn't attend book signings in either place. "It's no place for an old sheep herder," he told us, before saying he'd never been east of Minneapolis or west of Montana.
Perkins County has also been the setting for two of South Dakota's great literary works. Dakota: A Spiritual Geography captures the essence of rural life. The book is based on the experiences of Kathleen Norris, who moved into her grandparents' home in Lemmon in the 1970s and immediately became immersed in the nuances of small town life.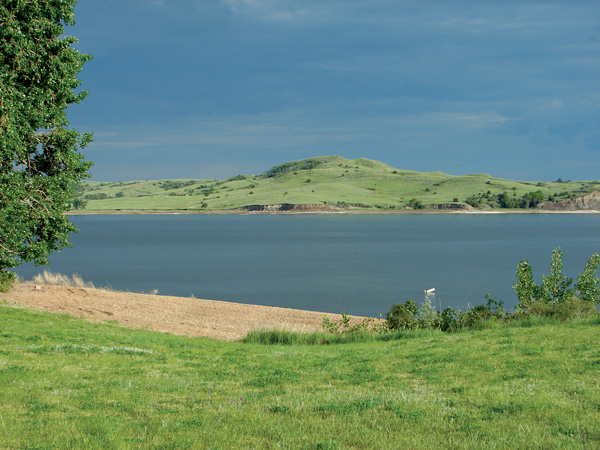 Hugh Glass' ordeal began near Shadehill Reservoir, a 5,000-acre lake created in 1951. Photo by Lemmon Economic Development Corporation.
Lord Grizzly, by Frederick Manfred, is a novel based on mountain man Hugh Glass' extraordinary fight for survival after being mauled by a grizzly bear. Glass was part of a fur trading expedition along the Grand River when the bear attacked. Glass was gravely injured, and the rest of his party left him for dead. Incredibly, Glass crawled 200 miles across West River to Fort Kiowa along the Missouri River. To see the historical marker, take Highway 73 south of Lemmon for 13 miles, watching for Hugh Glass Road. Go west about 3 1/2 miles. The monument will be on the right, overlooking the Shadehill Reservoir.
One thing you won't find in Perkins County, or anywhere close for that matter, is a McDonald's fast food restaurant. Several years ago I discovered that people in Perkins County lived farther from the nearest McDonald's than anyone in the country. I guess they still do, since no one has seen any golden arches going up in Prairie City. Don't let that dissuade you from a visit, though. A thick steak beats a Big Mac any day.