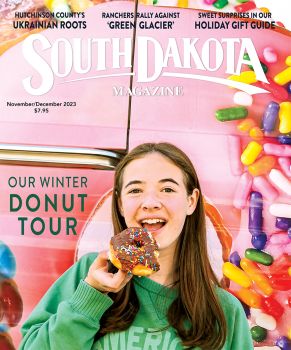 Subscriptions to South Dakota Magazine make great gifts!
Subscribe today — 1 year (6 issues) is just $29!

Philip: The Rugged West
On horseback and in wagons, adventurers rode for a week in July 2011 across prime shortgrass country, along the Bad River from Philip to Fort Pierre. Could there have been a better way to honor Scotty Philip, the man credited with saving the buffalo and for whom the town is named? Scotty would recognize every stream and butte along the route.
Born in 1858 at Morayshire, Scotland, Scotty is best remembered as for his buffalo conservation, although South Dakotans of his era knew him just as well as a cattle baron, financier and legislator. He always seemed bigger than life, and the state was stunned when he died suddenly on July 23, 1911 at age 53.
In the 1880s, still in his mid-20s, Scotty grazed cattle along the Bad River. By 1891 letter writers across America could address an envelope to Philip, South Dakota, and it would come to a makeshift post office near Scotty's ranch headquarters. Most of the letters (and bills) were for his own cowhands. This rural post office proved remarkably mobile the next several years, bouncing from ranch to ranch. The post office ended up at today's Philip townsite after the Chicago and North Western announced its rails were coming through, connecting Pierre and the Black Hills. By the time the first locomotive rumbled its way to the site in June 1907, businesses had sprung up, including the 73 Saloon. The saloon is still serving drinks today. Scotty Philip had called his cattle outfit "The 73," and the saloon founder was Slim Taggert, a 73 cowboy.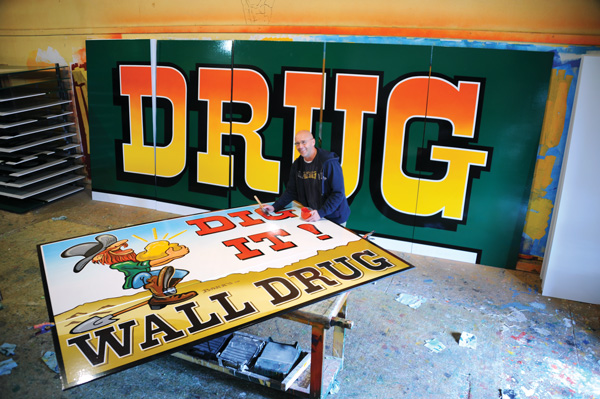 Sign painter Barry Knutson's customers include Wall Drug, Al's Oasis and other West River must-stops. Most of his billboards are along U.S. highways, but he created a Wall Drug sign in Italy while serving there in the National Guard.
Another early Philip business was the North Western Hotel, where homesteaders who rode the rails into town slept, ate and met locators who showed them prospective farm sites. Among those who stepped off the train in 1908 was Besse Gause, 24 years old, single and from Iowa. She established a homestead and landed a teaching job in a one-room school. Her life was later profiled as part of the Daughters of Dakota historical collection. Besse's adult daughter wrote that she wondered why her mother opted for such a hardscrabble existence.
Suffice it to say some people are drawn to the Dakota prairie, the more remote the locale, the better. Marie Slovek, like Besse a teacher, is a modern day example. Originally from Chicago, vacations west told Marie she was cut out for a life removed from city lights. Still, when she pulled into Philip several years ago, she recalls, "I thought I'd teach third grade for the nine-month school year and maybe move on. But I absolutely fell in love with the area and the town."
That relationship was cemented when Marie suffered a house fire in Philip. "By the next morning," she says, "people had arranged for a place for me to live, and I had furniture, appliances, food and clothing. People in Philip really look out for one another."
She stayed, married buffalo rancher Dwight Slovek, and became the school's technology coordinator and elementary computer teacher. "When my family visits from Chicago," Marie notes, "they're awed. They sit on the deck at night and see no man made lights, or in the day they can watch weather moving in, watch it before it happens."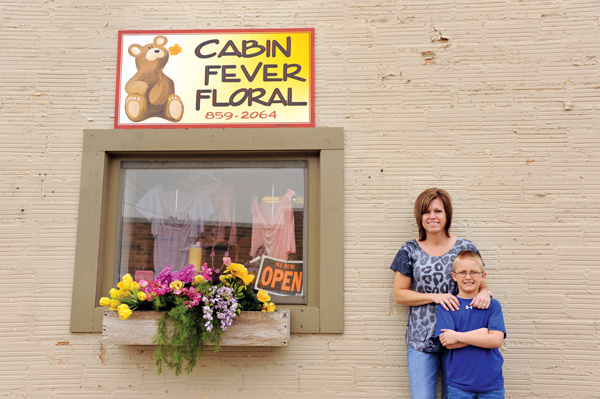 Kerry Hostetler (pictured with her son, Jesse) is a rancher's wife who runs a flower shop in Philip.
Philip puts the surrounding vastness to creative use. Early residents took the lead in complaining that Stanley County was too vast, that it should be broken up to create two or more additional counties. They believed Philip sat perfectly positioned to serve as a county seat, which it became in 1914 after Haakon County was established. Municipal leaders also worked to make certain Highway 14 was routed their way, and in 1935 won support for a municipal auditorium. The idea was to create the region's main center for live entertainment and athletics. The brick structure went up fast after gaining Works Progress Administration (WPA) designation. For the next quarter century Philip hosted district high school basketball tournaments and popular dances featuring big band leaders Lawrence Welk and Tommy Dorsey.
In the early 1960s, just as the shine had worn off the auditorium (the historic building is now a well-stocked Hardware Hank), Art Kroetch decided it was time to take his Philip salvage yard enterprise in a new direction. He started Scotchman Industries, a manufacturer any community — big or small — would be proud to claim. First Kroetch and his crew built heavy-duty farm and ranch products: corral panels, chutes, gates, and pickup racks. In the process the company acquired enough modern metal working know-how to manufacture its own metal fabricating systems, beginning with an innovative hydraulic ironworker. Kroetch, who died in 2007, aggressively pursued international markets, and the company he founded remains a worldwide industry leader.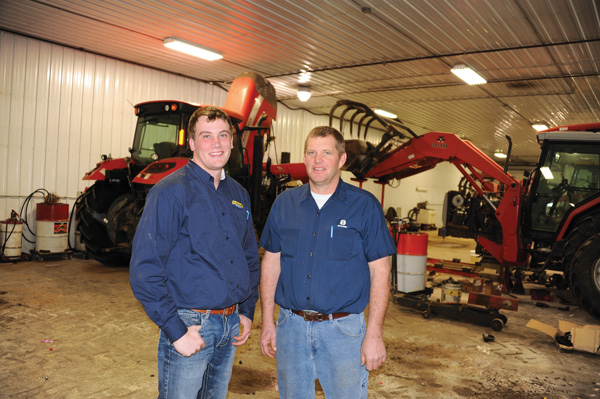 Mark Buchholz and his son, Kent, operate Kennedy Implement, a farm machinery headquarters.
Art Kroetch "had the community of Philip in his heart" says his son, Jerry, who is current Scotchman Industries president. Indeed, the company is a key to how Philip has successfully weathered ag country's economic ups and downs, steadily maintaining a population of about 800 over the decades. Today there are 60 Scotchman Industries employees.
Visitors find an intriguing small town — and not just because of the storied hardware store and 73 Saloon. Center Avenue, two blocks long, is understated until an observer takes a look at the array of small businesses — a steakhouse, attorney, pharmacy, several bars, Cattle Business Weekly newspaper ("For cattlemen — by cattlemen"), a variety store, insurance, auto parts. And there's something most unusual for a town of less than a thousand residents. The Gem, with 212 seats, is a first-run movie theater.
"We're the only movie theater between Pierre and Rapid City," says Amy Moses, whose family owns and operates the Gem. In saying that she echoes the way dozens of Philip entrepreneurs have promoted their businesses over the years. At the Gem, $6 will buy an adult admission (a dollar less at matinees) and a sack of large popcorn is just $1.50. Once in a while movie-goers will drive more than an hour from Rapid City, not surprising given the reasonable prices and the pretty prairie drive most summer evenings. First-time visitors see the Gem as something of a museum piece in this age of multiplexes. "It goes clear back to the silent movie days," says Moses, pointing out show bills from that era, displayed on the walls. The original ticket booth — a narrow booth, indeed, with room for one ticket seller — stands in the middle of the lobby. Movies run Friday through Monday.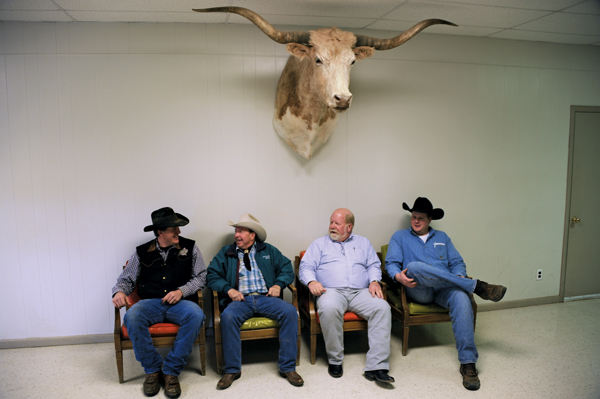 A favorite hangout for local ranchers is the Philip Livestock Auction Barn. Cattle sales are held on Tuesdays, and the popular cafe is open daily. Gathered (from left) are Jake Schofield, Barry Barber, Boyd Waara and Thor Roseth, the owner and operator.
Although it has its charms, like the Gem, Philip overall exudes a feeling of West River ruggedness and functionality. It's not a place that seeks the label "quaint." Residents know, too, that there's always been more interest statewide in Scotty Philip the man, than Philip the namesake town.
Today's historians are quick to explain that Scotty Philip had help in saving the buffalo, beginning with Frederick Dupree. Both men ended up with South Dakota towns named after them. And both made fortunes on cattle, in part because their marriages to Indian women allowed them to graze stock on the Great Sioux Reservation. Dupree, his sons, and probably some ranch hands captured five buffalo calves in 1883. After Frederick died in 1898, Scotty bought the buffalo. When he died in 1911, the herd had grown to over 900 head. Five years later, part of the herd moved west to Custer State Park, an event that was key to the buffalo's comeback both regionally and nationally.
Some historians consider Scotty Philip and Frederick Dupree emblematic of the culture that jeopardized the buffalo's existence in the first place. Even such critics, though, agree both men were likely influenced by their wives, and their wives' extended families, to see buffalo as more than mammoth pests.
Out there on the prairie, after the wagons stopped rolling for the night, all that history made for good talk under the stars.
Editor's Note: This story is revised from the May/June 2011 issue of South Dakota Magazine. To order a copy or to subscribe, call (800) 456-5117.