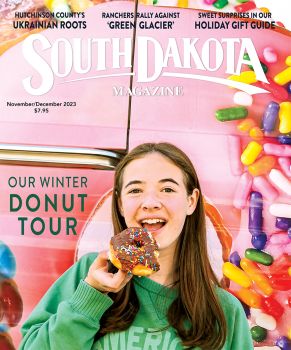 Subscriptions to South Dakota Magazine make great gifts!
Subscribe today — 1 year (6 issues) is just $29!

Cake Vacation
Jan 13, 2012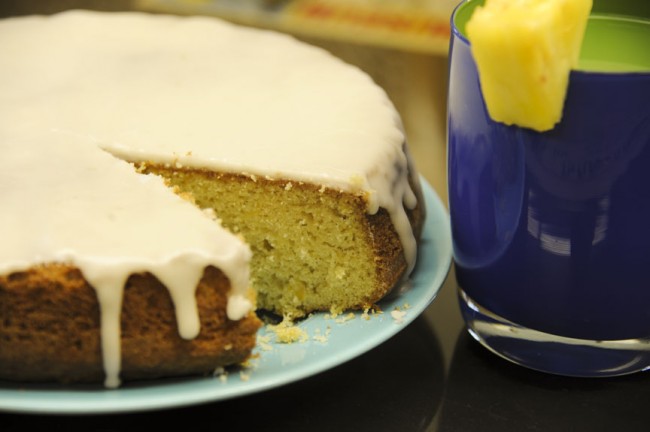 Photo by Katie Hunhoff.

One by one, my friends are all heading south to enjoy weather even more pleasant than our own. They come back with tales of bikini-clad frolics in the sand, 10 a.m. nacho deliveries by the pool and long lists of new fruity drink sensations. It sounds like fun, but I have no plans to follow suit. After the two years I spent in the Fargo/Moorhead area, EVERY winter seems like a tropical vacation to me. So I skip the longings for sun, surf and sand and opt for this cake flavored with pineapple, coconut and rum instead.
---

Pina Colada Cake
From the Smitten Kitchen
Cake:
2 c all-purpose flour
1 tsp baking powder
3/4 tsp baking soda
1/2 tsp salt
1 stick unsalted butter, softened
1/4 c light brown sugar
1 tbsp dark rum
2 large eggs, at room temperature
1 c cream of coconut (look for it in the drink mixer section of your grocery store)
1/2 c finely chopped fresh pineapple (or pineapple from a can, strained, juice reserved)
To brush over the cake (optional):
1 to 2 tbsp rum or 2 tbsp pineapple juice
Glaze:
1 c powdered sugar
Pinch of table or fine sea salt
1 1/2 to 3 tbsp pineapple juice
Preheat oven to 350 degrees. Butter a 9-inch round cake pan and line the bottom with a circle of parchment, then butter the parchment, or use a cooking spray.
Whisk together flour, baking powder, baking soda and salt in a medium bowl. In a large mixing bowl, beat butter and brown sugar with an electric mixer at medium speed until pale and fluffy, then beat in eggs, one at a time, and rum. Add cream of coconut and mix. Add dry ingredients, half at a time, mixing and scraping down bowl between additions. Mix only until flour is just incorporated. Using a rubber spatula, fold in bits of pineapple.
Spread batter evenly in prepared pan. Bake until golden and a wooden pick inserted in center of cake comes out clean, 35 to 40 minutes. Cool in a pan on a rack 10 minutes, then run a knife around edge of pan. Invert onto rack and discard parchment. For extra flavor, brush cake with rum or pineapple juice while still hot.
Cool cake completely at room temperature. Once completely cool, place powdered sugar, salt and 1 ½ tablespoons pineapple juice and whisk until a thick glaze forms. Thin glaze only as needed, adding additional pineapple juice a teaspoon at a time until glaze is just thick enough to pour. Pour glaze into middle of cake and if it's too thick to crawl to the edges itself, nudge it with a spatula until the top is covered.