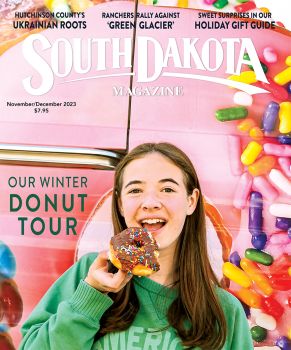 Subscriptions to South Dakota Magazine make great gifts!
Subscribe today — 1 year (6 issues) is just $29!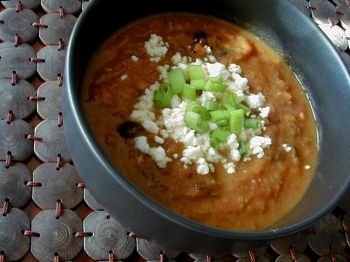 Pumpkin Pleasures
Oct 30, 2014
I love autumn. The chill in the air, the smell of wood smoke drifting from chimneys and the brilliantly colored falling leaves are all cozy comforts for me. Of course, I can't forget about the crisp, fresh apples and round, luscious pumpkins of the season. I love pumpkin.
Honestly, it doesn't even have to be real pumpkin. Much to the horror of a friend who had a nasty childhood encounter with iced pumpkin-shaped sugar cookies, I can easily eat an entire package from the grocery store bakery all on my own (with or without a pumpkin spice latte). But real pumpkin — Pumpkin Pie, Pumpkin Cornmeal Muffins, Pumpkin Pudding, Pumpkin Gingerbread with Warm Caramel Sauce, and even savory Pumpkin and Black Bean Soup — in any form vies for my attention during the fall.
Pumpkin and Black Bean Soup is so very thick and wholesome. Onions and garlic are sautéed and flavored with the smokiness of cumin before being combined with broth, pureed black beans, tomatoes and pumpkin. It is all simmered together into a delicious soup to be topped with crumbles of Mexican queso and chopped green onions. Pumpkin and Black Bean Soup is another cozy fall comfort that I can't resist.
---
Pumpkin-Black Bean Soup
(adapted from Cooking Light)
1 cup canned tomatoes, drained
2 (15 ounce) cans black beans, drained and rinsed
1 teaspoon olive oil
1 1/2 cups onions, finely chopped
2 teaspoons ground cumin
3 garlic cloves, minced
3 cups chicken broth
1 teaspoon fresh ground black pepper
1/2 teaspoon salt
1 (15 ounce) can pumpkin puree
1 cup queso fresco, crumbled
1/2 cup green onions, sliced
Place tomatoes and beans in a food processor. Process until about half of the beans are smooth. Set aside.
Heat oil in a Dutch oven coated with cooking spray over medium-high heat. Add onion to pan, sauté 5 minutes or until lightly browned. Add cumin and garlic; sauté 1 minute. Add bean mixture, broth and next ingredients (through pumpkin); bring to a boil.
Ladle about 1 cup of soup into each of 6 bowls; sprinkle each serving with about 2 tablespoons queso fresco and about 1 tablespoon green onions. (Serves 6)
Fran Hill has been blogging about food at On My Plate since October of 2006. She, her husband and their two dogs ranch near Colome.