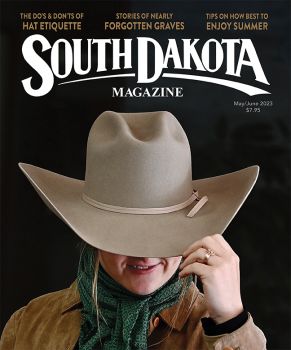 Subscriptions to South Dakota Magazine make great gifts!
Subscribe today — 1 year (6 issues) is just $29!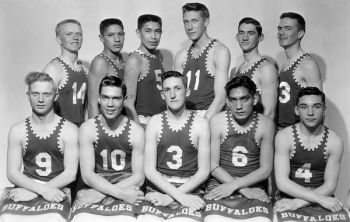 March Madness, South Dakota Style
Mar 18, 2015
March is a great month for South Dakotans. Not only do we feel the first signs of spring but it is also the month of high school state basketball championships — an exciting end to a sport that has entertained us through a long winter.
This year the high school boys' championship games are March 19-21 in Sioux Falls, Rapid City and Aberdeen. Fortunately for today's fans, games will be broadcast live on South Dakota Public Broadcasting. Find the schedule on the SDPB website. That wasn't always the case, of course, and some fascinating games in our state's history can only be remembered by word of mouth.
In this month of March, we are also celebrating South Dakota Magazine's 30th anniversary, and so our March/April issue is a collection of some memorable stories. Gann Valley's attempt at the state B championship in 1955 was included as one of our readers' favorites. The article was written by John Miles, son of Gann Valley's superintendent and basketball coach Q.C. Miles. Coach Miles saw the Buffaloes through to the state B tournament despite being underdogs and facing several setbacks throughout the season.
John starts the story by introducing Ray Deloria and Alfred St. John, two Native American students who enrolled at Gann Valley and boarded with the Miles family after the school at Fort Thompson closed. Both were great basketball players, so the Buffaloes had an unexpected boost in talent.
"Ray Deloria was a wizard in our young minds," wrote Miles. "His hands were so quick he could entertain us with only a basketball — spinning it on his finger, rolling it along his arms, making it disappear. But what really captivated us was his dribbling — behind the back, through his legs, around in circles, toying with us, challenging us to get the ball. We never could."
John's family had moved to Gann Valley, a tiny town near the Crow Creek Reservation, four years earlier when Q.C became superintendent. Q.C was a decorated pilot in World War II who returned home disturbed by memories of war. He was drinking heavily. After marrying John's mom, Lila, teaching and coaching kept him busy and his thoughts far from the war.
Gann Valley hadn't won a basketball game since 1942, but the second year that Q.C. coached they won seven games, and a conference championship the third year. Q.C.'s problems with alcohol nearly got him fired that third year, but, Miles wrote, "talk died down amidst the excitement over the upcoming season."
Part of the excitement pertained to the talented new Native American players. But they also brought challenges. "Fellow coaches told Dad he would never be able to get the Indians and whites to play together," wrote Miles. "The Indians played with a different style and tended to stay apart, conversing in their native Dakota language."
The Buffaloes won the season opener, with Ray Deloria doing most of the scoring. One white player handed in his uniform. "If this is the way it's going to be, I'm going to quit," he told Q.C. Another parent was upset that his son did not get to play in the first game. He sent a note to Q.C. that said, "He is better than any of those Indians and if you don't start playing him more I'm going to the school board."
Despite that rocky start, the Buffaloes finished the season 29-4. Word had spread that Gann Valley was a team to watch, and Ray Deloria was a sideshow all by himself. The team went on to the state tournament in Huron, which Miles said must have felt like Madison Square Garden to the boys from Gann Valley. They drew a crowd of over 6,000 fans. But then, Miles wrote, "they fell flat," and lost the first game. Most observers blamed it on nerves from the overwhelming crowd.
The next day, Gann Valley faced Selby, the tournament favorite that had also been upset in the opening round. Often the stands are far from full for consolation games, but 4,000 people showed up. "They were not disappointed," John Miles wrote. Both teams played well but the Buffaloes won, which put them against Brandon for the consolation championship.
This time, 5,300 people arrived to see Gann Valley. "In the annals of South Dakota basketball the 1955 State B consolation championship game is of little significance, but try telling that to those that were there," wrote John. His father agrees. "People to this day still come up and tell me it was the greatest basketball game they ever saw," says Q.C., who now lives in Watertown. Ray Deloria was the star of the show, putting on one of the most amazing dribbling exhibitions ever seen in a tournament. He ran circles around Brandon. Gann Valley led for most of the game, but that lead dwindled in the third quarter. Q.C. asked Ray to stall the game to try to maintain their lead.
"People said they had never seen anything like it," writes John. "Except for my family. We had seen it in our house and in our yard. Nobody was going to catch this guy. They could not foul him if they could not catch him. Desperate lunges came up with nothing. Ray dribbled constantly, sometimes so close to the ground it looked like he was rolling the ball. Sometimes he found the open man under the basket, and that was the difference in the game.
"At the buzzer, the players lifted Dad on their shoulders and paraded with him around the Huron Arena. Dozens of people congratulated him. 'I just gave Ray the ball,' he said."
We wish SDPB had been filming the games in 1955. But who knows what might happen in 2015? And this year the cameras will be rolling. Enjoy March, madness and all, in South Dakota.