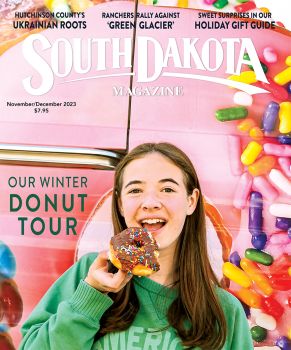 Subscriptions to South Dakota Magazine make great gifts!
Subscribe today — 1 year (6 issues) is just $29!

The Real Thing
Oct 27, 2016
By Fran Hill
A few nights ago, Hubs and I joined several friends for an evening out at a local establishment. As these kinds of nights should be, it was full of fun, companionship and lively conversation. Harvest progress was discussed. Local gossip was mulled over. And everyone rolled their eyes at the current political follies.
It was sometime between the guys' trip to the salad bar and when their steaks and prime rib were served that the topic of food arose. We all like food — a lot. Our group has a nose for sniffing out the best the area has to offer, and we aren't shy with sharing our enjoyment of excellent cuisine.
So, when a member of our food-loving party offered to show me something that tastes "just like tomato soup," I was game. Never mind that this guy isn't known for rolling up his sleeves in the kitchen. Never mind that we are sitting at a back table in the local watering hole and ingredients for tomato soup don't seem to be available. Let's just call me adventurous when I watched him squirt a huge blob of ketchup onto a saltine cracker and liberally douse it with pepper. We might need to call me insane when I took that cracker and ate it in one big gulp. It didn't taste like tomato soup. Not. At. All.
If you want something that does taste just like tomato soup, I have a recipe for you. You probably won't be able to replicate it for your friends at a table in a bar, but that's OK. This soup is meant to be savored on cool fall nights and dunked with grilled cheese for lunch. It tastes just like tomato soup should.
---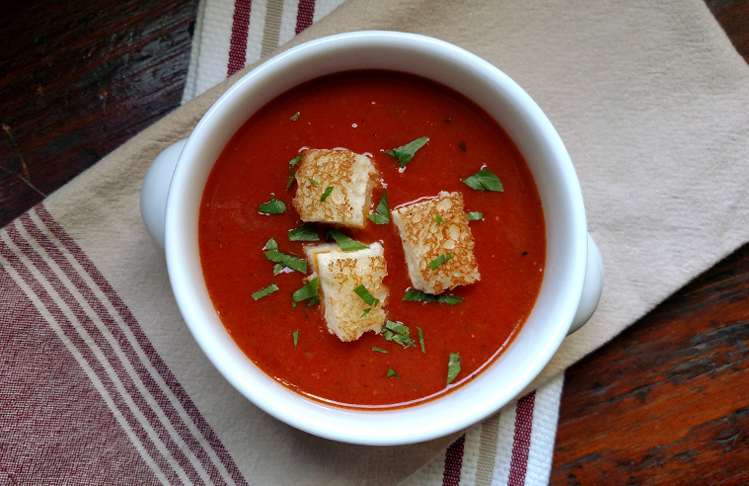 Vibrant garden tomatoes make a smooth and creamy homemade soup.
Mmm, Mmm Good! Tomato Soup
10-12 pounds tomatoes, chopped (enough to fill my 7 1/4 quart Dutch oven … seeds, skins and all)
2 yellow onions, chopped
1 head garlic, minced
1/2 cup fresh basil, chopped
3 teaspoons celery salt
1 tablespoon kosher salt
fresh cracked black pepper
4 tablespoons sugar
1 cup butter, melted
1 cup flour
3 tablespoons fresh basil, chopped finely
Chop tomatoes and place in a large, heavy pot over medium heat. Add the onions, garlic, and 1/2 cup of chopped fresh basil. Season with salt and pepper.
Bring to a boil, then reduce heat and simmer for 1 1/2 to 2 hours, until tomatoes have cooked down and flesh has released from the skins. Remove from heat.
Process tomatoes through a food mill or cone colander with pestle, sieve or similar utensil to strain the seeds and skin. (Alternatively, use a wand blender to thoroughly blend tomatoes into a puree.) Return pulpy juice to heavy pot and bring to a simmer. Add sugar.
With mixer, mix together the melted butter and flour. With mixer running, slowly add a ladle of warm tomato juice to the flour mixture. Repeat with 4 or 5 more ladles of soup until the flour mixture is warm and thoroughly combined with a good portion of the juice.
Add the warm tomato/flour mixture to the pot of simmering juice, stirring constantly to combine. Add the 3 tablespoons finely chopped fresh basil. Heat thoroughly.
Ladle into prepared jars (I use pints) and secure lids. Process in pressure canner for 15 minutes at 10 pounds of pressure. (Yield: 6-8 pints.) If you are unsure of the canning process, there are many informative sites online. I am not a canning authority.
Fran Hill has been blogging about food at On My Plate since October of 2006. She, her husband and their three dogs ranch near Colome.