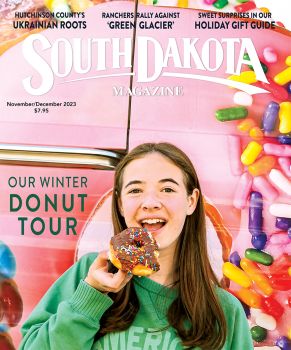 Subscriptions to South Dakota Magazine make great gifts!
Subscribe today — 1 year (6 issues) is just $29!

Recapturing Custer's Trail [Video]
Mar 7, 2012
We are big fans of Black Hills photographer Paul Horsted. That's why we were so thrilled to see Fox 7 News in Rapid City do a three-part series on his re-photographing projects, where he captures a South Dakota scene or landscape based on a historical photo.
Lt. Col. George Armstrong Custer's 1874 Expedition passed within a mile of Horsted's house. That closeness to history led Horsted and writer Ernest Grafe to retrace the Expedition's Black Hills footsteps in their 2002 book Exploring with Custer. The two teamed up again along with historian Jon Nelson on a companion volume called Crossing the Plains with Custer, which follows the entire Expedition route from Fort Lincoln.
When we featured the books in our Sept/Oct 2009 issue, Horsted told us "I'm really excited by anything that connects us to history in a more direct way." That includes photographing the same scenes the Expedition's photographer captured 138 years ago and finding cartridges, buttons and horseshoes soldiers left behind.
PART 1:
PART 2:
PART 3:
For more information on Paul or to order books, visit Dakota Photographic.