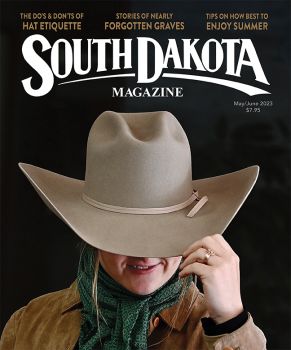 Subscriptions to South Dakota Magazine make great gifts!
Subscribe today — 1 year (6 issues) is just $29!

Sage Cake

Every year I plant a little sage in my garden. Every year I wonder why. I only know one thing to do with it – make sage cake. It's a simple butter cake with a bit of herbal decoration. It scares some people -- they look up at me fearfully, wondering what sort of weed I have placed on top of their dessert in lieu of frosting – but most enjoy its simple flavor and pleasant texture.
From Baking With Julia by Dorie Greenspan and Julia Child.
1 2/3 c all-purpose flour
2 tsp baking powder
1 tsp salt, preferably kosher or fine sea salt
1 tsp pure vanilla extract
1 c sour cream or creme fraiche
1 stick unsalted butter, at room temperature
1 c granulated sugar
2 large eggs, at room temperature
Sage leaves, washed and dried
Preheat oven to 350°. Brush the inside of a 12-inch round cake pan with a light coating of melted butter, dust with flour, and tap out the excess. Whisk or stir the flour, baking powder, and salt together just to blend; reserve. In a separate bowl, stir the vanilla into the sour cream and set aside until needed.
Put butter and granulated sugar into a mixing bowl and beat on medium-high speed until the mixture is smooth and creamy, scraping down the sides of the bowl with a rubber spatula as needed. The butter and sugar must be beaten until they are light, fluffy, and pale, so don't rush it – the process can take 3 to 4 minutes with a heavy-duty mixer and 6 to 8 minutes with a hand-held mixer. Reduce the speed to medium and add the eggs one at a time, beating well after every addition.
Working with a rubber spatula, carefully fold in the dry ingredients and the sour cream alternately – 3 additions of dry ingredients, 2 of sour cream. You'll end up with a thick batter.
Arrange sage leaves on the bottom of cake pan and carefully spoon in the batter. Smooth the top with your spatula. Bake for 45-50 minutes, or until a toothpick inserted in the center comes out clean. As soon as the cake is removed from the oven, turn it out of the pan onto a rack.