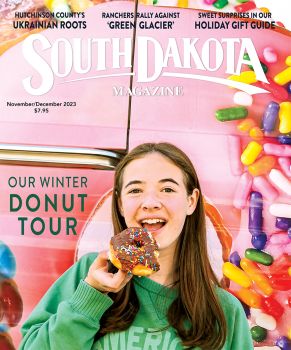 Subscriptions to South Dakota Magazine make great gifts!
Subscribe today — 1 year (6 issues) is just $29!

Scenic: Where Characters Have a Town
EDITOR'S NOTE: The little cowboy town of Scenic, South Dakota, located on the western edge of the Badlands, received local and national attention this week when Twila Merrill, who owns much of the town, put it up for sale. The buildings may belong to someone else, but the true legacy of Scenic lies with its unique and colorful characters. Several years back, our publisher Bernie Hunhoff wrote this story about Scenic and its residents. You can find this story and more like it in our book, South Dakota's Best Stories.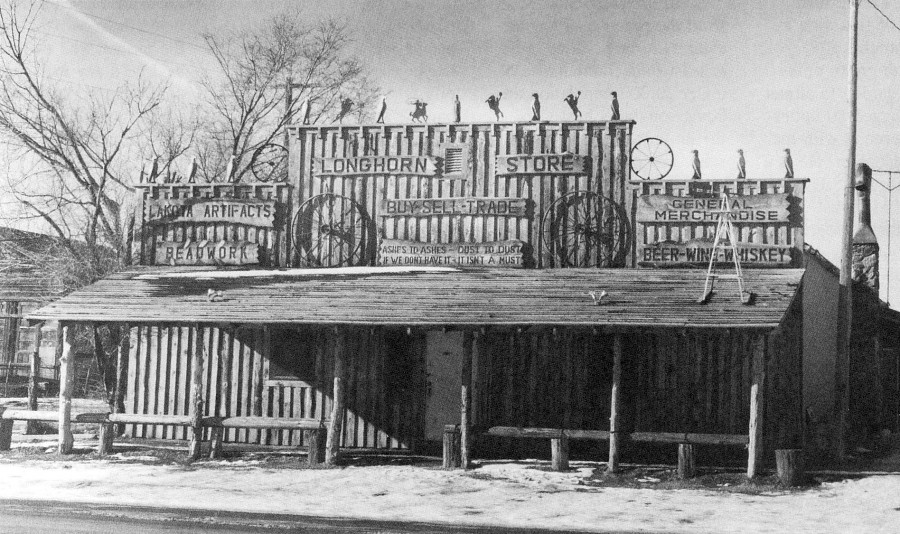 Scenic certainly can boast that it has South Dakota's most unique main street.

By Bernie Hunhoff
"Every town has its characters, but in Scenic the characters had a town," wrote Philip Hall in the book Reflections of the Badlands. Traders, trappers, homesteaders, drunken monkeys, saloon-keepers, missionaries, rodeo champions, bikers, gamblers and other interesting sorts have called Scenic home.
The town site below Sheep Mountain has long been a "last stop" for travelers arriving in the Black Hills. Scenic's very first businessman, according to Hall, was bad-luck rancher Ab Jefferson. When a May blizzard pushed all of Ab's cattle over the edge of Sheep Mountain, he decided to open a saloon. Ab drank too much of his own merchandise, and sold some of the rest to his Indian neighbors. Selling alcohol to Indians was then a federal crime, so Jefferson ended up in jail.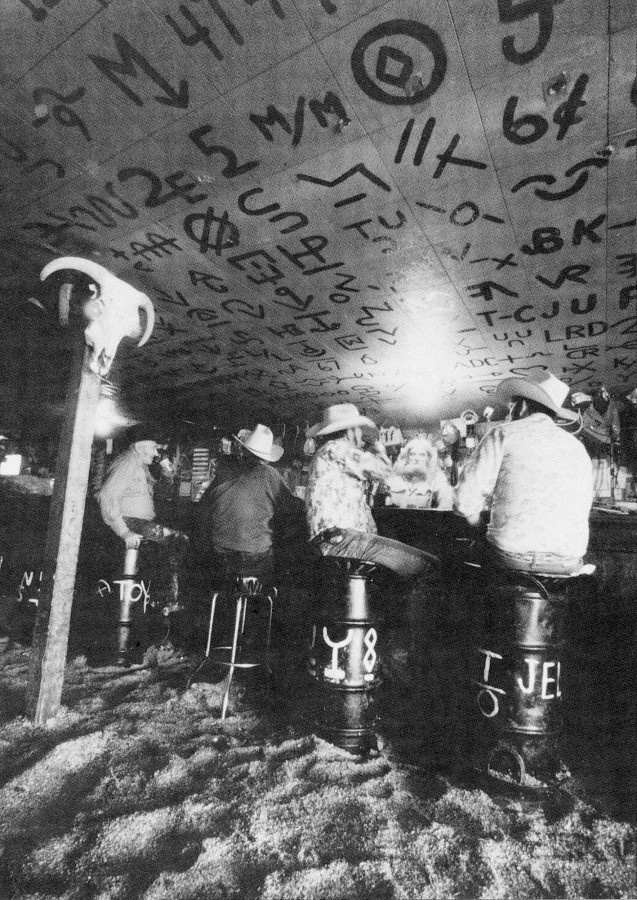 Brands from local ranches decorate the ceiling of the Longhorn Bar, where almost nothing has changed for many years. Saw dust is thick on the floor and patrons rest on oil barrels affixed with metal tractor seats.
All the flat land on the outskirts of the Badlands was claimed by the time Mary Hynes and her eleven children arrived. She was told that the only land not homesteaded was an inaccessible spot atop Sheep Mountain, so Mary and her boys clawed their way up the mountain, and were delighted with the view and the rich, flat grasslands. She brought her 20 cows up, staked a claim, built a sod house and made a life for herself.
Mary Avenell of Yankton, the granddaughter of Hynes, said growing up in Scenic in the 1950s meant living shoulder-to-shoulder with some of the most colorful people in North America. Mary's dad, "Happy" Hynes, ran a bar that competed with the Longhorn. Once, her dad bought "black market" meat and he felt guilty about it — maybe because he learned that officials from Rapid City were planning to investigate. "Hap," a non-Catholic, went to the parish priest to confess and ease his conscience. Meanwhile, her mother cooked and served all the evidence before the sheriff arrived.
Scenic is a company town these days, owned lock, stock and longhorn by a single corporation and run by a petite, pony-tailed woman who came to this windswept place against her will in 1963. Twila Merrill was riding rodeo stock, not barrels and poles that are usually the domain of the womenfolk, but the real thing: bucking broncs. She was mending from injuries in Omaha when her father, a longtime Pine Ridge Reservation trader and rancher, telephoned to say there was an emergency. Twila drove all night to get back to Pine Ridge, fearing someone had been hurt in an accident. "When I got home, Dad told me Bud (my brother) was going to show me a bar and a house in Scenic that I was supposed to buy," recalled Twila.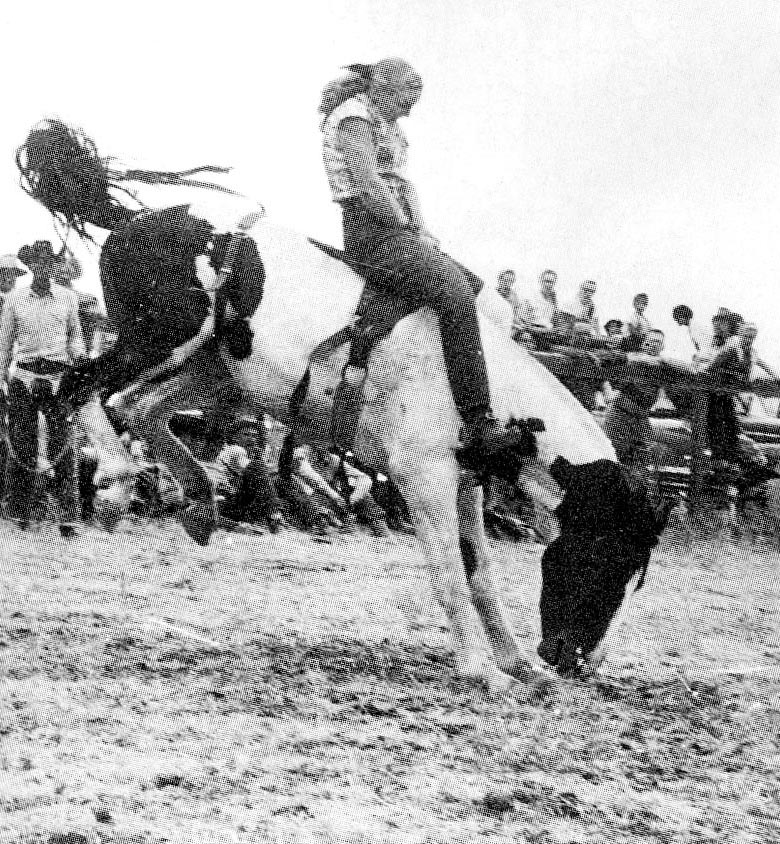 Twila Merrill rode wild broncs before she "settled down" in Scenic.
Knowing her dad's determined ways, she reluctantly agreed to take a ride. "There wasn't even a road all the way between Pine Ridge and Scenic then. We drove through Cottonwood Creek and mud was flying everywhere," she said. "The bar was a one-room affair with a nickelodeon. I didn't even look at the house. Tumbleweeds were blowing down the street and Scenic was the last place in the world that I wanted to live." She and Bud returned to their dad's Pine Ridge ranch, where a big argument ensued. She lost the argument but gained a town. Her family's corporation now owns all but one home in town. They also don't own the Congregational church, the school or the fire department. But they do own the land where the rented post office is located. And they own the Catholic Church, built in 1913 and now abandoned. Twila is considering a renovation project that would include "Michelangelo-style murals" in the interior. But the town's landmark — to some its very soul — is the Longhorn Saloon, little-changed since the 1960s when Twila's father persuaded her to come to Scenic. The front is lined with rows of skulls from longhorn cattle. Brands from area ranches are painted on the ceiling. Sawdust covers the floor. Oil barrels with metal tractor seats serve as sturdy bar stools. Twila has tried not to change the aura of the place. However, she did have the sign changed. It once read "No Indians Allowed."
She painted over the word "No."