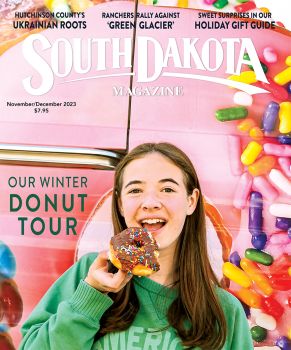 Subscriptions to South Dakota Magazine make great gifts!
Subscribe today — 1 year (6 issues) is just $29!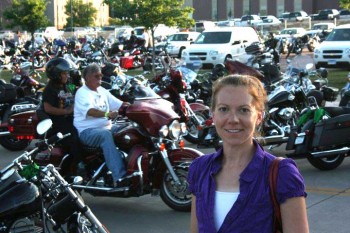 South Dakota Adventurer
Aug 26, 2011
Hello to all our South Dakota Magazine readers. My name is Rebecca Johnson. I look forward to sharing my experiences of outdoor adventure and travel in South Dakota. I am a Yankton native and attended the University of South Dakota to study communications. It was my dream at graduation to work at South Dakota Magazine, but alas, they were not hiring at the time! My husband Jeremy and I returned to Yankton anyway and I worked as a graphic designer for several years.
I fulfilled my dream of joining the South Dakota Magazine staff about two years ago and am currently the Special Projects Coordinator. I've enjoyed a lot of behind the scenes projects as well as writing for the magazine.
My parents taught me an early appreciation for the beauty of our state — almost all of my childhood vacations were to some part of the Black Hills. I still remember the excitement I felt when we finally reached the tall pine trees and winding roads. It made the long, boring car ride worthwhile.
A favorite vacation memory is hiking Sunday Gulch Trail off Sylvan Lake in Custer State Park. Finding its trailhead seemed serendipitous as we hiked down the rocks among little waterfalls. I felt like a real rock climber. Unfortunately, we didn't bring any water or snacks, nor had we researched the length of the hike. Eventually my sisters and I became tired and cranky. We dramatically plodded along, complaining that we were starving. We were sure we couldn't go any further. Finally my Dad gave in to our whining and jogged ahead to look for the car. It makes me smile now to think that it was only about three miles. I've hiked longer and more difficult trails since but I still get that feeling of awe when I return to Sunday Gulch.
Jeremy and I continue to explore the outdoors through running, hiking and biking. I even completed my first marathon last fall when Sioux Falls brought back their full marathon. We are also big music fans and love to take in live shows around the state, especially the outdoor ones. So you might even catch me writing about a local band or two. I can't wait to share our future adventures with you!