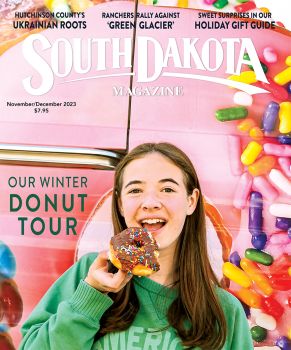 Subscriptions to South Dakota Magazine make great gifts!
Subscribe today — 1 year (6 issues) is just $29!

September 1985
Our First Governor's Mansion: Both the house and the man that built it faced unhappy times.

Bear Butte: Crossroads of History: The story of a mountain rich with history.

George Prisbe: Painting South Dakota: Aberdeen's young artist is inspired by the flatlands

Decorating the Corn Palace: Clyde Goin uses corn as an art form.

Uncle Louie's Farm: A true account of a city bride's visit to the farm.

Test-driving the Tin Lizzy: A short story about dad's first attempt to buy a car!

Away With the Wheelchair: The account of a teenager's fight to walk... and the help he had.
Please note: Online articles are edited and may not include all pictures or content from the original version.