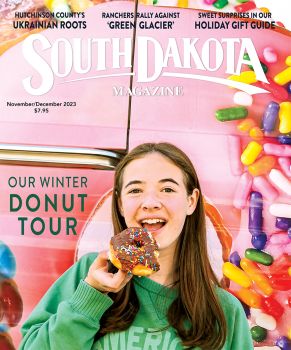 Subscriptions to South Dakota Magazine make great gifts!
Subscribe today — 1 year (6 issues) is just $29!

September/October 1998
Connections with the Land: Art brings Mitchell's Cherie Ramsdell closer to her South Dakota roots.

From Rails to Trails: Finding new uses for an old Black Hills rail line. [read more]

South Dakota's Eye in the Sky: Viewing the world from EROS Data Center near Sioux Falls.

On the Trail of 'Lord Grizzly': Tracing the steps of a mountain man and an author.

Raising Eyebrows: Unusual crops and livestock may be key to South Dakota's agricultural future.

An Author's Journey to Dakota: Kathleen Norris found her way to Lemmon and stayed.

Springfield: A Bon Homme County town that simply refuses to die.

Fort Sisseton Kid: How Robert J. Perry saved the old military post. [read more]

Close Encounters of a Rural Kind: Some South Dakota treasures are as close as the mailbox.
Please note: Online articles are edited and may not include all pictures or content from the original version.