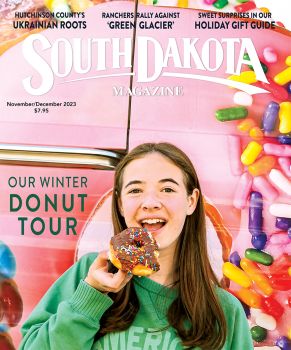 Subscriptions to South Dakota Magazine make great gifts!
Subscribe today — 1 year (6 issues) is just $29!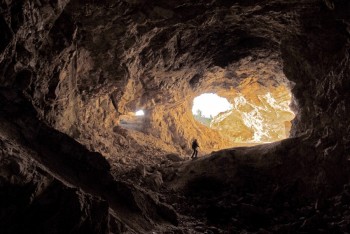 Shooting in the Dark
Sep 13, 2011
Photographing in caves is literally shooting in the dark. Any and all light found in the depths of a cave is man-made and artificial. Why nature forms spectacular crystals and intriguing passageways in places that normally couldn't be seen is a mystery to me.
Taking photos that show the underground beauty can be a challenge. One of the photos accompanying my last column sparked a reader question about how I took it.
I was shooting inside Black Hills Caverns near Rapid City, but it happened to be a slow day without many visitors. With no people in the shot, the cave looked a little stale. So I positioned my camera on a tripod, attached a flash with a cord on a second tripod off to the left of the camera.
Exposure time was set for around 30 seconds and the self-timer for the same, which gave me time to move down the passageway to a starting point for the photo. Carrying a small flashlight, as soon as I heard the shutter open I walked toward the camera wiggling my hand enough to make an interesting light trail. The tricky part was timing my walk so that I reached the spot just in front of the camera at the end of the exposure when the flash would go off and illuminate me.
I tried this around 25 times and was successful on two of them, but I got the shot. It's been used in several publications promoting cave tours in the Black Hills.
Most of the natural caves in South Dakota have a gate, doorway or building built over the entrance so a photo from inside the cave looking out isn't possible. Abandoned mines however quite often have openings that let some sunlight in and allow for fun silhouettes of people. Adding a person to many shots gives some idea of the scale of the landscape, whether it's a vast prairie or a huge hole in the earth.
All three of the people in the mine photos accompanying this column are me. With a self timer and a little sprinting, you can add an explorer for scale to just about anything. That grizzled old prospector's beard was added in later.
When looking for old mines and/or caves to photograph, make sure you aren't trespassing and be very careful. Wandering into a dark tunnel can lead to falling down an unseen hole, twisting an ankle on uneven floors or waking up some critter that may not be happy about your intrusion.
Chad Coppess is the senior photographer at the South Dakota Department of Tourism. He lives in Pierre with his wife, Lisa. To view more of his work, visit www.dakotagraph.com.