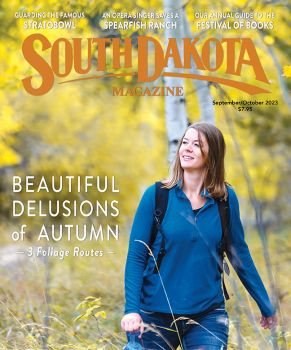 Subscriptions to South Dakota Magazine make great gifts!
Subscribe today — 1 year (6 issues) is just $29!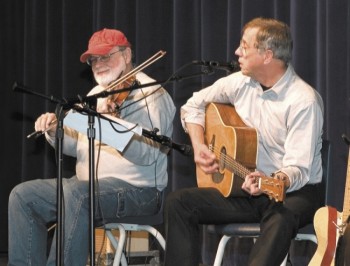 Small Town Saturday Nights
Jan 25, 2012
Music has been connecting people since a caveman made a flute some 50,000 years ago. Small towns in South Dakota are using the power of music to strengthen community ties.
In the 1990s the small town of Peever in northeast South Dakota badly needed to replace their community center. The old hall held only 70 people and was falling apart. But Peever is not a wealthy town. The streets are gravel, the buildings worn and most of the citizens are retired or wage-earners.
But Peever's people know how to sing and strum the guitar, so monthly jamborees were held to raise money. "I'd say per capita Roberts County has more musicians than most any place in the country," Don Backman, a retired dairy farmer told us awhile back. The musicians donated their time and a freewill donation was taken at the door. "We just asked people to give what they wanted," Backman said. "If they were really short, they could take a little out." Despite the generous spirit of the jam organizers, they had enough money for a new hall within a few years.
Soon the Glacial Lakes towns of Revillo, South Shore and Roslyn started similar events to raise money. South Shore donated jamboree earnings to the Salvation Army after the organization helped their town following a wind storm. Revillo raised enough for a new community center. And in the 1990s South Shore hosted country music concerts to restore Punished Woman's Lake.
Peever, after 16 years, stopped their jamborees in the spring of 2010, but Wilmot picked up where they left off and began the Whetstone Jamboree. Several of the Peever musicians show up to carry on the tradition. Edean Landmark was a favorite musician at Peever and now his daughter, Wendy Landmark, is a regular at the jamboree circuit, including the new one in Wilmot. "What's fun about it is that it is a family show and the strong community involvement. People come from miles away to enjoy our local musicians. There is a lot of local talent." Wendy grew up singing country music in Peever, but now sings the blues with the Watertown band "The Bluezz'l Do."
A typical jamboree starts with a featured band. After the band plays a few numbers, it turns into a house band and performers take turns doing two songs each. Young, old, experienced and inexperienced musicians are all welcome to take the stage
"I like the opportunity it gives young people to get that feel for performing in front of an audience as well as with a backup band," says Cheryl Rondeau-Basset, an organizer of the Whetstone Jamboree. "I hope it encourages young people to be interested in music. Music is something you can enjoy all your life."
Musicians interested in performing should arrive 30 minutes early to sign up. The audience is treated to coffee, snacks, door prizes and a few jokes from the announcer.
The same spirit of sharing music and bringing people together inspired similar gatherings in two small Black Hills towns. Weekly bluegrass jams in Rochford and Rockerville are laid back rituals with no admission fees. Any musician can join, but only with an acoustic instrument.
"They just enjoy each other, teach each other and share each others' music," says Betsy Harn, owner of the Moonshine Gulch Saloon in Rochford.
In southeast South Dakota, Doug and Judi Sharples have transformed Gayville's old grocery store into a little Branson. The Saturday night entertainers — which often include the popular Poker Alice Band and the McNeills from Springfield — especially focus on old time, folk and country music.

Glacial Lakes Jamborees
Roslyn: First full weekend of the month on Saturday night and Sunday afternoon. Roslyn Creamery Company.
Revillo: Third Sunday of the month. Community Center.
South Shore: Fourth Saturday of the month. Community Center.
Wilmot (Whetstone Jamboree): Second Saturday of January, April, July, October and December in 2012. Community Center.
Black Hills Jams
Rochford: Every Sunday afternoon at 3 p.m., Moonshine Gulch Saloon.
Rockerville: Bluegrass jam every Thursday at 7 p.m., Gaslight Saloon.