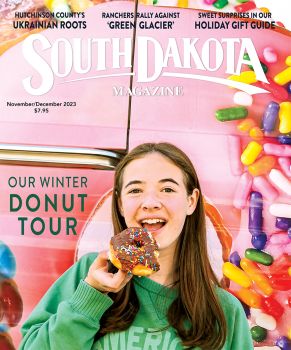 Subscriptions to South Dakota Magazine make great gifts!
Subscribe today — 1 year (6 issues) is just $29!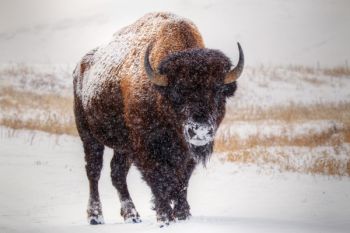 My Snow Day
Nov 25, 2014
Nov. 15 was a special day. The whole state was blanketed in snow from an early winter snowfall. I happened to book a stay at Custer State Park that weekend. As it turned out, the day was magical. A snow day with no wind in the southern Black Hills is a photographer's paradise.
I got on the road in the morning twilight. The snow had begun falling the night before, and the pines already had a nice covering. Just a few miles west on Highway 16A I spotted a pair of white-tailed deer hunkered down in the snow, side by side. Either these deer were used to traffic or frozen in the frigid temperatures, because the pair allowed me to photograph them without much trouble.
One lane of Highway 87 heading south was plowed, so I took it. When I got to the southern boundary of Custer State Park, I realized that my favorite county road (Highland Ridge Road) that runs through northern Wind Cave National Park might be too full of snow for my crossover vehicle to handle. But just as I wondered if I should take a chance, a large four wheel drive drove out from the east. I decided to follow its tracks. Highland Ridge Road and the Red Valley Road are both great places to spy elk and bison. This snow day was no exception.
The north end of the Red Valley Road connects to the southeast corner of Custer State Park's Wildlife Loop. After spotting sharp-tail grouse roosting in a roadside bush, I came across a large bison herd licking salt left by the plow along the curves of the Wildlife Loop Road. I also spied a small group of pronghorn males walking on the far side of a draw. I got out and hunkered down to take some photos. Luckily they walked right by me, which provided some interesting close-up opportunities.
My next destination was Iron Mountain Road in northeastern Custer State Park. From there you can loop back to Highway 16A using the Black Hills Playhouse Road. It's blacktop, but on this particular morning it was not plowed. I was the only one making tracks. While shooting a really nice 5X5 white-tail as he courted a shy doe, I was serenaded by a small group of chickadees and white and red-breasted nuthatches. I had unknowingly hidden behind the tree that was their winter residence.
About an hour before sunset, the sky cleared and the first yellow light spilled across the Southern Hills. I glimpsed the new light from the lookout at Coolidge Ridge and around Stockade Lake. The lake had frozen over except for a small patch in the middle where a lone bald eagle held court, perched high on a ponderosa pine.
Finally I made it to the Sylvan Lake area using Highway 89 out of Custer to watch one of the more spectacular winter sunsets I had witnessed in quite some time. As I shot these last scenes, about a dozen deer made their way up the slope as if I was not there. It was a splendid end to a perfect day. It goes to show that school kids are still right — snow days are the best days!
Christian Begeman grew up in Isabel and now lives in Sioux Falls. When he's not working at Midcontinent Communications he is often on the road photographing South Dakota's prettiest spots. Follow Begeman on his blog.