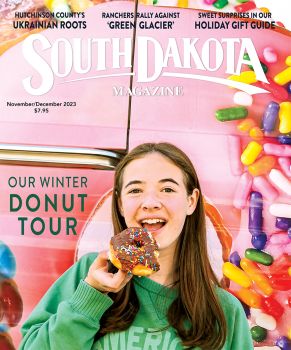 Subscriptions to South Dakota Magazine make great gifts!
Subscribe today — 1 year (6 issues) is just $29!

Sobbing in My Frozen Pizza
Sep 26, 2018
By John Andrews
I like going to college football games in the fall, especially in Brookings where my alma mater, the South Dakota State University Jackrabbits, play in the wonderful new Dana J. Dykhouse Stadium. I often buy single game tickets when they go on sale in late summer, but in particularly busy months I take it game by game.
Of course, my friends think there is a better way. "Why don't you just get a media pass?" they ask. In their minds, it's a free ticket in. I could enjoy the game from the comforts of a press box that's cool during the warm days of August and September and toasty on those Saturday afternoons in October and November when the wind howls from the northwest, all while saving the price of admission.
I suppose it would be easy to submit a request. The university might even grant it. But I'm not there to write about the game, or any of the players. I'm just there because I like football and I want to watch. Someday, I might attend a game for magazine-related purposes, and maybe I'll inquire about a pass, but until then I'll buy my ticket (usually in section 206) and watch from there with a dish of cookies 'n' cream.
No, I've always said that taking advantage of my position in such a way is something I'd never do.
Until last week.
Having been with South Dakota Magazine for more than a decade, my email address has been bought, sold, shared and traded more times than I can imagine. I must be on the mailing list for every public relations firm in the country (and at least one in the United Kingdom).
As a result, I'm often flooded with press releases. Surely I was among the first writers in the country who was offered a chance to interview Sue McCarthy, founder and CEO of The Vault Luxury Resale and star of reality TVs "Resale Royalty." McCarthy, I was told, would have great insights for men about shopping resale so they don't completely ruin Valentine's Day this year, as men are wont to do. "Women want to one-up each other on Instagram to prove they have the best boyfriend," I learned. "So how does a guy get his girlfriend (or wife!) the gift she really wants — like a designer handbag — when he can't afford the full retail price? The secret is to shop resale!"
Kieran Elsby graciously offered to introduce me to the Root7 G & Tea Cocktail Gift Set, which you can apparently use to brew a smooth gin and tonic just as easily as a cup of earl grey. "The borosilicate glass is compatible with both hot and cold beverages," he wrote. "The possibilities are endless!"
Mackenzie Sanderson shared a new line of scarves from Sweat-o-pause. Using patented Coolcore technology, these scarves cool to 30 percent below skin temperature when they become wet with sweat or water. "This innovative and fashionable cooling scarf will keep women cool without anyone knowing they're using it!"
The common thread with each of these press releases (in addition to excessive exclamation point use) is that none of them have anything to do with exploring life in South Dakota, which is our primary reason for existence around here. I could have tried a fun new Lotus Love scarf, or a teapot in which I could secretly make cocktails, but the point of offering these items to me is that I would, in return, use my position in the media to publicize them, thereby opening vast new markets to these companies. Since it didn't seem natural to try to convince cowboys in Custer State Park that a Sweat-o-pause scarf would keep them cool during the buffalo roundup, or that tea time at the Anne Hathaway Cottage in Wessington Springs could potentially be A LOT more interesting, I declined their generous offers of free samples.
Then one morning, I found myself in a reckless mood. The press releases were flooding in, and I was just as quickly subjecting them to the trash when one appeared from Heather Wakely. "Move over meat and make way for pizza!" she wrote, excitedly. "Your grill can act like a portable pizza oven, giving pizzeria taste to a frozen pie. How about a story on creative food choices for tailgating?"
I knew there would be no story, but I do like pizza. In devil-may-care fashion, I clicked "reply," instead of "delete." "I'd love some pizza samples!" I typed, taking special care to include exclamation points. "Please send them to the address in my signature block!"
I didn't really know what would happen next. Would they require I speak to a chef or food developer in exchange for the samples? Would they make me sign a binding contract that stipulated I send a copy of my food review, which I never intended to write, before they gave up the goods?
I heard nothing until four days later when a cold-to-the-touch box arrived on my desk with the words "Freeze Upon Opening" written across the side. I opened it, and tucked beneath layers of finger-numbing dry ice I discovered three frozen pizzas.
Guilt washed over me. "These pizzas should be in the hands of a writer who can properly review them," I thought as I shook my head in shame. Still, they arrived on a day when I had no lunch plans, so at noon I went home and drowned my guilt in a delicious chicken sausage pizza with Italian-style sauce and red bell peppers.
Ever since that day, I've felt pangs of regret about leveraging my position just to get free pizza, but there may be a way to assuage my guilt. SDSU still has a few home games left. If I find myself tailgating before kickoff, I'll commandeer a grill and throw on a delightful thin-crust pizza from Smart Flour Foods. "These pizzas feature a robust tomato sauce and are topped with an indulgent blend of hormone-free cheese and uncured meats that are free of nitrites and nitrates," I'll tell my fellow tailgaters in a well-polished pizza spokesman voice. "In addition to premium toppings, the naturally gluten-free pizzas are made with an ancient-grain, Non-GMO Project Verified crust and clean ingredient list. They are available at select natural and mainstream markets nationwide for around $7."
That's better. See you in section 206.