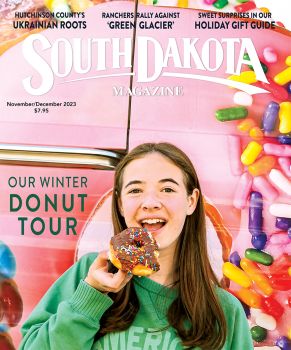 Subscriptions to South Dakota Magazine make great gifts!
Subscribe today — 1 year (6 issues) is just $29!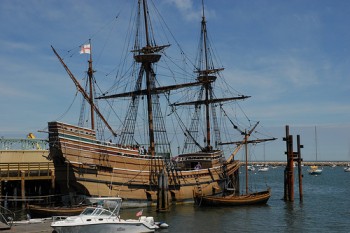 Is There a Pilgrim in Your Family Tree?
Jan 11, 2012
Many South Dakotans trace their heritage to the tens of thousands of Norwegians, Swedes, Finns, Czechs and Germans who first laid eyes on America in the late 19th century, when they left their homes to settle what was then a vast prairie wilderness. But a few among us have been here a bit longer – 392 years to be precise.
About 250 South Dakotans have proven they are descended from one or more of the 102 men and women who sailed the Atlantic Ocean aboard the Mayflower and arrived at Plymouth in 1620. They are members of the South Dakota Chapter of the Mayflower Society. Today there are over 10 million Mayflower descendants scattered around the world. There may be many more who can claim to be descendants but who fear the daunting work of tracing their genealogy through four centuries. But it's never been easier.
Margaret Bobertz is the group's historian. She's traced her family to Mayflower passengers Myles Standish, John Alden, Richard Warren and Henry Samson. Her family arrived in South Dakota in 1950, when her father came from New Jersey to attend law school, and then opened a private practice in Platte. Bobertz still lives there. She owns a consulting firm called the Thule Group.
When South Dakota's Mayflower Society formed in 1956, proving you belonged meant sifting through pension and census records and birth, marriage and death certificates. They were often scattered around the country, and sometimes difficult to find. "If people moved West, the records didn't always follow," Bobertz says.
More and more records are finding their way online. Plus, a series of recently published books called The Mayflower Families traces the Pilgrims and their descendants through five generations. "When I started you had to write a letter just to find how much a birth certificate cost. It took forever," she says. "I think I probably make more progress in one year than I did in 15 before computers."
Of course research still involves visits to courthouses and library archives, but in general it's much easier. That may be why the society has seen a steady uptick in members.
"A lot more people can [prove their lineage] than do," Bobertz says. "I'm surprised. We have every year 10 or 12 people in the state that we add to our rolls, and it's always amazing where they come from. People who didn't think they qualified, but somebody married somebody, who married somebody, and we can verify it."
If you think your family tree might start aboard the Mayflower, or if you've been stymied in your own research, Bobertz is willing to help. Just call (605) 337-3737 or e-mail sdmf@midstatesd.net.