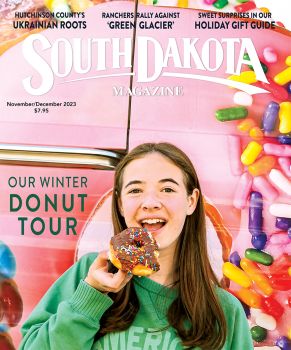 Subscriptions to South Dakota Magazine make great gifts!
Subscribe today — 1 year (6 issues) is just $29!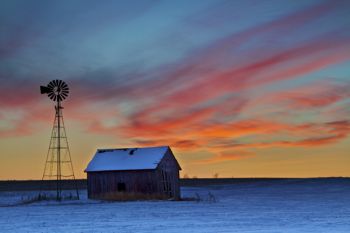 Photography in Long Underwear Season
Dec 30, 2013
By Christian Begeman

The hustle and bustle of early winter can make it tough to find time to go out and find things to photograph. Cold weather, short days and the plain busyness of the holidays is enough to fill most folks day to the brim. That said, I've learned over the last few years to carve out time to seek interesting photos this time of year. Those same holiday festivities that crowd the December calendar can offer numerous fun photo ops and the short daylight means colorful dawns and dusks happen at a more reasonable time. I'm not a morning person whatsoever, but even I can roll out of bed in time to see what the early winter sunrises will bring.
Shooting in bad or extreme weather can also offer wonderful opportunities for unique photography. This December has had some pretty extreme cold already and I hadn't really been able to take advantage of it until the Monday before Christmas. While on my way to Isabel for the family gathering I decided to go through the Pierre area in order to see if I could see any bald eagles below the Oahe Dam. The temperature was hovering around –15 degrees but thankfully there was very little wind. The water both above and below the dam was not frozen over and much to my delight large steaming clouds of water vapor hung over the water in the frigid air. All the trees and vegetation along the banks of the Oahe Downstream Recreation Area were covered in thick hoarfrost and I couldn't resist getting out in it with my camera. When frost falls from whatever it clings to and hovers in the air it is called "diamond dust." I was able to capture a bit of this phenomena, which made wading in the knee-deep snow actually quite fun.
South Dakota boasts some of the best sunset and sunrise scenes in the country any time of the year. Wintertime can provide even more drama to these scenes as snow cover provides an added interest. Lately I've been seeking out old barns, schools and country churches to add to my sunset and sunrise shots. Adding structures like these not only anchor the scene with an easy to recognize element but also has the potential to add a layer of feeling or emotion to the photo. After sharing a recent sunrise shot containing a lone prairie windmill, my cousin told me she was reminded of our grandparents' farm and all the good times shared there.
Seeking out and shooting these types of scenes has an extra benefit — the chance to see and photograph some of South Dakota's most interesting and hardy wildlife as well. Just this week I accidentally spooked two different great horned owls from old schoolhouses. I also saw nearly every sort of raptor that resides in our state, from hawks to bald eagles. Pheasant and grouse are also usually easily seen in the winter near roadsides as they peck at the gravel to aid in their digestion.
When I was growing up, I used to hate long underwear season. We milked cows and my assigned station was the farthest part of the barn from the Nibco heater. One winter it was so cold, the drain froze in our barn and we didn't get it totally unfrozen and running free until almost June. Nowadays, I love long underwear. Being able to wade into knee-deep snow to get an interesting shot and not really feel the cold is wonderful. Dressing in layers is a must when venturing out for winter photography. This year I discovered that having a full beard is helpful as well.
If you are someone who enjoys getting out and taking a photo from time to time, don't discount the winter and harsh weather. You may be surprised with the sheer beauty and wonder that is out there waiting to be captured… just don't forget to put on the long underwear!
Christian Begeman grew up in Isabel and now lives in Sioux Falls. When he's not working at Midcontinent Communications he is often on the road photographing our prettiest spots around the state. Follow Begeman on his blog.