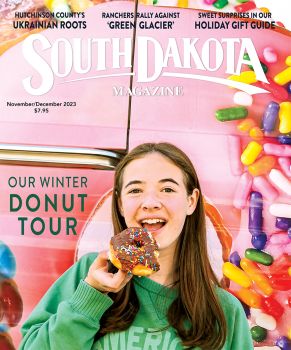 Subscriptions to South Dakota Magazine make great gifts!
Subscribe today — 1 year (6 issues) is just $29!

Of Birds and Baseball
Sep 8, 2015
By John Andrews
What comes to mind when you're asked to think about South Dakota? Two images rise to the top of my list: the iconic ring-necked pheasant and amateur baseball on a summer night, and it seems that no where in South Dakota are these more ingrained in the local culture than in Spink County.
Many other cities in South Dakota call themselves "The Pheasant Capitol of the World," but Redfield has claimed the title since June of 1908. That's when a group of city leaders acquired three pairs of pheasants from Grants Pass, Oregon, and released them in Hagmann's Grove, just north of Redfield. The newcomers seemed to do well in Spink County, and in 1919 the first one-day open season on roosters was held. Pheasants have since become the state bird and have transformed the state's outdoor tourism industry. Thousands of resident and non-resident hunters will roam the fields when pheasant season opens on the third Saturday of October.
The national pastime has also been an important part of life in Spink County, and affects those who are only tangentially connected to the area. ESPN.com writer David Schoenfield wrote a tribute to baseball in Redfield that appeared in our May/June issue. Schoenfield's father grew up in Redfield, and later brought his wife and children back to his hometown. Among the memories that still stand out for Schoenfield are baseball games on Redfield's emerald green diamond.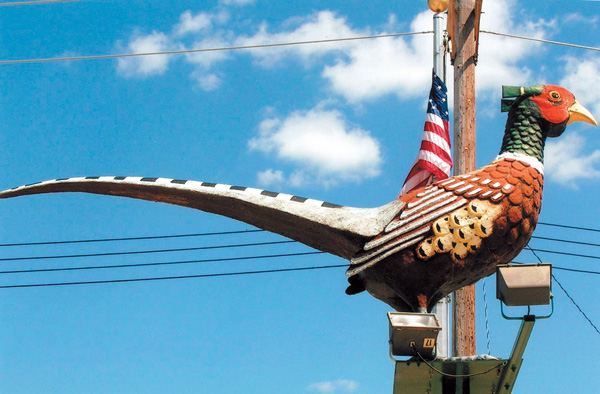 Pheasants were introduced near Redfield in 1908. Now they come in fiberglass.
His article prompted a reader to share the memories he has of watching Redfield win the state amateur baseball championship on its home turf in 1954. Redfield had amassed an early 10-0 lead, but Aberdeen slowly chipped away until it was 10-9 in the ninth inning. Aberdeen had the bases loaded with their most feared hitter, Blackie Engelhart, coming to bat. With one out, Engelhart crushed a ball that seemed destined to be a grand slam, but Redfield's center fielder leaped and caught it before it sailed over the fence. Then he wheeled around and fired the ball to the second baseman for a double play (the runners had been certain Engelhart would at least have a base hit, and took off running as the ball soared into the outfield).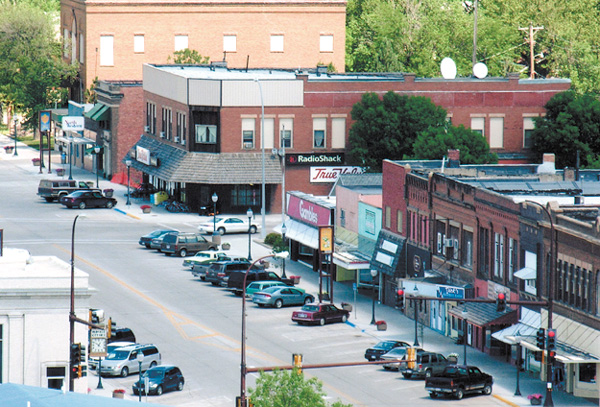 Redfield is the hub of activity in Spink County.
Spink County was also the site of a unique baseball battle in 1920. Redfield had secured a professional team, but because the Congregational church owned the field and grandstand, no games were allowed on Sundays. Ten miles south in Tulare, Mike Anderson, editor of the town newspaper and manager of the Tulare baseball team, invited the Redfield squad to play its games there, provided Redfield would finance the cost of a new grandstand.
Both towns agreed, the grandstand was constructed in record time and games began. That's when the Methodists of Tulare began to suspect something might be amiss. They thought the charging of admission on Sunday might violate one of South Dakota's "blue laws."
Six Methodist church members agreed to attend a Sunday game. Once they had purchased tickets, they filed a statement at the courthouse in Redfield. The judge ultimately ruled that Sunday baseball could continue, and admission could be charged, provided a separate area was maintained for those who wished to watch the games for free.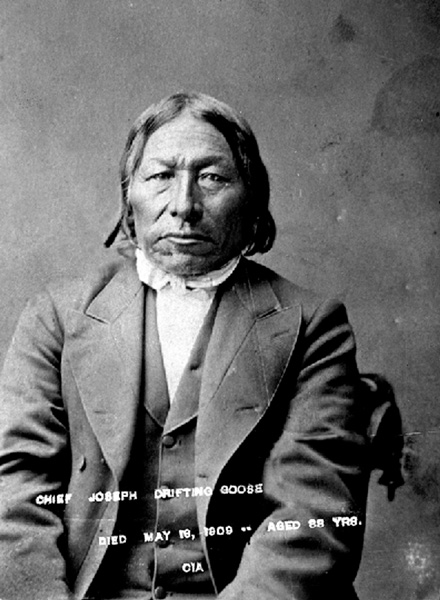 Chief Drifting Goose was a thorn in the side to Spink County's early settlers.
Spink County has even produced a Major League Baseball player. Deacon Phillippe grew up learning to play baseball in the small town of Athol. As a member of the Pittsburgh Pirates, Phillippe defeated Cy Young in the first World Series game ever played in 1903. He won 189 games in a 13-year career that began when he was 27.
Long before the days of pheasants and baseball, the settlers who trickled into Spink County as early as the 1850s had to contend with the notorious Chief Drifting Goose. His Hunkpati band of Yanktonai was headquartered at Armadale, an island in the James River four miles northeast of Mellette. He's remembered as a peace-loving leader who preferred pranking homesteaders to violence. Legend says he once stole the clothes from a settler and then made him run back to his sod shanty naked. When railroad surveyors marked a line through his encampment, he moved the stakes. Eventually the rail was routed through Northville, a more respectful 10 miles west of Drifting Goose's camp.
Locals tell Drifting Goose stories with a chuckle, but they also respect the leader who never signed a treaty and, in his mind, never ceded any land. Historians have named a bridge that spans the James River on Highway 20 after Drifting Goose.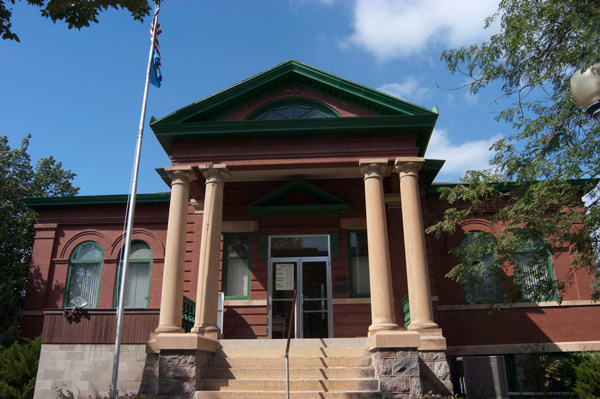 Redfield's Carnegie Library is the oldest of its kind in South Dakota that has been continually used as a library.
Of course, the colorful leader's tricks couldn't stop the eventual settlement and organization of Spink County, created by the territorial legislature in 1873. The area was named for Solomon Lewis Spink, a New York native who worked in law and journalism before President Abraham Lincoln appointed him secretary of Dakota Territory in 1864. He also served in Congress and practiced law in Yankton until his death in 1881.
Several towns emerged along rail lines that passed through Spink County. The largest is Redfield (pop. 2,385), where the state legislature placed the Northern Hospital for the Insane in 1902. Called the South Dakota Developmental Center, the facility still cares for roughly 145 people with disabilities. Redfield is also home to the state's oldest continually used Carnegie Library. Built in 1902, the red brick building with a sandstone foundation and domed cupola stands at 5 E. Fifth Ave.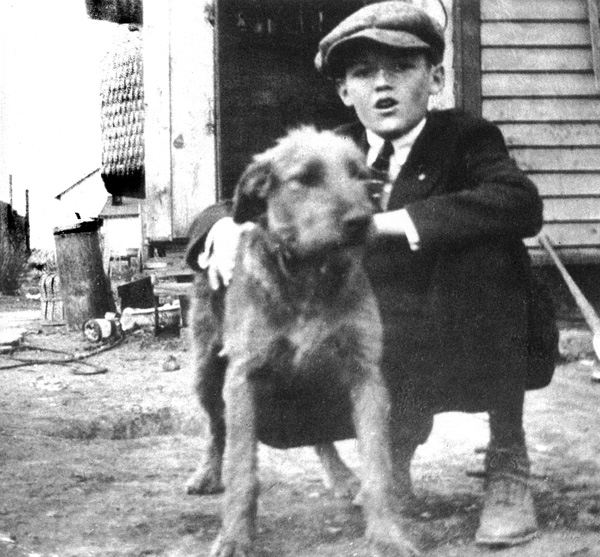 Hubert Humphrey as a boy in Doland.
Fisher Grove State Park, east of Redfield near Frankfort, straddles the James River. It's where the old Watertown-Pierre stage line crossed for the first time using a traditional rock crossing used by Native Americans. Further east on Highway 212 you'll find Doland, the hometown of Hubert Humphrey, vice president of the United States under Lyndon Johnson from 1965 to 1969.
Follow Highway 37 north of Doland to Turton, (pop. 49) home of the Frogs. The tiny town still holds a Frogtown Festival every June, even though the Jim River is 15 miles away and the closest stream is called Dry Run. The pillar of Turton is the St. Joseph Catholic Church, where St. John the Baptist's birthday is celebrated in June. The tradition dates to 1899, making it one of the nation's oldest birthday parties for a saint (besides St. Patrick and St. Nick).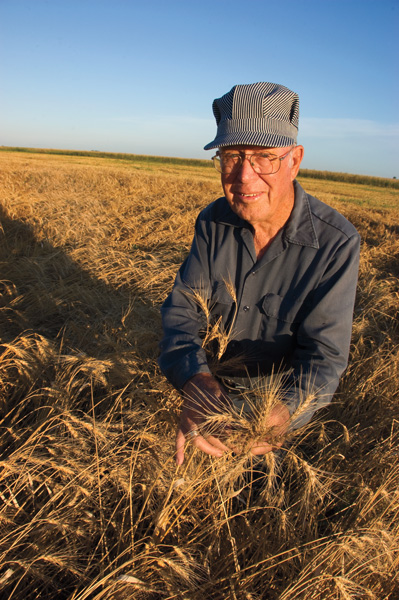 Five generations of Glenn Overby's family have grown wheat in Spink County.
Spink County covers 1,500 square miles, and much of it is ideal wheat growing country. Farms are plentiful and elevators dot the horizon, especially along Highway 20 through Conde, Brentford, Mellette and Northville in the northern third of the county. The South Dakota Wheatgrowers' Co-op at Mellette can store 5.5 million bushels, but chances are good you'll see the overflow of this year's harvest piled outdoors.
Several years ago we visited the Glenn Overby farm near Mellette. Glenn's father, John, was a self-taught agronomist who developed his own varieties of wheat: Marvel Wheat and Spinkcota. You can see an exhibit about John Overby and his other inventions at the South Dakota Agricultural Heritage Museum in Brookings.
Wheat farming requires long hours, but we noticed this summer while attending the state amateur baseball tournament in Mitchell that the Northville team's roster included A.J. Overby, the fifth generation of Overbys to work the Spink County land. That means there's still time for baseball, and probably pheasants in October, too.
Editor's Note: This is the 10th installment in an ongoing series featuring South Dakota's 66 counties. Click here for previous articles.