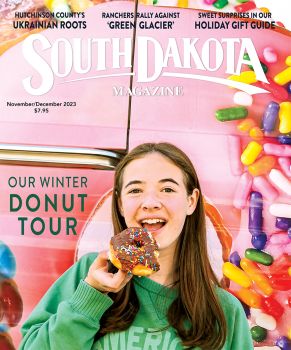 Subscriptions to South Dakota Magazine make great gifts!
Subscribe today — 1 year (6 issues) is just $29!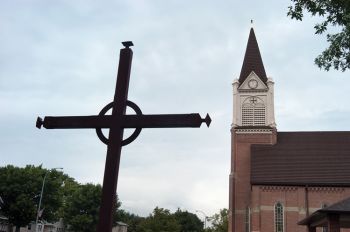 Spirituality: A Unique Summer Tour
May 19, 2016
By Katie Hunhoff
Grasshoppers swarmed our fields and towns, devouring everything in their path in the 1870s. Farmers were ruined and entire communities suffered. Kampeska City, the precursor to Watertown, became a ghost town after the plague.
Father Pierre Boucher took action to protect Jefferson in the very southeast corner of today's South Dakota. He planned a spiritual procession to ward off the hated insects. He announced his plan in Mass on a Sunday in the spring of 1876. The next morning, both Protestants and Catholics convened south of Jefferson and Boucher led them on an 11-mile procession. They ceremoniously placed crosses at four points, and another in the Jefferson cemetery. Soon after, throngs of dead grasshoppers were found nearby at the Big Sioux and Missouri Rivers. The crosses later became spiritual relics to Jefferson residents. One, outside St. Peter's Catholic Church, was replaced in 1967. Others can be found 4 miles northwest of town on County Road 1B near the Southeast Farmers Coop Elevator and another near the corner of 330th Street and 480th Avenue west of Jefferson.
The wooden crosses are just one of many spiritual places that we recommend exploring in our May/June issue. South Dakota residents have always been spiritual; currently we are listed as the 16th most religious state according to a Pew Research study based on time spent in prayer, church attendance, belief and "self-described importance" of religion. Early residents relied on their faith to endure the many challenges of life on the prairie — natural woes like drought and floods and storms and more personal challenges such as the mental strains of carving out a new life on the lonesome prairie.
South Dakotans have built beautiful churches in which to focus on our faith. But our story also explores some lesser-known spiritual sites. Reynolds Prairie, located high in the Black Hills, is one of five mountain places considered sacred to the Sioux. Earlier this year the U.S. Department of Interior declared the meadow is once again Indian trust land and will be managed as a sacred site.
Our story on spirituality also references the gravesites of two brothers, Michael and Joseph Hofer, in the cemetery at Rockport Hutterite Colony in Hanson County. The Hofers, who adhered to the Hutterite tenet of pacifism, refused to serve in World War I after being drafted. They were sentenced to military prisons and were tortured. Eventually both died of pneumonia. Hutterites throughout North America make a pilgrimage to pay their respects at their gravesites.
Many of the spiritual sites we selected are obvious — the Cathedral on the Prairie at Hoven, the Wounded Knee cemetery and Stavkirke in the Hills. But others may surprise you, including Black Elk's log cabin, Wind Cave and the five Medicine Buttes in South Dakota.
A South Dakota summer is the perfect season to seek out some of these spiritual spots for reflection and contemplation. Lakota scholar Vine Deloria, Jr. once wrote, "The plains of the Dakotas are both hospitable and hostile to people. You must welcome their bounty but ensure that they do not sweep you up, taking your life and making you a part of their restless spirit." We think Mr. Deloria, who died in 2005, would have liked our spiritual tour. We hope you do as well.