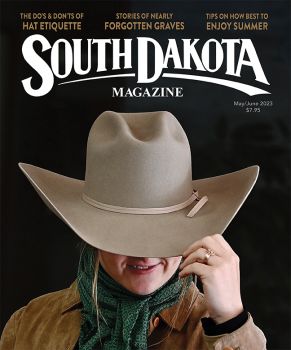 Subscriptions to South Dakota Magazine make great gifts!
Subscribe today — 1 year (6 issues) is just $29!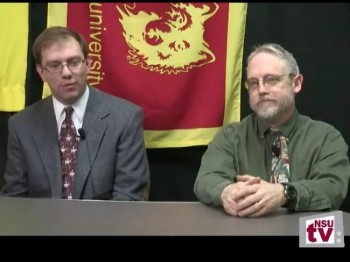 Aberdeen's Northern Lights
Mar 1, 2012
South Dakota Magazine has graciously allowed me to post my thoughts here. I will repay them now by using it to make a shameless plug. My colleague, Professor Jon Schaff, and I have been hosting a show on NSU TV for the last couple of years. The show is called Spotlight@Northern. Every two weeks we interview a guest.
The primary focus of Spotlight is politics: state, local and national; however, we have also discussed philosophy, religion, history and Christmas movies. We interviewed the Mayor of Aberdeen, Mike Levson, twice. In 2010, we interviewed two candidates for State Senate, District 3, Al Hoerth and Al Novstrup. We interviewed the three candidates for South Dakota's at large US House of Representatives seat: Stephanie Herseth Sandlin, Kristi Noem, and independent candidate B.T. Marking.
We have hosted several of our NSU colleagues including a couple of historians, a geographer and professors of business and education. One show included a sociologist, James Seeber, and Fr. Shane Stevens of Sacred Heart Church, Aberdeen. I shouldn't leave out our show with the student leaders of the College Democrats and College Republicans, Zachary Anderson and Kody Kyriss.
Recently we enjoyed a conversation with Peter Carrels. Pete is a resident of Aberdeen and has long been involved in local environmental issues. He current works for the Sierra Club. He gave us his take on the Hyperion refinery proposal (he wasn't for it). We followed that by interviewing Ronald Bailey. Ron is the science correspondent for Reason Magazine, a libertarian journal. He is in favor of exploiting our oil resources and is enthusiastic about the power of technology to improve human life on planet Earth. This week, weather permitting, we will interview Peter Lawler, a conservative philosopher who is much more skeptical than about technology and the modern condition.
In addition to promoting our show, I have a point to make about life in the Rushmore State. We are blessed with a number a number of very influential individuals. Tom Daschle was Senate Majority Leader, one of the most powerful men in this powerful nation. Senator Thune is third from the top in the Republican Senate leadership. Senator Johnson and Representative Noem are important figures on the national stage.
I lived for a while in California. There, you were as likely to talk to your US Senator as you were to sit down to lunch with Arnold Schwartzenegger. In South Dakota, you have many opportunities to sit in the same room with your governor and state and national representatives. I listened to Senator Thune speak in the NSU library just last week. That is a benefit of residence in this fine state. Don't miss it.
At the same time, technology brings the larger world to us. We interviewed Ron Bailey by means of Skype from his living room in Charlottesville, Virginia. Peter Lawler will come to us by the same means. We hope to bring many people from around the nation to converse in our NSU living room.
It is a privilege to live in South Dakota. We are a good people and we punch well above our weight in national politics. Here, the distance between the man on the street or in the field and our power brokers in Pierre or in the Washington D.C. is much easier to cross than it is for citizens in more populous states. We have lost none of that as the nation has become more interconnected. All we have lost is our isolation.
Spotlight@Northern has tried to capitalize on this situation. You can see our show on Midco channel 12 at 10 am, 2 pm and 8 pm. You can also watch all the shows online here. If you have any questions or comments, you can email us at spotlight@northern.edu.
Dr. Ken Blanchard is a professor of Political Science at Northern State University and writes for the Aberdeen American News and the blog South Dakota Politics.