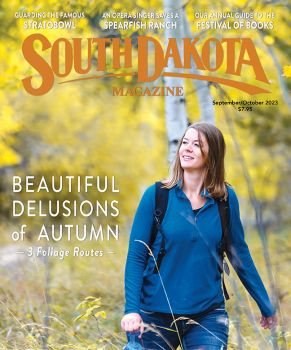 Subscriptions to South Dakota Magazine make great gifts!
Subscribe today — 1 year (6 issues) is just $29!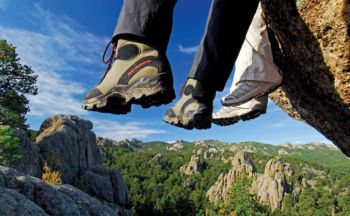 Spring Arrives at SD Magazine
Feb 20, 2013
Our March/April issue is our Annual Outdoors Guide — and it is probably the most fun for us to put together. We work on it during December and January, but the stories definitely belong to the burgeoning green grass of spring. Here's a little preview of what our newest magazine has to offer — from exploring the Black Hill's longest caves to climbing our most picturesque peaks. We hope you enjoy this issue as much as we enjoyed making it.
Black Hills Climbs Six trails to mountain splendor and good food. Contributing editor Paul Higbee interviewed six outdoor enthusiasts about their favorite peeks to hike, and where they like to re-fuel after reaching the summit.
Colombe's Colome The town of Colome may not exist if a dashing cowboy hadn't won a fight at a barn dance in 1894.
Amaranth: A Future Crop? Ron Robinson introduces us to the ancient grain amaranth, once grown by the people who inhabitated the Prehistoric Indian Village on the shore of Lake Mitchell 1,000 years ago. Robinson grew the grain last summer in his garden and shares recipes that use the high-protein grain.
Can We Save the Big Sioux? The Big Sioux River is one of the most threatened in the country.
Exploring the Military Road The Sioux City to Ft. Randall trail is forgotten, but not gone. Ruts, rocks and gravestones can still be found.
Crawling a Cave Don Kopp tells of his underground trek to Metrecal Cavern in Jewel Cave. The voyage included 4 hours of belly-crawling through the "miseries." But the hard work was paid off when he saw the wonders of Metrecal Cavern.
The Story Behind the Square Rapid City is escaping the bonds of prairie urbanism, thanks to a few dozen entrepreneurs and an old lady who took action.
Watch your mailbox for our new Outdoor Issue or subscribe online and we'll make sure to send it to you!