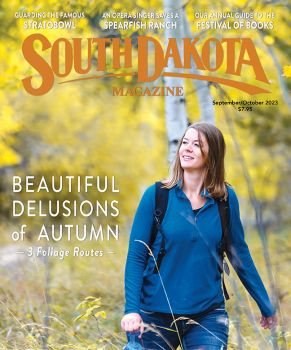 Subscriptions to South Dakota Magazine make great gifts!
Subscribe today — 1 year (6 issues) is just $29!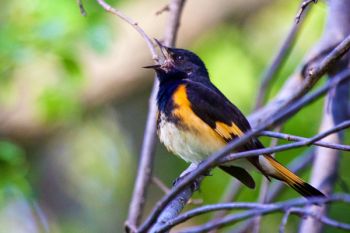 Sounds of Spring
Jun 2, 2014
The greening of the countryside seemed to come a couple weeks late across South Dakota this year. I had planned on capturing flowers for this post. After all, "April showers bring May flowers," right? Since the flowers of May didn't really burst until Memorial Day weekend, I didn't get a chance to photograph many during the course of the month. The good news is that the delayed spring growth allowed me to see one of the hidden natural storylines play out a bit more clearly this year.
Most of us who watch the South Dakota skies in early spring are very aware of when the spring migration begins. It is hard to miss the large flocks of geese and other waterfowl moving through our little corner of the great American flyway. The latter half of spring migration can be a lot harder to notice, mostly because the songbirds that bring up the rear are small, fast and unless you have a birdfeeder near your home, usually only heard and not seen.
This spring, however, has seen a very productive songbird migration. At least for me. I have seen and photographed more colorful balls of energy than any other year. I think part of the reason is that the tree canopies were slow growing and the other reason may be that I'm just learning how to notice things like this. As a photographer, I'm always interested in bold colors as well as the challenge of taking a photo of something in a way that is not usually seen.
My equipment this year has primarily been a 100-400 mm telephoto lens with a 1.4 extender. This kind of lens needs a lot of light so shooting while the sun is shining is helpful. The other key is being in the right place at the right time. I found that most of the parks along the Big Sioux River system in southeast South Dakota offer good opportunities to see, hear and photograph songbirds. To top it off, the newest state park, Good Earth Park at Blood Run southeast of Sioux Falls, has a feeder that is maintained by the Sioux Falls Bird Club. It is because of this feeder that I was able to observe many "firsts."
One of my favorites has been the amazing little ruby-throated hummingbird. I actually saw my first hummingbird in the Grand Tetons last spring. I apparently had walked too close to something it treasured and it buzzed me several times. Ever since that encounter this fearless little humdinger has intrigued me, and I was determined to find a ruby-throated version in South Dakota. I figured that feeders at Good Earth would be a good place to start. The hunch paid off. I spent three early mornings before work observing two different males and a female. The males sparred a couple times and their aerial feats of speed, quickness and precise flying were breathtaking. Later this spring I observed three different rubies "in the wild" (away from feeders) at Sica Hollow State Park in northeast South Dakota. Needless to say, I was thrilled.
I'm not a professional birder by any means, but it's growing on me. I've learned that simply taking the time to look hard can be a wonderful experience. Watching what goes on amongst the branches gives those hikes through our state park trail system a new level of enjoyment. If you are patient, persistent and a little bit lucky, a rare encounter with a little songster can and will happen. Those experiences remind me of the many-layered beauty that surrounds us in this great state if we just take the time to look.
Christian Begeman grew up in Isabel and now lives in Sioux Falls. When he's not working at Midcontinent Communications he is often on the road photographing South Dakota's prettiest spots. Follow Begeman on his blog.