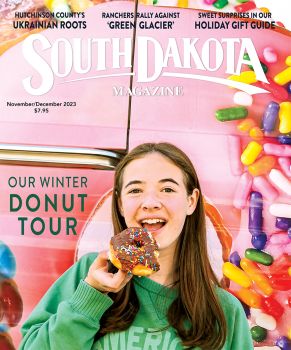 Subscriptions to South Dakota Magazine make great gifts!
Subscribe today — 1 year (6 issues) is just $29!

The Best of Autumn's Harvest
Nov 12, 2015
By Fran Hill
In the spring, I can't wait for the first asparagus and strawberries. As I savor those early fresh flavors, I think to myself, "This is the best." With summer comes garden tomatoes, green beans and sweet corn, and that first BLT has me saying again, "This is the best." When autumn rolls around, butternut squash, Brussels sprouts, carrots and apples are harvested. I roast those vegetables and once more am overcome with the feeling that "THIS is the best."
Maybe I am always right. Maybe it isn't the specific fruit or vegetable that crosses my palate, but that I choose to enjoy the harvests of each season at their prime. Yes, I bought some asparagus last week, but I didn't expect it to be as perfect as stalks snipped from my garden in the spring. For the most part, I try to eat seasonally for the best flavor profile available.
Right now, butternut squash is at its peak. I grew up with the dark orange flesh cubed and boiled until tender before topped with brown sugar and marshmallows and roasted in a baking dish. It was sweet enough to be dessert and never missing from a holiday table. These days I skip the boiling, because I think roasting offers the best texture and avoids losing nutrients.
Roasting brings out a natural sweetness in the squash, and additional sugar isn't necessary. Sometimes, that roasted butternut is enjoyed simply as is, maybe with some shallots thrown on the tray before it slides into the oven. Other times, it is mashed with herbs and butter as a side or pureed into soup. The roasted squash can also be combined with other ingredients, like eggs and a few other vegetables, to make a frittata.
I first sampled a Roasted Butternut Squash and Goat Cheese Frittata during a trip to New York City and immediately knew it was a recipe I wanted to recreate. The hearty, roasted winter squash balances the sharpness of the goat cheese and the earthiness of the spinach. The baked eggs are light and fluffy and perfect for breakfast, lunch or dinner. This, I think, is the best.
---
Butternut Squash and Goat Cheese Frittata
(inspired by Le Pain Quotidien)
1-2 cups butternut squash, peeled, seeded, cubed into 1/2-3/4 inch dice
olive oil
kosher salt
freshly ground black pepper
1/4 cup red onion, chopped
1/2 cup baby spinach, chopped
6-8 eggs, beaten
1/2 cup heavy cream
4-5 ounces crumbled goat cheese (If the slightly gamey taste of goat cheese isn't your thing, try feta or cubed cream cheese.)
Preheat oven to 475 degrees F.
Toss cubed squash with olive oil, salt and pepper and arrange in a single layer on a baking sheet.
Roast for 15-20 minutes, or until the squash is tender and beginning to caramelize.
Remove from the oven and set aside.
Reduce oven temperature to 375 degrees F.
Meanwhile, sauté the chopped onion in a little olive oil in a large, heavy skillet.
When the onion is translucent, add the chopped spinach and stir to wilt slightly.
Remove the onion and spinach to a plate and set aside.
Beat the eggs with the heavy cream and season with salt and pepper to taste.
Pour egg mixture into the skillet used for sautéing onions and spinach (may need to add a little oil to keep eggs from sticking).
Drop cubes of roasted squash randomly into the pan with the eggs.
Repeat with the crumbled goat cheese.
Top the eggs with the onion and spinach mixture.
Place skillet in oven and bake for 20-30 minutes, or until eggs are set.
To serve, slide frittata from pan and cut into wedges. (Serves 4-6)
Fran Hill has been blogging about food at On My Plate since October of 2006. She, her husband and their two dogs ranch near Colome.