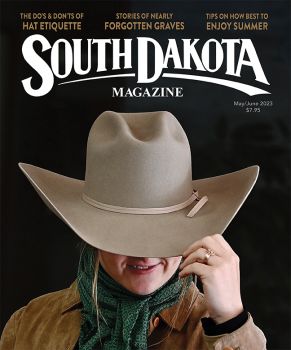 Subscriptions to South Dakota Magazine make great gifts!
Subscribe today — 1 year (6 issues) is just $29!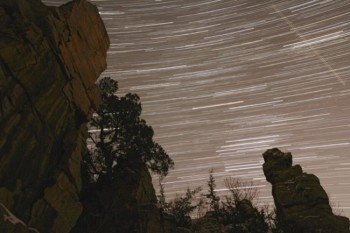 Following the Star Trail
Apr 30, 2012
Patience is a virtue. We've all heard the phrase. I'm not sure our "need it now" culture is very good at practicing it, however. I know I struggle with it. Just ask my co-workers how well I wait for the latest project to get done. I guess they just don't understand how much I need to get the work off my plate. I need to move on to the next project. Unfortunately a hurried project usually ends up needing to be redone. Thus creating more work, which means I really could relearn a lesson or two in patience. Once again, my photography hobby has an answer: a lesson in patience involving "star trail" photography.
During the night, the stars above seem to move across our sky due to our planet's rotation. All stars do this except Polaris, the north star. Astronomy tells us that Polaris is positioned as close to straight above our planet as any other visible star. So when our planet rotates, the star seems to be fixed, much like how the point of a spinning top stays centered. A Paiute legend tells of a mountain sheep who was an excellent and sure footed climber. He found the tallest and steepest mountain and began to climb. It was nearly impossible to reach the summit and at one point he had to go through a long vertical cave in order to reach the highest point. After going through the cave, a rockslide closed up the entrance and the climber was stuck at the highest point of the peak with barely any room to even turn around. His father then turned him into a star. This star became the north star and the stars of the constellations around him were other sheep trying in vain to find the path up the peak, and that is why they circle the north star.
I've always been impressed by photos that capture this phenomenon and resolved to learn how to do it myself. I've found a couple different methods. One is to get a tripod and a remote cord and set your camera on "bulb" and open up the exposure for a long period of time. The trick is to figure out just how long to keep the exposure open in order to get the length of trails desired as well as adjusting for any ambient light that may spill in from a nearby city or the rising moon. It is not an easy balance to find and my patience has been tested at almost every attempt. For every one good image I get, I wreck about three or four exposures. Imagine waiting for an hour to see what was supposed to be an amazing star trail photograph totally overexposed and ruined. That'll try anyone's patience. Once you get it right, however, it makes the photo all the more meaningful and fun to look at.
The other method to make a star trail image is to take multiple exposures of a star scene and layer these images together in an image editing software program, adjust the layer modes to "lighten" and magically all the stars show up together to make star trails. I just discovered this process and applied it to some image sequences I made at Palisades State Park in February of 2010. I was pleasantly surprised by the final star trail images that I didn't even know I had hidden in my files. Whatever way you choose to go about shooting star trails, it is a very rewarding and fun way to capture some of our unique South Dakota scenes. I particularly like to shoot old and/or historical buildings in order to symbolize time passing and the relative short time we have here on earth. Added to that, the whole process is a huge patience builder. Which is good for me as I'm told patience is a virtue I could use a lot more of… and the sooner the better.
Christian Begeman grew up in Isabel and now lives in Sioux Falls. When he's not working at Midcontinent Communications he is often on the road photographing our prettiest spots around the state. Follow Begeman on his blog.